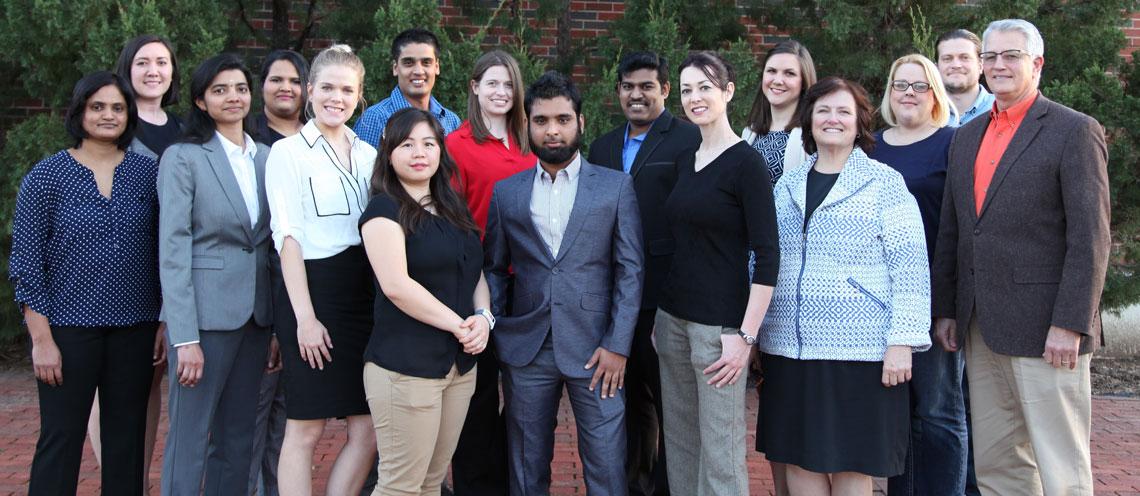 3MT® Competition Results
Tuesday, February 28, 2017
Pictured above are the 3MT® competitors and judges. Front row (left to right): Roshini Sathiaseelan, Sri Nandhini Sethuraman, Kirstin Poindexter, Bo Zhai, Adnan Ahmed Memon, Alia Houser, Dr. Lee Denney and Dr. Rocky Bigbie.
Back row (left to right): Jamie Hadwin, Kalyani Ektate, Nabin Poudel, Allison Campolo, Sam Pushparaj, Dr. Jennifer Rudd, Emily Snow and Matthew Green.
---
Update:
Jennifer Rudd placed second at the university-wide competition.
---
Oklahoma State University's Center for Veterinary Health Sciences recently held its Three Minute Thesis (3MT®) Competition. Thirteen graduate students competed for hundreds of dollars in prize money and the right to represent the veterinary center in the OSU-wide competition.
The competition requires students to explain their respective research projects in three minutes using laymen's terms so that anyone can understand what they are studying.
This year's top finishers were:
Jennifer Rudd, DVM, first place, $300
Matthew Green, second place, $200
Alia Houser, third place, $100
Kalyani Ektate and Nabin Poudel, tied for People's Choice Award, $300 each
Special thanks to this year's judges, Dr. Rocky Bigbie (OSU Vet Med '81), Dr. Lee Denney (OSU Vet Med '78), and Emily Snow, with the center's continuing education office.
Dr. Jennifer Rudd, a PhD student in the Department of Physiological Sciences studying superinfections, will compete at the university-wide competition in the Student Union Little Theater at 3:30 p.m. on Thursday, March 9, 2017. See her award winning presentation below.