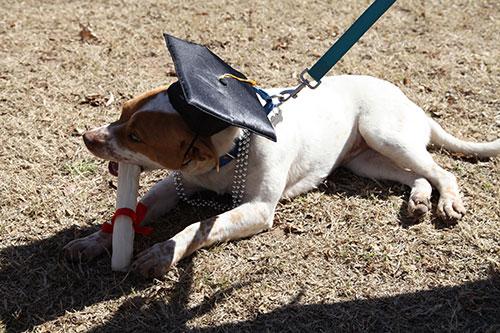 The Dogs of Lincoln: Where Students and Dogs Unite
Monday, March 27, 2017
The Dogs of Lincoln is a unique program where veterinary students from Oklahoma State University's Center for Veterinary Health Sciences volunteer to bring together students at Stillwater's Lincoln Alternative Academy and dogs from the Humane Society of Stillwater.
Every three weeks, Jackie Ross-Guerrero, shelter director of the Humane Society, chooses a group of dogs that would be more adoptable if they had some basic training. OSU veterinary students work with the students at Lincoln Academy to help train the dogs is basic commands and a few tricks.
"This is our third year to participate in the program," says Trent Swanson, principal of Lincoln Academy for four years. "We're really lucky to be here in Stillwater to have a partnership with OSU and the Humane Society. The students come out twice a week—on Tuesday to work with our students on the individual dogs in the care classes. And then they come on Wednesday with the educational component."
Lincoln Academy strives to help each student socially, emotionally and academically.
"One of the main focuses of an alternative high school is to help those students who might be in danger of not graduating," adds Swanson. "Having an opportunity to work with the shelter dogs often gives the students an incentive to come to school. It gives them an excuse where they have to come to school. They may say I've got to go to school today because I told Mrs. Staples that I would help with the dog or I told Mrs. Harnly that I would help walk the dogs back to the Humane Society."
"The thing I like most about the program is that it gives the students a chance to interact with the dogs," states Carla Harnly, Lincoln Academy's family consumer sciences teacher for 11 years. "It gives them some responsibility making sure that the dog gets taken out, the water gets filled, things like that. It also helps improve our attendance because the kids look forward to having those dogs in the classroom. And it helps the dogs get adopted too."
Bayley Fuller, second year veterinary student of Dallas, Texas, is coordinating the program for OSU this year.
"I organize our volunteers. We have about 25 Oklahoma State vet students who help with this," explains Fuller. "I'm in charge of fundraising. I keep a tally of all of our expenses which includes treats, collars, training equipment, beds, and student incentives. I coordinate with the principal and get educational presentations together for each week. There are six classrooms, one dog in each classroom and then two OSU students per that classroom. The goal is to facilitate the human-animal bond to teach responsible pet ownership to the students. To make these students aware of disease processes, signs that something is wrong, what normal looks like so that they are better pet owners."
Ethan Mayfield of Stillwater is a junior at Lincoln Academy.
"I think it's a fun way to teach people responsibility and also it just cheers your day up a lot to see these puppies come in," says Mayfield. "We get one dog per class for a three week period. I think every high school should have it (Dogs of Lincoln program). You know a lot of people get stressed out about school like I do. These dogs really help you calm down honestly. I think it's really good for the Humane Society as well because a lot of these animals get adopted after we are done with them. We teach them a lot of commands like sit, stay. We try to get them to learn their names if they're pretty young. Other than that, we also try to potty train them."
"The dogs really soften the students," adds Harnly. "A lot of them might be having a bad day but when a puppy crawls up in your lap, how can you not melt down a little bit."
"We think that we are making a big difference in these kids' lives," states Fuller. "I think if you can make high school fun and education exciting, we can steer the path of these kids towards college or vocational school or what have you. And even if they don't aspire to do those things, we at least make being in the classroom a positive experience. We increase attendance, the likelihood of graduation and things like that. I love seeing the students get invested and get excited about something."
If you would like to support the Dogs of Lincoln program, please contact Jackie Ross-Guerrero with the Humane Society of Stillwater at 405-377-1701 or shelter@hspets.org.