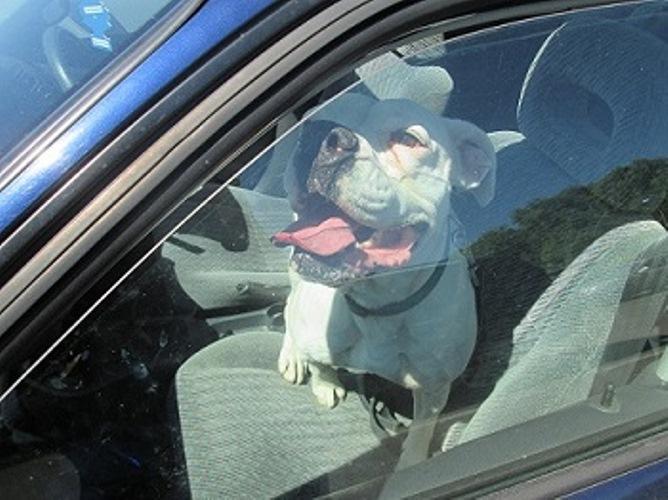 Hot Cars: What You Need to Know
Monday, July 17, 2017
According to the American Veterinary Medical Association, pets die every year because they were left in cars on warm—not necessarily hot—days while their owners shopped, visited friends or ran errands. This tragic loss is 100 percent preventable.
Don't leave your two-legged children or your four-legged children inside a parked vehicle.
Studies show that the interior temperature of vehicles parked outside in temperatures ranging from 72⁰ to 96⁰F rose steadily as time increased. And cracking the windows didn't help.
Rolling down the windows DOES NOT allow sufficient air movement to protect your pet.
Within a mere 10 minutes, the inside temperature of a vehicle will rise from 70⁰ to 89⁰F. Within 30 minutes, the temperature is up to 104⁰F and in a little more than one hour, the inside temperature of a parked vehicle will be at least 115⁰F.
In Oklahoma on a typical summer day when the outside temperature is 90⁰F, within 10 minutes, the inside temperature of the vehicle is already 109⁰F.
Estimated Vehicle Interior Air Temperature v. Elapsed Time

Elapsed time

Outside Air Temperature (F)

70

75

80

85

90

95

0 minutes

70

75

80

85

90

95

10 minutes

89

94

99

104

109

114

20 minutes

99

104

109

114

119

124

30 minutes

104

109

114

119

124

129

40 minutes

108

113

118

123

128

133

50 minutes

111

116

121

126

131

136

60 minutes

113

118

123

128

133

138

> 1 hour

115

120

125

130

135

140
(Courtesy Jan Null, CCM; Department of Geosciences, San Francisco State University)
Leave your pets at home when you go shopping or running errands. If the friends or relatives you plan to visit don't allow pets, leave yours at home where they are safe.
Don't let your beloved furry family members become a statistic. Never leave your pets in a parked vehicle.
by Elisabeth J. Giedt, DVM
---
Veterinary Viewpoints is provided by the faculty of the OSU Veterinary Medical Hospital. Certified by the American Animal Hospital Association, the hospital is open to the public providing routine and specialized care for all species and 24-hour emergency care, 365 days a year.