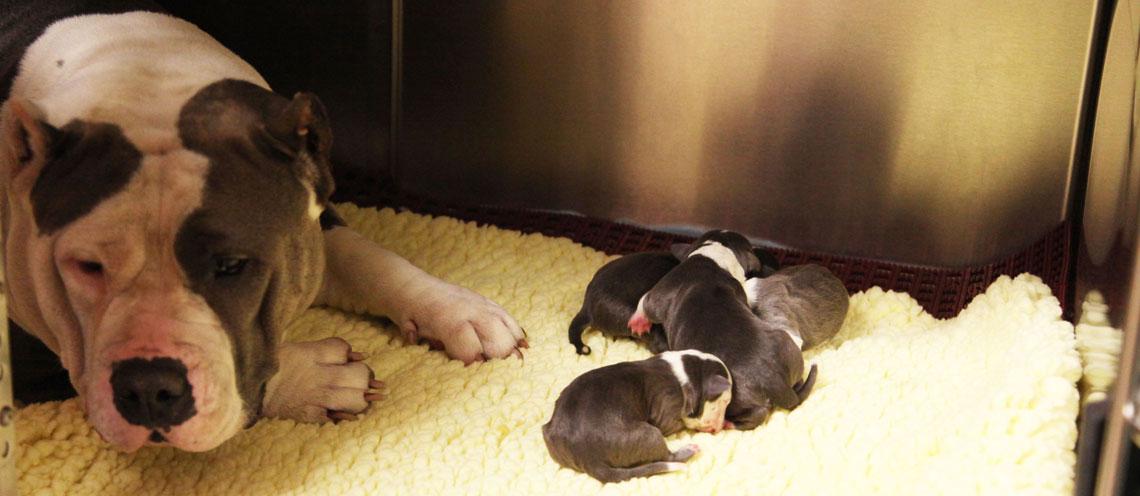 Isis: Dog of Fertility?
Wednesday, June 28, 2017
In ancient Egyptian lore, Isis was the goddess of marriage, fertility, motherhood, magic and medicine. Unfortunately for dog owner Larry Shaw of Barnsdall, Okla., his female Staffordshire terrier, Isis, was anything but fertile. Four unsuccessful attempts had been made to breed Isis. Shaw's veterinarian referred him to Oklahoma State University Center for Veterinary Health Sciences. Dr. Candace Lyman, a board certified theriogenologist at the center's Veterinary Medical Hospital took the case.
"The thing that makes Isis unique is that after multiple attempts of unsuccessfully becoming pregnant, we identified that she would accumulate large amounts of abnormal fluid within her uterus prior to even getting bred," said Lyman. "We were able to remove that fluid by doing transcervical lavage and performed further diagnostics, such as a transcervical endometrial biopsy."
"Previously these procedures—the biopsy, uterine lavage, any diagnostics that had to be performed were surgical procedures," she continued. "So now we are able to do these procedures in patients that are awake and standing, and are happy to comply with us, using some new equipment that has become available. And with Isis we were able to identify that she had fluid and we used a drug called oxytocin to evacuate that fluid out of her uterus and then we performed a transcervical uterine lavage."
Isis was then bred using semen from a male dog also owned by Shaw. And for the first time, by ultrasound she was confirmed pregnant with a litter of puppies.
"So today (April 18, 2017) we are reaping the rewards of all of our hard work," said Lyman. "Isis electively had a caesarian section giving birth to four gorgeous puppies—two males and two females. The owners are pretty excited about this result and so are we. This is the first time that we are aware of that a dog has been transcervically managed for intrauterine fluid prior to breeding like this and has given birth to a litter of puppies."
"If you have a problem getting your dog bred, bring it here," added Shaw.
For more information about theriogenology/reproductive services available at OSU's Center for Veterinary Health Sciences, visit companion animal reproduction.