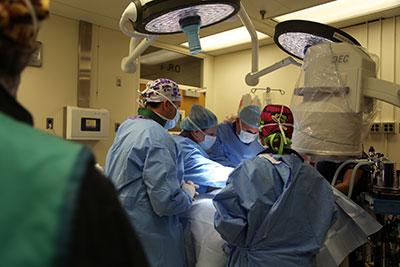 Minimally Invasive Medical Procedures on the Rise at OSU
Thursday, October 19, 2017
Minimally invasive medical procedures are increasing at Oklahoma State University's Center for Veterinary Health Sciences. A group of clinicians at the center's Veterinary Medical Hospital have gone the extra mile to learn how to perform these procedures and it's a win-win-win for all involved.
"Minimally invasive procedures are a set of procedures that allow us to treat complicated diseases," explains Andrew Hanzlicek, DVM, MS, DACVIM (SAIM), associate professor of small animal internal medicine. "These are diseases that in the past either didn't have a good treatment or the treatment caused a lot of pain and had a long healing time. These minimally invasive procedures take some of the more advanced technologies in medicine and allow us to treat those with very minimal pain, minimal healing time and much better outcomes."
Hanzlicek says it's a team effort involving many different specialties including surgery, medicine, cardiology, radiology and anesthesia to name a few.
"A group of clinicians are interested in these minimally invasive procedures because they make sense," he adds. "They decrease pain, decrease healing time and they treat things that weren't treatable in the past. Several of us have gained advanced training. There are only a few places around the country that do some of these procedures. We've learned how to do them at one of the places that really pioneers these procedures. We've invested a lot in being able to offer these procedures to our pet-owning population in Oklahoma. Because so many specialties are involved, I think it makes the minimally invasive procedures a very interesting area."
According to Hanzlicek there are many different procedures that are now offered that he and his colleagues couldn't do before.
"For example, intrahepatic portosystemic shunts or an abnormal vessel that a dog is born with inside of its liver," continues Hanzlicek. "In the past, that required a major abdominal surgery, possibly removing part of the liver. Now we can fix that abnormal vessel through a small incision—about a centimeter—in the neck. We actually go through the incision in the neck down to the liver and fix that vessel. As you can imagine, healing time is much less with that and there is a much better outcome. Almost all dogs do really well with that procedure."
And that is just one procedure. There are many, many more associated with the urinary tract.
"When we have a ureteral obstruction, we can now place stents or bypasses. For dogs that are incontinent, there's a couple different procedures that we now offer that are minimally invasive that help with their incontinence. There are also procedures in the respiratory tract. We can put stents in collapsing airways. There's really a whole handful of procedures that treat pretty common diseases and do so in a much less invasive way.
"Pet owners absolutely love this program. Any time you tell them that you can fix a complicated or challenging problem with less pain, less suffering and with a quicker healing time, then they're all about it. Pet owners have been very happy with the outcomes after these procedures. It's really great to see the pets do well, the pet owners to be happy, and, again, doing all of that while minimizing their healing time and the pain and morbidity associated with the procedure."
While the Veterinary Medical Hospital has the trained specialists to do these procedures, what they need is a place to perform these procedures.
"These procedures are somewhat unique and novel and the type of operating room that we need to perform these is somewhat unique and novel. So we're looking for ways to find a place that has these advanced technologies all in one room to maximize our ability to do these procedures."
According to Hanzlicek it can get pretty crowded in the operating room. You have the clinicians, the anesthesiologist, the interns and residents, fourth year veterinary students and the veterinary technicians, who assist with the procedure. And then there is the special equipment such as a fluoroscopy unit and computer screens to display the fluoroscopy results.
"Fourth year veterinary students are very involved with these procedures," adds Hanzlicek. "Many times in the very small OR that we're using right now, it's packed full. There are more students outside of the operating room peeking through the window trying to see them because they're neat, cool, and novel procedures. Seeing how these procedures are done may spark some interest so that they learn how to do them themselves someday. Even if they don't learn these cutting edge ways of treating complicated diseases, they know what's offered here and they can refer patients back to OSU when they're out in the real world.
"The most important aspect to me is that we have a group of clinicians who are very interested in these procedures because again, they minimize pain and minimize healing time in pets. It's what pet owners what for their pets, which makes sense because they're animal lovers. I think that it's just a win-win-win. We enjoy doing the procedures—it's something new and it's something that helps pets and pet owners in Oklahoma and surrounding states. Everybody benefits from being able to do these minimally invasive procedures."
---
Pictured above: Drs. Andrew Hanzlicek, Rebecca Tims and Ryan Baumwart perform a minimally invasive procedure on a dog to determine the cause of obstruction in the caudal vena cava, the major vein returning blood from the abdomen to the heart.