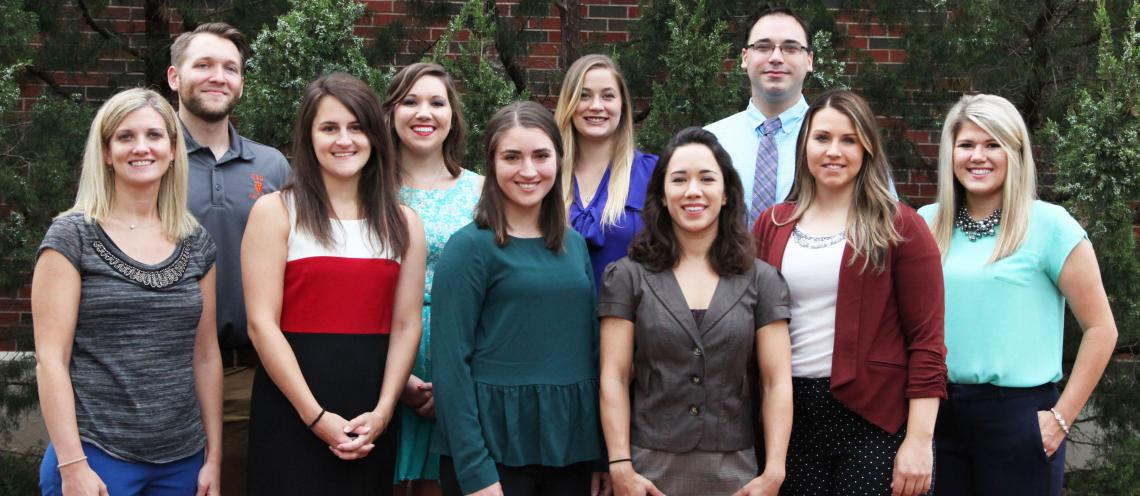 Summer Researchers Present Results
Wednesday, August 9, 2017
Front row: Program advisor, Dr. Laura Nafe, Crystal Matt ('19), Morgan Johnson ('20), Erica Iturraran ('19), Kyre Larrabee ('20), and Sarrah Owens ('19).
Back row: Michael Wallis ('20), Alexis Sirois ('19), Kayla Schroeder ('20), and Stephen Dilday ('19). Also participating but not pictured was Samantha Hancock ('19).
---
Congratulations to 10 veterinary students at Oklahoma State University's Center for Veterinary Health Sciences for recently completing a 12 week summer research training program. Designed to entice talented and highly motivated veterinary students to pursue a biomedical research career, the program provides participants with an outstanding training experience.
Under the advisement of faculty directors, Drs. Chris Ross, interim dean; Jerry Malayer, associate dean for research and graduate education; Ashish Ranjan, associate professor in the Department of Physiological Sciences; and Laura Nafe, assistant professor of small animal internal medicine in the Department of Veterinary Clinical Sciences; the following students completed the respective research projects:
Stephen Dilday ('19), Cross-Reactive Antibodies to Borrelia Species in Dogs
Samantha Hancock ('19), Characterization of a Novel Tick Transmitted Ehrlichia sp. Infection in Horses
Erica Iturraran ('19), Development of Metal Implant Model for Therapeutic Evaluation of Chronic Bone Infection
Morgan Johnson ('20), Influence of Butyrate on Intestinal Epithelial Cells Under Inflammatory Conditions
Kyre Larrabee ('20), Surface Decontamination Using cold Plasma Device
Crystal Matt ('19), Radiographic Evaluation of Thoracic Girdle Fractures in Wild Birds after Presumptive Window Collisions
Sarrah Owens ('19), Detection of Cytauxzoon felis in the Gut and Salivary Glands of Amblyomma americanum
Kayla Schroeder ('20), Stress Induced Transcription Factors Synergistically Stimulate the Herpes Simplex Virus 1 ICPO Promoter
Alexis Sirois ('19), Suppression of LPS-induced TNFa in Equine Macrophages Utilizing a Pharmacological Inhibitor of NF-kappaB
Michael Wallis ('20), Acute Effects of Keyhole Limpet Hemocyanin in Zebra Finches (Taeniopygia guttate)
First and second-year veterinary students are assigned a basic or clinical research faculty mentor for the summer. Mentors guide the students through all aspects of a research project including experimental design, methodology, data collection and analysis, and drawing conclusions. Participants also receive specific instruction on a number of research related topics, tour specialized research facilities in the region, present their research results to the veterinary center on College Research Day, and have the opportunity to travel and present their research at a national research meeting.
This year eight of the 10 students participated in the Boehringer Ingelheim Veterinary Scholars Program Symposium held at the National Institutes of Health in Bethesda, Md., on August 3 – 6, 2017.
---
Contact: Derinda Blakeney, APR | OSU Center for Veterinary Health Sciences | 405-744-6740 | derinda@okstate.edu