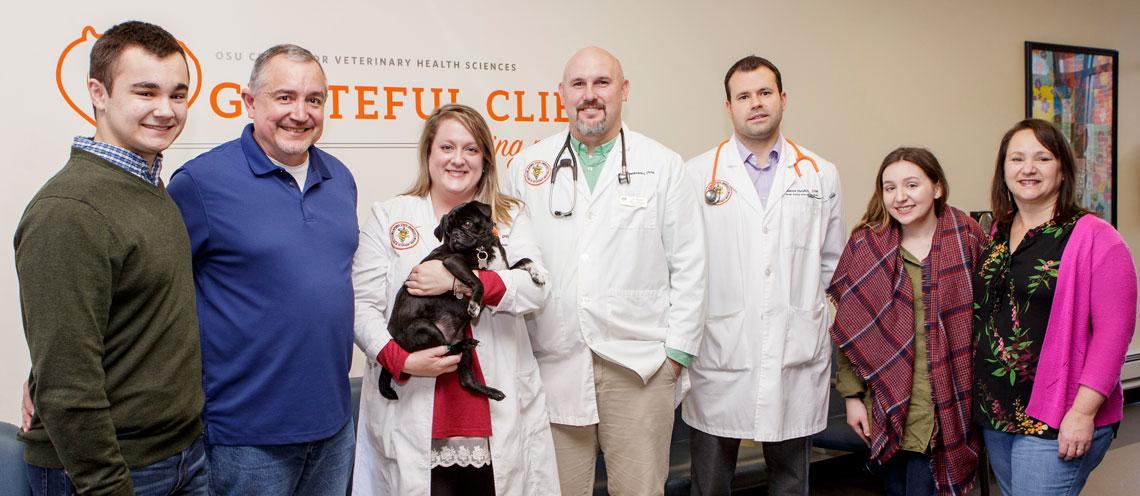 Saving Tux
Wednesday, January 17, 2018
Whitaker family brought Tux back to OSU for a re-check and to personally thank the veterinarians who helped save Tux. Pictured left to right: Ryne and H.B. Whitaker, Dr. Rebecca Tims holding Tux, Dr. Ryan Baumwart, Dr. Andrew Hanzlicek, Mary Kathryn and Cindy Whitaker.
---
H.B. and Cindy Whitaker of Springdale, Ark., are the proud owners of five pugs. In early 2017 while walking the dogs, H.B. thought Tux, a four year old they've had since birth, looked overweight.
"I thought he might have bloat, which is a competitive type of eating disorder that can be dangerous to them," said Whitaker. "I took him to our local vet and to my surprise they came out and said it wasn't food but it was fluid."
Fluid could be a sign that something was wrong with Tux's heart.
"This is a four year old pug. A beautiful dog. We knew something was wrong that he was retaining fluid. So we did a lot of different types of tests at our local vet. All tests came back negative. Our local vet referred us to OSU. They said, 'they'll find out what's wrong with him. They won't give up until they find out'."
Whitaker had no idea how true those words would come to be.
"We first saw Tux in March 2017," recalled Dr. Rebecca Tims, a third year internal medicine resident at Oklahoma State University's Center for Veterinary Health Sciences. "He came to us from Arkansas with a several month history of a large volume of free fluid in his abdomen and no one could figure why he had that. He was having as much as 2 liters taken off his abdomen every 10 days, which for a small dog like this is really significant."
"Taking 1 ½ to 2 liters of fluid off him was taking a toll on his body and it was beginning to show," added Whitaker. "It was just painful to watch. If we didn't find the answer, we were going to have to put him down."
"We evaluated his heart. We evaluated his GI tract," explained Tims. "All of those tests were completely normal. We did a CT scan of his abdomen and initially felt that it looked fairly normal. When we compared it to other CTs, we found that a portion of his vena cava—a large vessel that drains all of the blood from your abdomen—was very dilated in one area and then very narrow in another area. We weren't really sure what that meant. Was it just a variation for him? Was it causing the problem?"
Tux's images were placed on a listserv for minimally invasive procedures to see if any other veterinarians in the country had seen something similar and could help solve the mystery of the source of Tux's fluid.
Also on the case were Drs. Ryan Baumwart, veterinary cardiologist, and Andrew Hanzlicek, small animal internal medicine specialist and Dr. Tims' mentor at the Center's Veterinary Medical Hospital.
"We put some dye in and watched it move through the blood vessels," said Baumwart. "We actually saw that it was getting blocked. We then did a selective angiogram where we put a catheter up through his caudal vena cava. As we injected that dye, we could see exactly where the problem was. There was a stricture or narrowing of that blood vessel and it was causing pressure to back up into the back half of his body and that was causing the fluid to build up."
Now that they knew what the problem was, they would need owner permission to do the necessary surgery.
"Once we found where the problem was, we went in and ballooned it open," added Hanzlicek. "We inflated a small balloon catheter and opened up the tissue. Then we placed a stent to hold it open. Basically, that allowed all of the blood in his abdomen to get back to his heart. That was the problem. It (blood) wasn't able to get back and pressures were building up. One of the coolest things about Tux's procedure is that all of that was done through a couple little bitty incisions through his neck and through his back leg. So there wasn't a big major surgery. It essentially was pain free. It was very minimally invasive."
Minimally invasive procedures are on the rise at Oklahoma State's Veterinary Medical Hospital. Several clinicians have gone the extra mile to learn how to perform these procedures using some of the more advanced technologies in medicine to treat complicated diseases with minimal pain, minimal healing time and much better outcomes. The goal is to acquire an operating room large enough to accommodate the specialists needed (cardiologist, internist, anesthesiologist, students, and veterinary technicians) and the various pieces of equipment required to perform these procedures including wireless technology.
"These are very cool procedures and a lot of students and veterinarians in training want to be involved," said Hanzlicek. "Having the capability to show these procedures with audio so you can hear and see what is going on in the operating room would add so much value to the education of future veterinarians. That is definitely a goal of this program moving forward."
Tux's surgery was the first time veterinarians performed this particular procedure at OSU.
"The surgery was very successful," said Whitaker. "Right after the surgery Tux was up running around as if nothing had ever happened. Within a week or so, he looked perfectly healthy. One of the things I thought was so great about the surgery was the minimally invasive surgery. They went through the neck instead of having to open the dog up to do it. The recovery time is a lot shorter. They want to raise money for an operating room here at OSU that specializes in minimally invasive surgery. It gives an option to dog owners to save the life of their dogs. They saved our dog's life. How do you thank someone for saving your dog's life? These doctors here, it's just incredible. This is like the children's hospital for dogs.
"It was worth every penny. OSU went out of their way to find out what was going on with Tux and how to solve it. We will be forever thankful for that," continued Whitaker. "It was our first time using the hospital. It is an outstanding facility and one of the best training facilities in the country probably for veterinarians. They don't mess around. They're at the forefront of solving problems and these students are standing right beside them as they do it. I told my wife whenever I was watching all this and going through this with our dog, these guys (students) are getting their money's worth. This is just outstanding if you're a student because this is what you come here to do."
On December 21, 2017, Tux returned to OSU's Veterinary Medical Hospital for a recheck following his November surgery.
"He has no fluid in his abdomen," reported Tims. "He has filled out. He used to be very thin and had no muscle over his head. Now he's this beautiful dog. He's a real miracle and we're happy, so happy that he's doing better. The biggest thing was that he was completely healthy otherwise. We couldn't find anything else wrong with him. We were really driven to find out what was going on and fix it so that he could have a full and happy life."
"I would add that really the only treatment for this was a minimally invasive procedure," said Hanzlicek. "That's the importance of this program is that there is less pain, shorter healing time for our pets and in some cases, it's the only feasible option for treatment. So it's an important program that we're trying to grow here at Oklahoma State. And Tux is a living example of what it can do."
If you would like to support advancing minimally invasive procedures at Oklahoma State University Center for Veterinary Health Sciences, please contact Chris Sitz, senior director of development with the Oklahoma State University Foundation, at 405-385-5170 or csitz@osugiving.com.