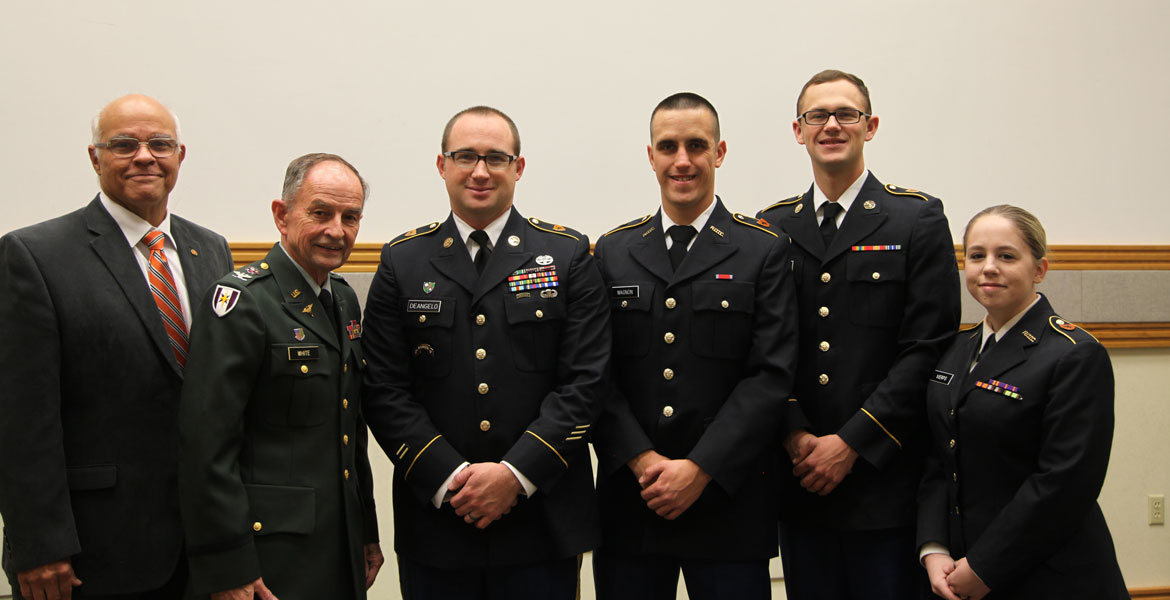 Veterans Day Observance: The 100th Anniversary of the Armistice
Thursday, November 15, 2018
On November 12, 2018, the Center for Veterinary Health Sciences welcomed Ret. Col. Gary White, DVM ('68), who presented "The 100th Anniversary of the Armistice" in honor of the men and women who have served our nation and defended our freedom, including military veterinarians. Presenting and retiring the Colors were OSU Army ROTC Cadets Terry DeAngelo, Austin Wagnon, Orin Atha, and Allison Vierps.
"I really appreciate the opportunity to speak briefly about Veterans Day and Armistice Day in earlier years," said White. "The first class commenced in March of 1948 with 31 students many of which were veterans of World War II and on the GI Bill. Since that time, we have had faculty, students, and graduates who have served active and reserve in the U.S. Military. When I retired in 2004, Oklahoma State was tied with Kansas State for second in having the most veterinarians in the Veterinary Corps. Texas A&M was first but you have to consider that Texas A&M has about double the enrollment, too. So we have always been very supportive of the U.S. military services and I think that goes to commend the quality of the people who have graduated from this institution. And I think that history will continue as we have students here now who will go on into the military services and students who have served in the military services.
"I want to say a little about the history of Veterans Day," he continued. "As I look at this audience, I doubt probably any of you can remember that originally in the United States it was called Armistice Day. It was changed in 1954. And the reason it was changed to Veterans Day is because Armistice Day recognized the service of people who participated in World War I. The reason it was on November 11 was because the signing of the armistice in France at the end of the combat operations of World War I was on November 11 and it became affective at 11 a.m. in Paris, France. It wasn't a surrender by Germany but they gave up pretty well everything. Later the treaty that settled World War I was the Treaty of Versailles, which was a year later in 1919. That set up very severe conditions on Germany, which some feel was probably one of the causes of World War II.
"But one of the interesting things, back in the days of World War I in what was the Commonwealth of the United Kingdom, it was called Remembrance Day. It was first celebrated by King George V on November 11, 1919. And since that time, it has been called Remembrance Day, sometimes Armistice Day, in most of the Commonwealth countries."
Dr. White spoke of another tradition that is very strong in the United Kingdom and that is the wearing of the poppy. He recalled seeing the poppy being worn many years ago in the United States where the poppy first gained popularity. Monica Michael, a professor at the University of Georgia, promoted wearing the poppy to commemorate and honor those who had given their life in World War I. Today, the tradition is actually more popular in the United Kingdom than in the U.S. He also shared one more experience that made a lasting impression on him.
"I was in the United Kingdom in 1998 leaving London on November 11," White recalled. "I was at Gatwick Airport and a couple minutes before 11, they made an announcement that at 11 o'clock, there would be a minute of silence and all operations, I think other than the airplanes landing and taking off, would cease. I was just ready to walk through what was security at that time, and sure enough, everything stopped. A minute of silence as busy as an airport is. I was very taken with that occurrence."
White was so taken with it that a couple years later in 2003, he re-enacted that remembrance.
"I was head of a convoy on a mission in Bolivia on November 11," said White. "I had done some calculations when 11 o'clock in France would be in Bolivia. It took me a while to figure that out. So in this convoy, I notified everyone that five minutes to 11, we're going to pull off the road, and at 11 o'clock, we are all going to have a minute of silence. Which we did.
"Remembrance Day, Armistice Day, or as we call it in the United States, Veterans Day, is a time that we honor those who have served our country and continue to serve our country," he concluded. "We are very, very thankful for that. I would add that I am very thankful that this institution saw fit to put this court right outside the northeast corner of this building. I think it says a lot for this institution."
The Military Veterinarian Honor Court, located outside the northeast corner of McElroy Hall, was dedicated in 2009. One brick bears a Gold Star in memory of Lt. Col. Daniel Holland, DVM ('88), who gave the ultimate sacrifice when he was killed in action along with three fellow service members during Operation Iraqi Freedom. Bricks may be purchased in honor of or in memory of any military veterinarian by contacting the Advancement Office at 405-744-5630.
Currently eight veterinary students are members of the United States Armed Forces:
Cody Blalock ('22) served two tours in the Navy and is now active duty in the National Guard.
Koty Forbes ('21) served as a combat medic in the Army National Guard. He will continue serving in the Army after graduation.
Chelsey Michelsen ('20) served in the Army.
Logan Morton ('22) served in the Army.
Jared Nenninger ('20) served in the Army.
Shannah Rider ('19) served in the Air Force.
Cameron Ross ('19) active duty in the Army.
Elise Stewart ('22) served in the Navy.
---
About Dr. Gary White
Dr. Gary White earned his DVM degree from Oklahoma State University in 1968. Upon graduation he entered the United States Army Veterinary Corps serving at Ft. Snelling in Minneapolis – St. Paul, Minnesota, and then in the 936th military veterinary hospital in Long Bihn, Vietnam. He served 25 years in the United States Army Reserve retiring as a full Colonel. His awards include the Bronze Star, Vietnam Service, Vietnam Campaign, Commendation Medal, and The Legion of Merit. He was also inducted into the Order of Medical Merit.
Dr. White was a clinical assistant professor, an attending veterinarian for the New Orleans Audubon Park Zoo, and a full-time associate veterinarian at a small animal hospital. In 1974, he joined the University of Oklahoma Health Sciences Center (OUHSC) where he rose to director of Comparative Medicine serving in that capacity for 30 years. He led the NIH funded OUHSC Baboon Research Resource Program supporting biomedical research studies across the United States.
In 2009 Dr. White received a Distinguished Alumnus Award from the Alumni Society of the Center for Veterinary Health Sciences. He retired in 2017.