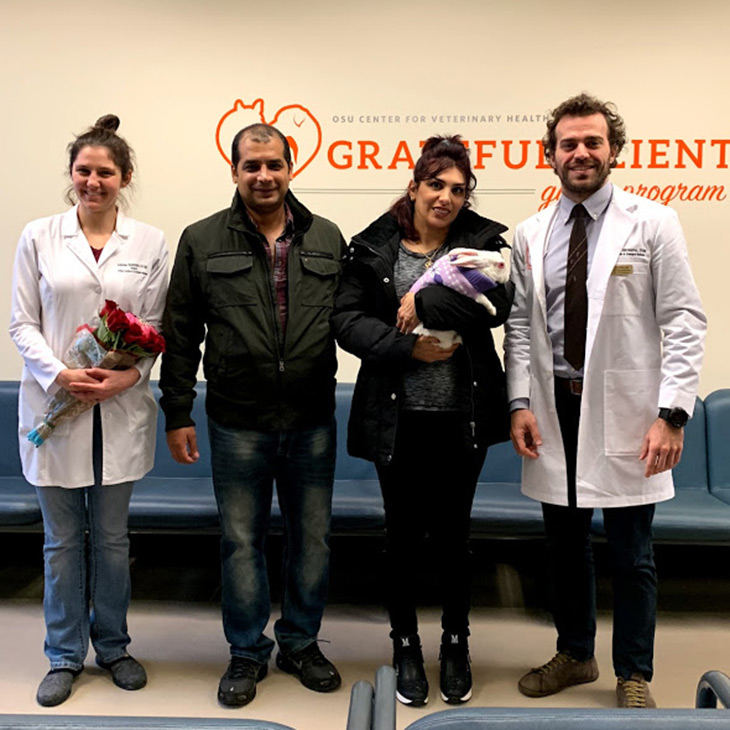 Alice's Adventures in Oklahoma
Monday, January 14, 2019
Alice is a 7-year-old female rabbit from California. She recently spent 17 days in Stillwater at Oklahoma State University's Center for Veterinary Health Sciences for cancer treatment. Owned by Tofighi Mahnoosh and Mehrdad Shirafkan of Tujunga, California, Alice was diagnosed with a malignant tumor two years ago.
"The veterinarians who saw Alice in Los Angeles were afraid she would not survive surgery because Alice had a cardiac arrest the last time she was anesthetized for a dental procedure," explained Dr. Nicola Di Girolamo, associate professor of zoological medicine assigned to Alice's case. "The cancer was getting worse causing Alice discomfort. So her owners found me through my professional Instagram page and contacted me."
Di Girolamo performed a contrast CT scan and determined that the cancer evidently had not metastasized. He felt it was possible to remove several masses in the rabbit and Alice's owners agreed.
"They drove 24 hours, literally around the clock, to bring Alice here," said Di Girolamo. "On December 18, we operated doing a double mastectomy, neoplastic uterus removal, and multiple dental extractions. The surgery lasted about four hours. Our intern, Dr. Lauren Schmidt assisted along with Ian Kanda, RVT, VTS (exotics), who monitored the anesthesia. We performed an endoscopic-assisted intubation to reduce the anesthesia risk. We used an advanced analgesic protocol that helped make the anesthesia smoother. A major concern was if Alice would have enough skin to close the defect caused by the large mammary mass. Thankfully, the tissue was viable and we were able to close the opening. She did amazingly well and we expect her to be a happy rabbit for years to come."
Dr. Joao Brandao, service chief of zoological medicine, oversaw Alice's long recovery period, which was especially delicate after such an extensive procedure. A few days post-surgery, Alice started eating. She continued to improve and after a 17-day stay, her owners made the long drive from California to Oklahoma and back again to bring Alice home.
"Alice and her owners returned home and Alice continues to do well," added Di Girolamo. "We are very happy that modern technologies made it possible for Alice's owners to find us. Alice's case was especially complex and thanks to excellent team work, she made it through this difficult time safely."
The avian, exotic and zoo medicine service at OSU's Center for Veterinary Health Sciences is home to two board certified veterinary specialists who treat the 'not so common' pets and local zoo-owned animals on a regular basis. These veterinarians also treat about 500 wildlife cases a year brought in by good Samaritans. If you would like to support the avian, exotics and zoo medicine service, please contact Chris Sitz, senior director of development and team lead with the OSU Foundation, at 405-385-5170 or csitz@osugiving.com.