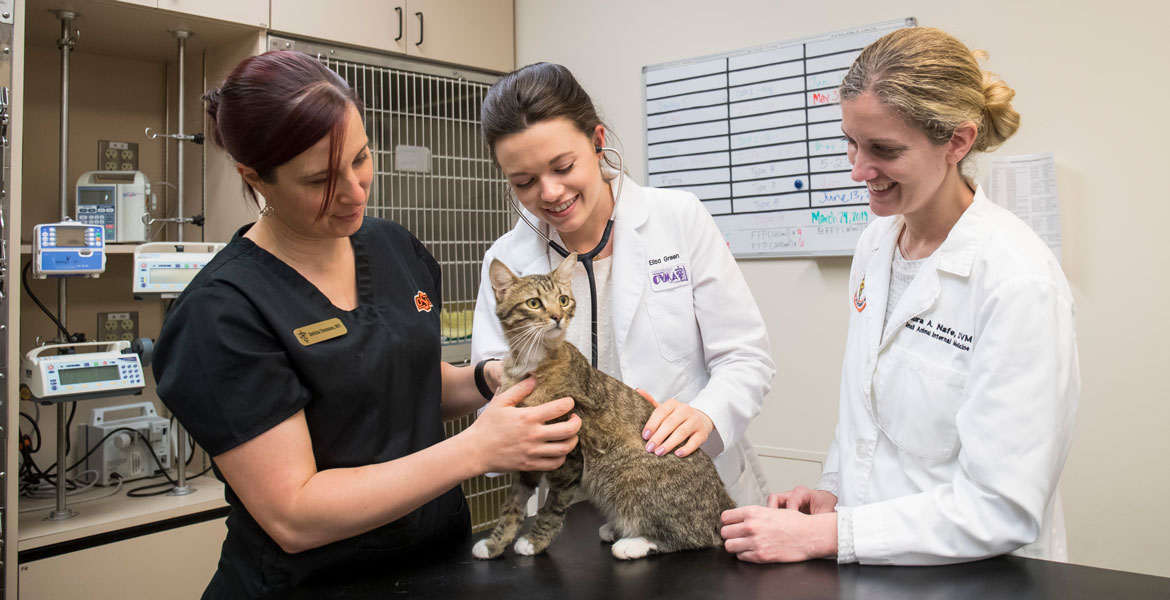 Cytauxzoon cats CAN survive: Jackson survives bobcat fever
Tuesday, August 6, 2019
In Oklahoma the survival rate for cats diagnosed with Cytauxzoon felis is less than 25 percent. While cytauxzoonosis or bobcat fever is not a good disease to have, being an infectious disease, in theory, there are treatments for it. And in the case of Jackson, a one-year-old outdoor cat belonging to a Chandler, Oklahoma family, those treatments worked.
"Jackson was showing signs of lethargy, not eating well at home," explained Dr. Laura Nafe, small animal internal medicine veterinary specialist at OSU's Veterinary Medical Hospital. "He wasn't moving around as much and wasn't acting like his normal self. When he came in, his temperature was 106.2, which is very high for a cat. The nice thing about cytauxzoon is that by the time the cat is sick from the disease, it is fairly easy to identify the organism on blood smear evaluation or a lymph node sample. In Jackson's case, we had a high suspicion of cytauxzoon so within a few hours, we had processed the diagnostics and knew that's what he had. Cytauxzoon is a very serious, life-threatening infection and unfortunately the majority of cats pass away from this infection."
Dr. Nafe has been at OSU for almost five years. Just this season alone, the hospital has seen 10 cases of cytauxzoonosis and Jackson is the only survivor so far.
"Some owners chose not to treat," said Nafe. "Many of the other cats were more severely affected at the time of presentation compared to Jackson. He's the only cat that I have personally been involved with in Oklahoma that we have saved."
But she didn't do it alone. Jackson's veterinary team consisted of the ICU staff, Delicia Timmons, RVT, and fourth year veterinary student Elisa Green of Edmond, Oklahoma.
"My first rotation was small animal internal medicine and Jackson was my very first patient," said Green. "When I first learned that Jackson was diagnosed with Cytauxzoon felis or bobcat fever, I knew it is a very devastating disease with a complicated treatment process. We had learned about it in class but I had never seen it in person so I wanted to get first-hand experience learning how to treat it."
"Jackson's treatment involved not only the drugs to treat the cytauxzoon specifically, and those two drugs are atovaquone and azithromycin, but also very aggressive supportive care to get him through all the other sequela that occur due to the infection," continued Nafe. "The disease can cause anemia, so a decrease in the red blood cell count. It can cause some changes to the liver, to the kidneys and to the lungs. So we provided oxygen for him. We provided antinausea medications and appetite stimulants and even a feeding tube for a short period of time to give him nutrition because he wasn't willing to eat on his own. At one point his proteins dropped very low and he needed a plasma transfusion. So we were able to give him that in addition to a blood transfusion."
"I do a variety of things in my job here at the hospital," added Timmons. "I teach the students practical skills like drawing blood and collecting urine. I also have the job of helping my doctors keep on track. I carry out what they want to do to help treat the patients. My responsibilities with Jackson were mainly to collect blood from him and check on him quite frequently in the ICU. We have a great ICU staff but it's always good to have more team members check on the patients. He had a lot of ups and downs. There was a lot of worrying but he made it through and we're super excited about it."
"My responsibilities were to come to the ICU three times a day to do Jackson's treatments and give him a physical exam," said Green. "Then I would meet with Dr. Nafe. We would go over the plans for the rest of the day and I would update her on his progress. He was on multiple medications, multiple supportive treatments and he required careful monitoring because his body processes were changing daily. We had to keep a really close eye on that."
Jackson was hospitalized for about 10 days.
"First thing in the morning, Jackson would be my first patient to check on," added Timmons. "Probably every couple of hours all day I checked on him and then we would text about him at night to see how he was doing. Vigilance – we were going to need to keep a really close eye and see what we could do for him."
That vigilance and teamwork paid off.
"In the beginning of his disease he actually looked pretty good despite having cytauxzoon and a high temperature, which I think is one of the reasons we decided to pursue treatment," said Nafe. "About three days into hospitalization, he began to look sicker. About five to six days into hospitalization, he necessitated plasma and blood. By day seven or eight, we felt like he had turned a corner and was going to make it.
"His prognosis is great," continued Nafe with a smile. "He lived through the infection. In theory he should not be able to get the infection again. He is a survivor and this shouldn't affect his long-term health or his survival long term."
"My favorite part about treating Jackson was watching his progress," said Green. "He did get worse before he got better. Once he turned the corner, it was great to see him get better day by day. Because he was my very first patient, it was my first opportunity to watch my own actions make a difference in a real animal. After completing this rotation, I definitely have a new appreciation for internal medicine. It's kind of like putting a puzzle together. It can be very difficult to put the pieces together but it's so satisfying when you do. I admire the medical team here. Everyone worked around the clock to help Jackson get better. I don't think we could have been successful without everyone's help."
"Jackson's survival is a great testament to the teamwork that is displayed in our hospital on a daily basis," said Dr. Jeff Studer, hospital director. "We know that the Oklahoma strain of this disease is extremely fatal. Without the intense dedication of our doctors, staff and students, Jackson would have been no different. I am inspired every day by the many success stories that occur in our hospital thanks to the tireless efforts of our team. This collaboration is what makes us different than other places. It is also what allows us to shape the future…the future for pets like Jackson, their families and veterinary medicine."
"I want pet owners with cats that have outdoor access, because those are going to be the cats most likely to have a tick bite, to know that this is an infection and the best way to prevent it is tick preventative," offered Nafe. "Being really aggressive with tick preventative, especially between the months of March and September, when the disease is most common in Oklahoma, is the best plan. Work with your veterinarian to make sure you have a good tick preventative plan in place. It is really important because it only takes one tick bite to get cytauxzoon. The best way to give your cat the best chance of survival is to have them evaluated by a veterinarian as soon as possible when you notice clinical signs. Jackson got here very quickly after the onset of his clinical signs – within 24 to 36 hours. We were able to institute treatment at that time and I think that helped his chance of survival."
Jackson's owner said, "We are so grateful to the team at OSU's Veterinary Medical Hospital. We know that we get to enjoy Jackson's daily cat antics now due to their hard work on him. Knowing that the chances were slim for survival, we almost did not pursue treatment. However, we are thrilled we did in hindsight. We would encourage other owners faced with this tough decision to at least consider trying, knowing that some cats CAN survive when they get care early in the process and from experts like Jackson did."
MEDIA CONTACT: Derinda Blakeney, APR | OSU Center for Veterinary Health Sciences | 405-744-6740 | derinda.blakeney@okstate.edu