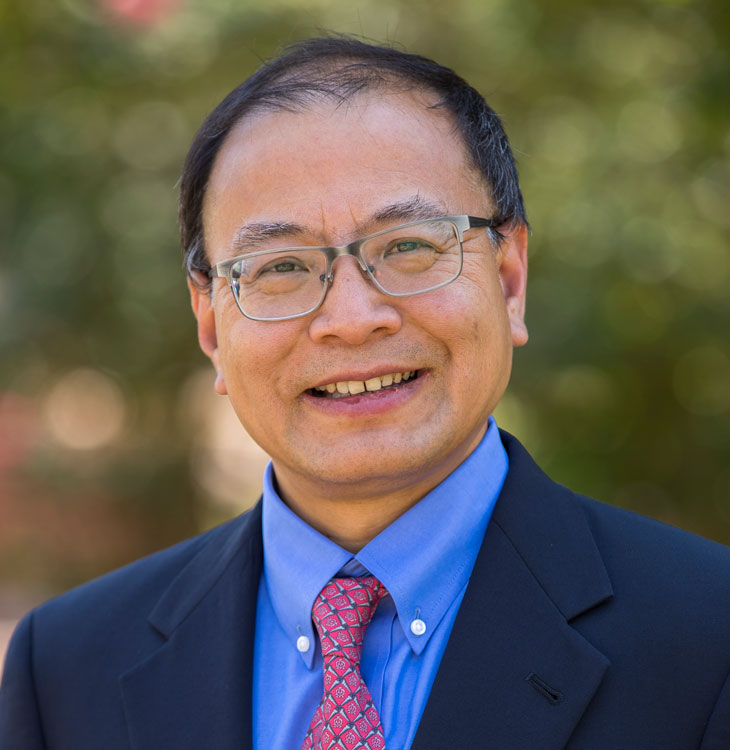 Liu Named 2019 Regents Distinguished Researcher
Thursday, December 12, 2019
For the second time in his 19-year career at Oklahoma State University College of Veterinary Medicine, Lin Liu, Ph.D., received a Regents Distinguished Research Award.
Liu, Regents Professor, Lundberg-Kienlen Endowed Chair in Biomedical Research, Lung Biology and Toxicology Laboratory director in the Department of Physiological Sciences, and director of the Oklahoma Center for Respiratory and Infectious Diseases (OCRID), first became interested in respiratory diseases during his postdoctoral training.
"Since my postdoctoral training, my whole life is devoted to respiratory disease research," said Liu. "Before 2010, my research focused on non-infectious diseases. Now my research has been extended to respiratory pathogens, particularly influenza virus."
According to Liu respiratory infections impose some of the most prevalent disease burdens worldwide and are more widespread than other higher profile diseases such as AIDS and cancer.
"Respiratory infections are recognized as a public health priority," he said. "Pneumonia affects approximately 7 percent of the global population and is often caused by bacterial and viral lung infections, most commonly influenza, Streptococcus pneumonia and Pseudomonas aeruginosa. What appeals most to me is a critical need to develop improved medicines to combat respiratory infections. Our research addresses this need and that is exciting!"
Liu advises those considering research as a career to actively seek funding and collaborate with others.
"Receiving this award recognizes not only me but my research team because it is the team that keeps our research going. Also, thanks to the National Institutes of Health and other funding agencies for continually supporting our research programs since the start of my research career. Additionally, thanks to the Lundberg-Kienlen endowment, which allowed us to support many graduate and undergraduate students in the past 10 years."
Currently there are approximately 15 people working in Liu's laboratory under his direction. Besides his own research, Liu also takes a leading role in mentoring junior investigators, building research infrastructure, and fostering collaborations in respiratory infectious disease research across the state of Oklahoma. He serves as the program director of the second NIH $11 million plus CoBRE grant allowing this effort to continue until at least 2023.
CONTACT: Derinda Blakeney, APR | OSU College of Veterinary Medicine | 405-744-6740 | derinda@okstate.edu