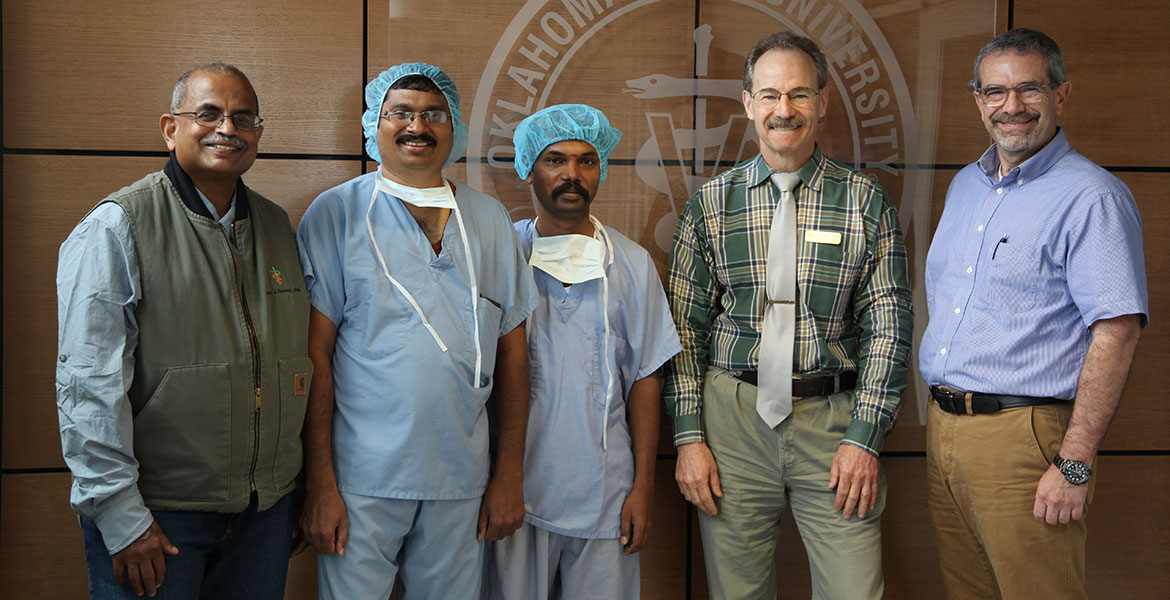 Trading Places in Veterinary Medicine
Thursday, June 13, 2019
Thanks to a long standing relationship with the Tamil Nadu Veterinary and Animal Sciences University (TANUVAS) located in India, two Oklahoma State University Center for Veterinary Health Sciences' faculty members and six veterinary students will be trading places with our colleagues in India.
Through a collaborative effort Drs. Lionel Dawson and Madhan Subramanian will escort the veterinary students to India for six weeks this summer. Currently two faculty members from TANUVAS are at the veterinary center hosted by Dr. Daniel Burba, head of the Department of Veterinary Clinical Sciences. Plans are underway for five or six veterinary students to travel from India to Stillwater during the fall semester.
Rachel Dill, Bennett Lane, Christa Olbrey, and Haley Reidlinger are the fourth year veterinary students traveling to India and Laura Edwards (class of 2021) and Avery Melton (class of 2022) are the veterinary students enrolled in the center's Summer Research Scholars Program.
"The goal of the fourth year students is to experience clinical veterinary medicine at the Madras Veterinary College Teaching Hospital located in Chennai," explained Dr. Jerry Malayer, associate dean for research and graduate education. "The hospital is very large and extremely busy. This exchange will give our students an opportunity to see different cases than they would see at our hospital in Stillwater. They will also visit a research station focused on goats and sheep as well as a wildlife reserve to see how both operations function in another country. The two research students will interact with TANUVAS faculty to participate in research studies currently underway in India."
A. Kumaresan, MVSc, PhD, is an assistant professor in the Department of Veterinary Surgery and Radiology at TANUVAS' Veterinary College Research Institute located in Namakkal. A. Velavan, MVSc, PhD, is an assistant professor in the Department of Veteirnary Surgery and Radiology at TANUVAS' Madras Veterinary College in Chennai. Both are spending three weeks at OSU to learn about the hospital's CT scanner. In India they recently acquired a 16 slice CT scanner. While OSU has a 64 slice CT scanner, the operation is similar and the two visiting surgeons hope to pick up some operation pointers from Drs. Mackenzie Hallman and Carrie Kuzma in the hospital's digital imaging section.
"We have been working with this university for many years," added Malayer. "Many of our graduate students and even some of our faculty have studied at Madras Veterinary College. We hope this exchange is the first of many more to come. Learning how we do things here and how they do things in India will make our veterinary graduates more informed on many levels. It's a win-win for both universities."
MEDIA CONTACT: Derinda Blakeney, APR | OSU Center for Veterinary Health Sciences | 405-744-6740 | derinda@okstate.edu