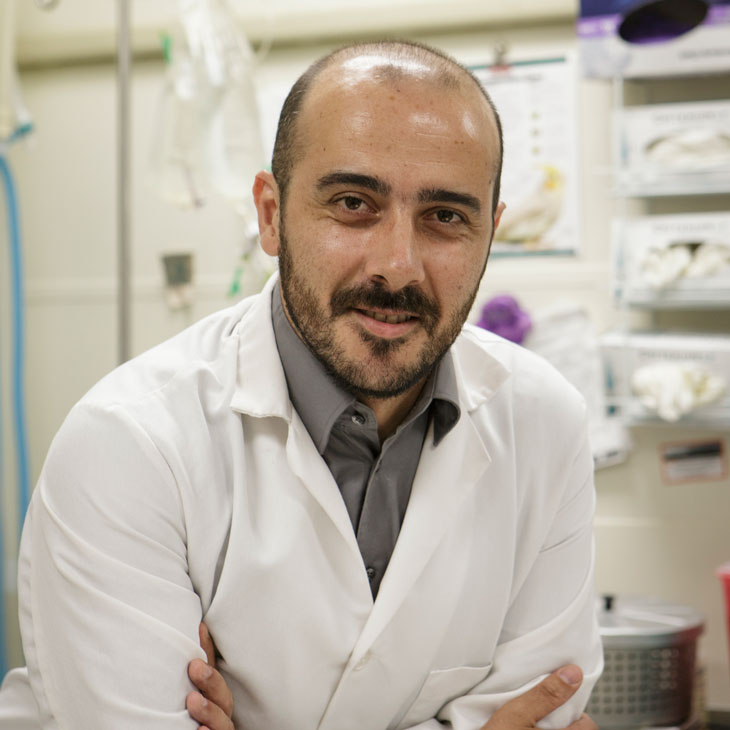 Vet Med Faces of Research: Dr. Joao Brandao
Tuesday, September 1, 2020
Joao Brandao, LMV, MS, DECZM (Avian) has been doing research focused on zoological medicine and exotic animals for more than 10 years. An associate professor of zoological medicine at Oklahoma State University College of Veterinary Medicine's Veterinary Medical Hospital, Dr. Brandao tries to be as heavy on research as possible to contribute to the overall knowledge on a variety of species.
"Working with exotic animals and zoological medicine, we obviously have a very wide range of species with a wide range of problems," said Brandao. "We study a variety of subjects from coagulation studies in elephants to sedation studies in zebra finches, which is what we are currently working on."
Brandao's team is researching the stress effects and correct dosages of sedation in birds.
"Exotic animals need to be sedated similar to people, dogs, and cats," he said. "We are trying to better understand the consequence of sedation in terms of stress effects and what dosages should be used in certain species. In this particular case, we are using the zebra finch as a model.
"With exotic animals being such a broad group of animals, there are always a lot of assumptions. We assume that the zebra finch is going to be the same as an Amazon parrot or as a dog or a cat. Obviously, that assumption is probably wrong. We need to have assumptions because there is sometimes a lack of information which is why we are trying to contribute as much as possible to the scientific knowledge."
Brandao's group is currently studying the effects of the drug midazolam, which is a sedative.
"The basis of this study is from a study we performed last year that showed the stress levels we measured on the birds were actually higher when they were sedated than when they were not sedated. It's an unusual response. We need to have stronger evidence to support that this truly is the case. It may just be that this particular species is different from others. I think it is still going to be very relevant for us to know that. We're going to try and gather as much information as we can about the individual species to stop this habit of having to use general information. At the same time, I think getting students involved and trying to start that sparkle of interest in research is important."
Brandao describes a good day in his research lab as one where the students complete most of the procedures without any complications, they get information and the results make sense. When they come across unexpected results, it's probably something new which helps add to the knowledge base.
"It's important that we do things in an organized fashion, that we don't make mistakes and we can have solid information as possible coming out of our projects. As a clinical researcher, whenever we gather information from a study that can be put into practice in a clinical case, we see the value of that information we gathered and helping clients and their pets as positive consequences of our study."
For those considering a career in research, Brandao recommends having patience and perseverance.
"Research can be frustrating from gathering the funding to pay for the project to getting the information you are looking for to determining viable results. Sometimes things don't go as planned. We should try to predict as many problems as possible but that can be challenging. It's important to continue to work and try to do better the next time. The goal is to learn new things that can complement information other colleagues around the world have completed."
Vet Med Faces of Research is a monthly series designed to inform the public about the impact of the numerous studies being conducted at Oklahoma State University's College of Veterinary Medicine. Advancing knowledge and understanding for the benefit of the lives and livelihoods of the people of Oklahoma is a critical element of OSU's land-grant mission. If you would like to support research at the college, please contact Ashley Hesser, assistant director of development with the OSU Foundation, at 405-385-0715 or ahesser@osugiving.com.
CONTACT: Derinda Blakeney, APR | OSU College of Veterinary Medicine | 405-744-6740 | derinda@okstate.edu