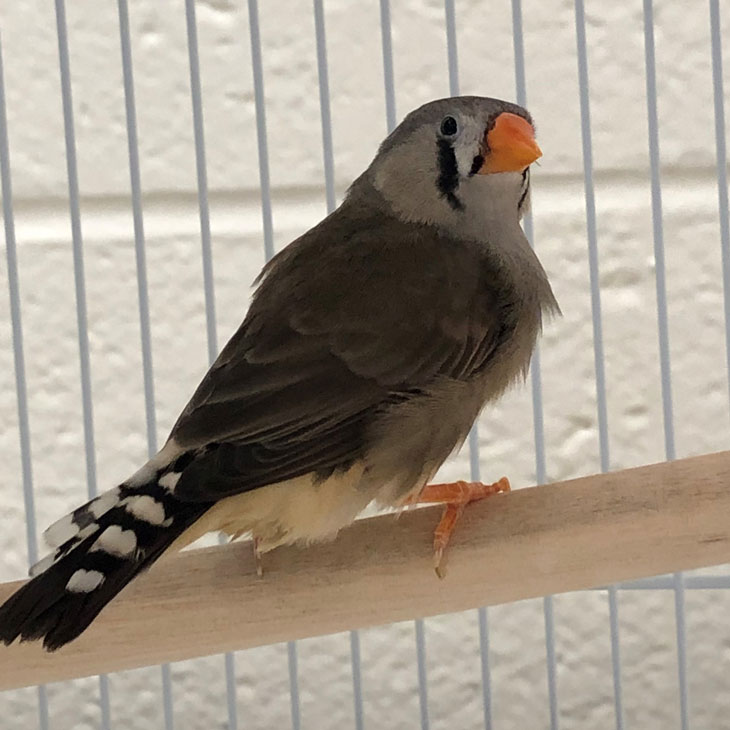 Summer Research Training Program: Expanding the Knowledge Base
Thursday, June 11, 2020
As part of Oklahoma State University College of Veterinary Medicine's Summer Research Training Program, Debosree Pathak of Houston, Texas, and Erin Willis of Stillwater, Oklahoma, are researching zebra finches to expand the veterinary medical knowledge base on these small birds. Under the mentorship of Dr. Joao Brandao, assistant professor of zoological medicine at the college's Veterinary Medical Hospital, these veterinary students are specifically studying the effective dose 50 using the zebra finch as an animal model.
"The effective dose 50 basically means that half of the animals will be sedated and half of them will not," said Pathak, who starts her third year of veterinary college in the fall. "Knowing the correct dose of sedation is important for diagnostics, physical exams and any kind of procedure. Small birds have not been researched as much as other animals such as dogs or cats. Right now, we are researching the ED 50 on the drug midazolam."
Pathak hopes to become an exotic veterinarian and seeks more experience with exotic animals.
"I've never handled birds before so this is definitely a hands-on experience. I can do physical exams on as many as 30 birds a day. I have learned a lot. I have been able to give intra-muscular injections and intra-nasal and oral administration. I'm getting really comfortable handling them."
Willis, who is a non-traditional veterinary student starting her second year this fall, already has a Ph.D. and worked as a researcher in her first career. She plans to continue conducting clinical veterinary research once she earns her DVM degree.
"I have actually never worked with birds before either," said Willis. "I've also never done research that is applicable in a clinical setting. I'm learning a lot about handling birds, how to give injections in birds, etc. I envision doing research as I continue through veterinary school as well as after I graduate.
"The second part of this study involves measuring corticosterone, which is a marker of stress," she continued. "Using an intra-nasal dose of midazolam, we will determine this marker of stress in the zebra finch. In preliminary studies, we found that corticosterone was actually higher in a high dose midazolam than it was in saline, which really shouldn't happen. So we suspect that it could be due to the high dose of midazolam. We're going to compare that to a lower dose of midazolam (as determined by the effective dose found in part one) as well as to a control to determine what might be the optimal dose in terms of lowering stress in these animals."
The Summer Research Training Program matches students with an interest in research with faculty who have ongoing projects the students can contribute to.
"Both Erin and Debosree have been involved in this project from the beginning setting up the study, the design, and the funding," said Brandao. "They are doing great. I think they will gain a lot of experience from handling the birds, to drug administration, assessment of sedation, blood collection, and laboratory testing. There is a lot of student interest in this program. It is a great experience for them to get involved with research early in their academic career and at the same time, we're adding to the collective knowledge base on zebra finches."
If you would like to support research at Oklahoma State University's College of Veterinary Medicine, please contact Ashley Hesser, assistant director of development with the OSU Foundation, at ahesser@osugiving.com or 405-385-0715.
MEDIA CONTACT: Derinda Blakeney, APR | OSU College of Veterinary Medicine | 405-744-6740 | derinda@okstate.edu