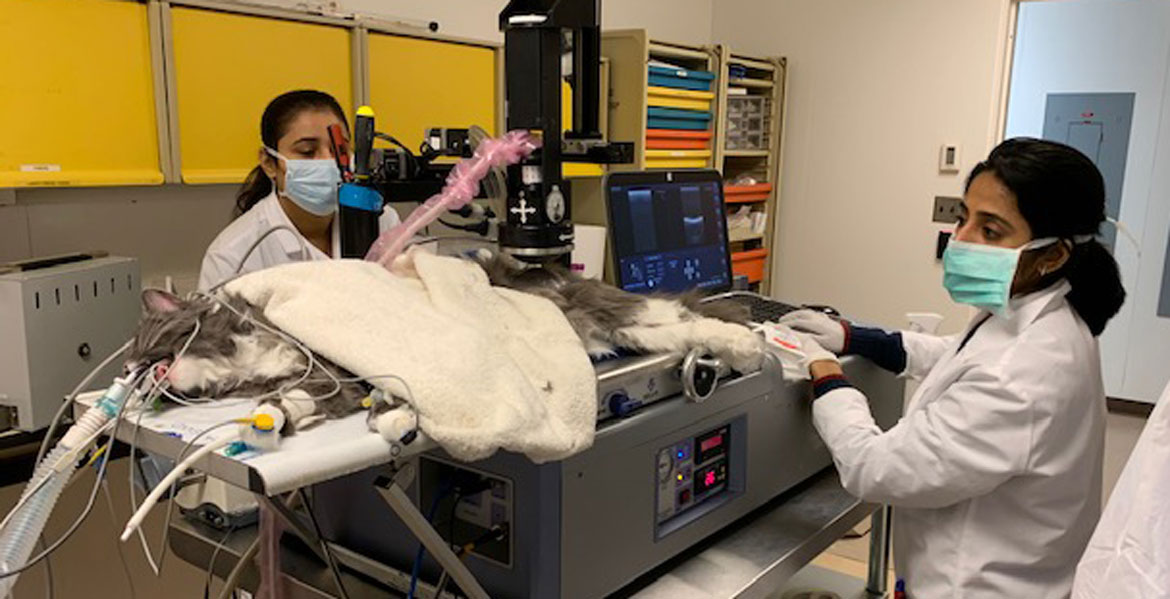 Using Focused Ultrasound to Treat Cancer Patients at Oklahoma State's Veterinary College
Wednesday, September 9, 2020
Seven years ago, Ashish Ranjan, BVSc, Ph.D., Kerr Foundation Endowed Chair, and professor in the Department of Physiological Sciences at Oklahoma State University's College of Veterinary Medicine, established a high intensity focused ultrasound (HIFU) program in the college. The program continues to grow, and with grant support from several entities including Petco, Ranjan's team continues to recruit dogs and cats suffering from cancer for their clinical trials. His latest patient is Rhino, a gray and white tuxedo cat owned by Dr. Martin Furr, professor and head of Dr. Ranjan's department at the veterinary college.
"Rhino is about 9 years old. We've had him since he was about 2 weeks old," said Furr. "I was aware of the work Dr. Ranjan is doing because he works in my department. When our cat got sick, we noticed a mass in his leg that we didn't understand. It was finally diagnosed as a tumor in the muscle. There were very few options available to us either for palliative care or curative. So I talked to Dr. Ranjan about his research techniques and would it be a tumor that maybe would respond to this experimental treatment. We thought maybe so and decided to give it a try."
At the end of July, Rhino has undergone two treatments about 5 weeks apart.
"He's done very well," said Furr. "The first treatment you wouldn't even know that anything had happened. The second treatment he was a little sore, had a little reaction, but so far, he's done really well. The tumor has shrunk in size quite dramatically."
Dr. Ranjan's team uses an ultrasound imaging transducer to locate the tumor and set boundaries for treatment or a region of interest. Using an image screen that shows the cancerous mass, his team administers treatment to that region using the built-in therapeutic HIFU system. In advanced staged conditions, they combine HIFU with chemotherapies, and novel nanoparticles to improve outcomes in patients. The two most critical benefits to focused ultrasound treatment over traditional treatments like surgery, chemotherapy or radiation are that it is non-invasive and non-toxic. HIFU doesn't require the use of scalpels and invasive surgeries to remove tumors or cure infections. It is safe to the patient.
"I think the thing that surprised me the most about the HIFU treatment was how little reaction there was after the fact," said Furr. "After the first treatment, he didn't have any pain and actually felt better than before. He did have some degree of reactivity and soreness the second time but that's actually been quite minimal so that's the biggest surprise.
"Rhino's prognosis has always been guarded," said Furr. "His tumor is a sarcoma. Usually this type of tumor is one that eventually gets them. It's sort of a slow growing, slowly progressive tumor. We're not really sure what the end result is going to be. I think as the tumor size is shrinking, that's certainly encouraging and the prognosis maybe looks a little better. I would absolutely recommend HIFU. The response has really been quite remarkable, particularly with the type of tumor my cat has. It's not a tumor that responds well to just straight chemo, which is part of his treatment protocol with the HIFU. It really seems to have improved the effectiveness with very little to almost no side effects. Based upon the results of other cases so far, it seems to be really encouraging."
If other pet owners have dogs or cats with cancer or non-healing chronic wounds, Dr. Furr suggests considering HIFU.
"Don't hesitate to investigate new modalities, new treatments and options," said Furr. "Contact us and try to talk with Dr. Ranjan and other faculty here at Oklahoma State's College of Veterinary Medicine who are trying to work in those areas and see what's out there. Make an informed decision about what might be able to be done for your pet and don't just give up because you can do a lot sometimes and this is a good example."
If you would like more information on high intensity focused ultrasound, please contact Dr. Ashish Ranjan at ashish.ranjan@okstate.edu. If you would like to support veterinary medical research to improve animal and human health, please contact Ashley Hesser, assistant director of development with the OSU Foundation, at ahesser@osugiving.com or 405-385-0715.
CONTACT: Derinda Blakeney, APR | OSU College of Veterinary Medicine | 405-744-6740 | derinda@okstate.edu