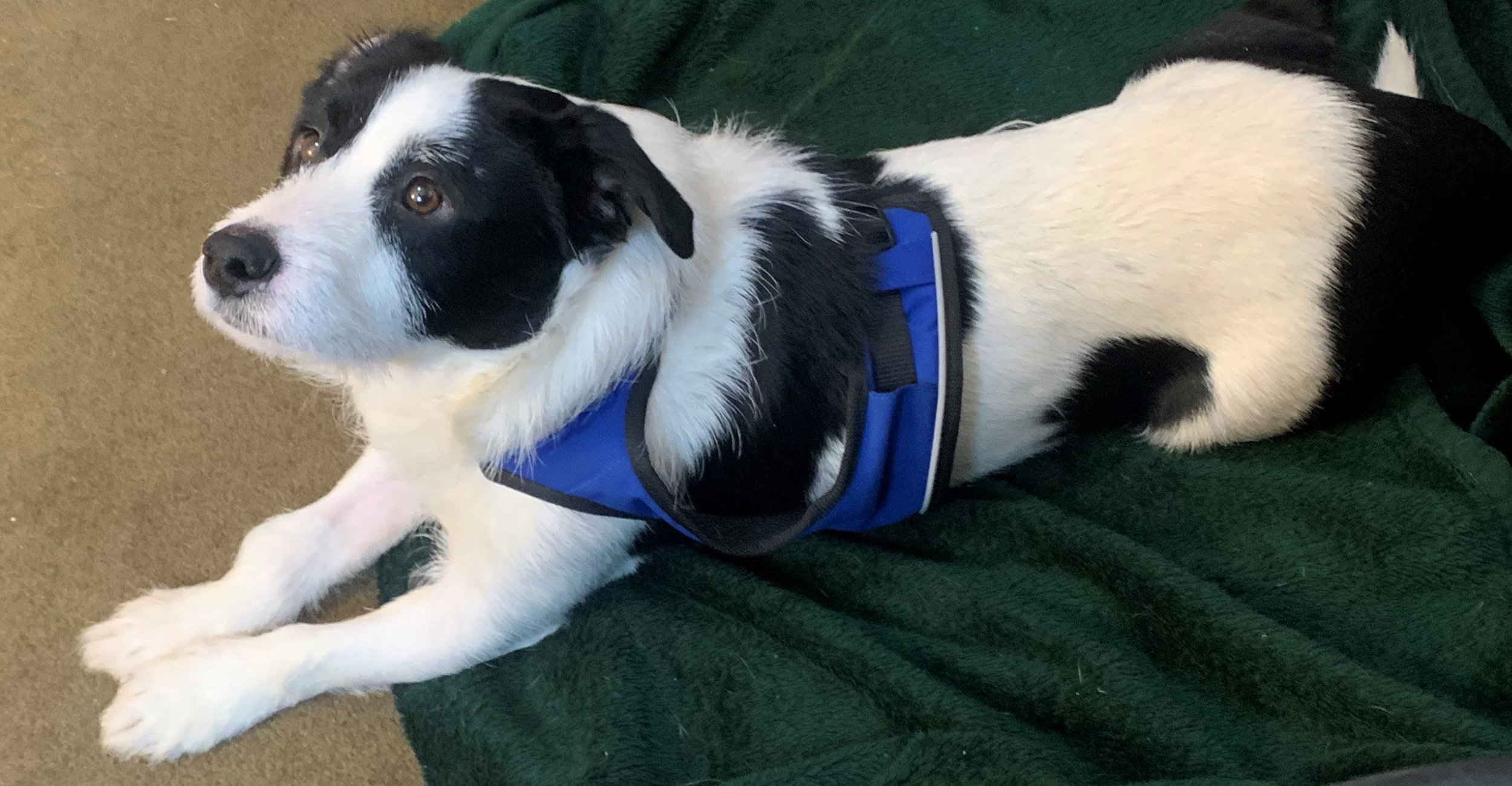 Calming the anxious pup with music
Monday, May 17, 2021
Media Contact: Derinda Blakeney, APR | OSU College of Veterinary Medicine | 405-744-6740 | derinda@okstate.edu
"Music hath charms to soothe the savage beast."
Playwright William Congreve wrote that in 1697, and it remains true today.
But Dr. Katrina Meinkoth, an Oklahoma State University veterinarian, wanted to know more about the effect of music — and specifically its effect on dogs. She and her husband recently adopted Petey, a dog suffering from an anxiety disorder stemming from his original environment when he was young.
"Petey has improved over several months with medication and a consistent environment," Meinkoth said. "My husband found that Petey relaxes with him in his office while background music is being played.
"Most people are aware of music's influence on humans. Either we hear something we like and respond to it, or we've heard about music therapy in humans and its evidence of supporting physical rehabilitation and facilitation of movement and positive mental attitude for motivation," she said.
"Since music exposure has positive effects on humans, music has been tested in animal shelter environments. Some of the first papers I found looking into music for dogs in kennels came from the University of Glasgow in a Journal of Physiology and Behavior article in 2017. Amy Bowman studied the effect of different genres of music in the stress levels of kenneled dogs using markers of stress such as heart rate variability and urine cortisol levels as well as the observed behavior of the dogs in their kennels. In the discussion, music was an effective enrichment tool within a rescue kennel environment. Genres including soft rock, reggae and classical appeared to have the most positive effects. Heavy metal increased fear-related behavior."
In an article from the Animal Welfare Journal in 2002, "The influence of auditory stimulation on the behavior of dogs housed in a rescue shelter," Dr. Deborah Wells of Queen's University in Belfast, Northern Ireland, found that dogs exposed to classical music spent more time resting and vocalized less than when exposed to other stimuli.
In a journal called Animals, Dr. Abigail M. Lindig of the University of Sydney in Australia reviewed the effects of music pitch and tempo on the behavior of kenneled dogs. While the field is under-researched in general, animals appear less stressed or anxious when exposed to classical music with low pitch and slow tempo.
"My husband is not really a classical music type of guy. He's a Springsteen fan. The only dog song we could find that Springsteen did was in a 1973 live show where he played an old song by Rufus Thomas called 'Walking the Dog,'" Meinkoth said. "But for working at home on the computer, we often listen to soft instrumental music. Petey relaxes after we are being still at our desk with the music soft in the background."
While researchers continue to study classical music itself and consider traits such as instrumentation and timber of the music, more specific information will arise to help us better fine tune our habits to meet our pets' needs.
About the author: Dr. Katrina Meinkoth is an assistant professor in the Shelter Medicine Program at Oklahoma State University's College of Veterinary Medicine.
---
Veterinary Viewpoints is provided by the faculty of the OSU Veterinary Medical Hospital. Certified by the American Animal Hospital Association, the hospital is open to the public providing routine and specialized care for all species and 24-hour emergency care, 365 days a year. Call 405-744-7000 for an appointment or more information.
OSU's College of Veterinary Medicine is one of 30 accredited veterinary colleges in the United States and the only veterinary college in Oklahoma. The college's Boren Veterinary Medical Hospital is open to the public and provides routine and specialized care for small and large animals. The hospital offers 24-hour emergency care and is certified by the American Animal Hospital Association. For more information, visit https://vetmed.okstate.edu or call 405-744-7000.