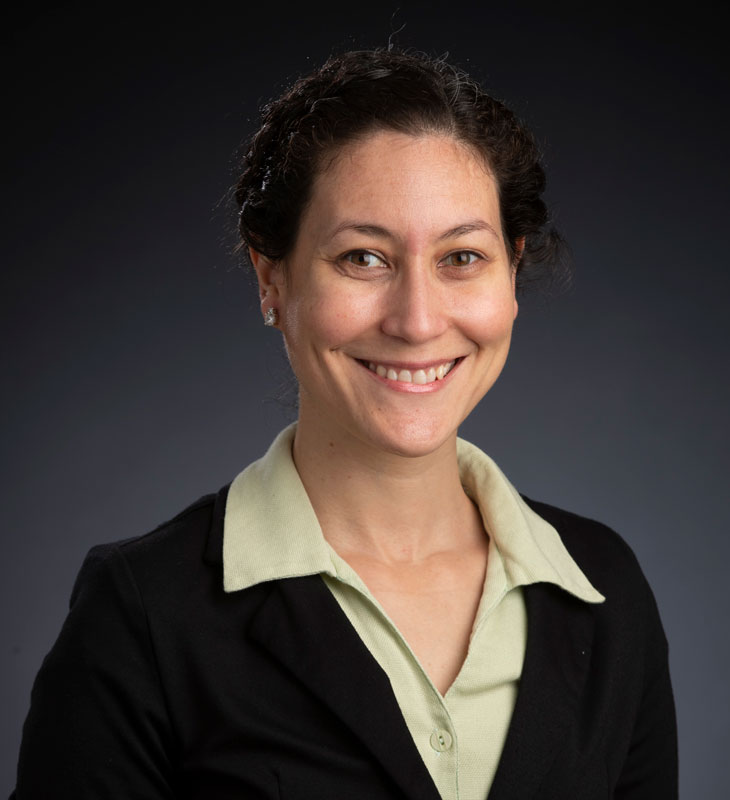 Vet Med Faces of Research: Dr. Giselle Cino
Thursday, September 2, 2021
Media Contact: Derinda Blakeney | College of Veterinary Medicine | 405-744-6740 | derinda@okstate.edu
Dr. Giselle Cino is an assistant professor at the Oklahoma Animal Disease Diagnostic Laboratory and in the Department of Veterinary Pathobiology at Oklahoma State University's College of Veterinary Medicine. She started doing research while earning her Ph.D. about 10 years ago.
"My main research focuses on the swine industry and swine animal diseases specifically infectious diseases," Cino said. "I also study a little bit of immunopathogenesis of viral diseases in swine and some of the transboundary animal diseases.
"Nationwide, as well as internationally, it is known that pork is one of the main sources of protein. The primary reason for the research in this animal species is to secure pork to the table. I try to protect that and make sure that we have an available source of protein from the animal and the field to the table. We try to make sure that we prevent diseases, protect the welfare of the animal and avoid impact in the industry.
"One of the things that excites me is the fact that research, focusing on a single animal species, can bring together many researchers from other parts of the world and United States. It can also translate to other animal species. For instance, one of my research projects includes severe combined immune deficiency in swine species that can be translated to humans with that same disease and can be used as an animal model. So that's very exciting.
"Never stop thinking that you can find something interesting. When I was doing my Ph.D. work with viral diseases, I serendipitously found the severe combined immune deficiency in pigs that turned into this big project that became an animal model for this disease in humans. Never close your mind; always think about possibilities of different things that might not be what you are searching for.
"Success is just basically continuous looking and searching for things and getting more and more in depth into your research work. What makes me smile is the fact that I get to work with people from so many different backgrounds with so many different areas and knowledge. I am a big believer that a research project has to go across different areas, even institutions and countries, to be very well routed and to get to a very good conclusion. I love that part.
"Pigs are super fun. They are very smart and I enjoy working with that species, and I really enjoy working across disciplines and discovering new things. My mind is shaping thanks to the knowledge and the input from the research projects. Never stop thinking and asking questions."
Vet Med Faces of Research is a monthly series designed to inform the public about the impact of the numerous studies being conducted at OSU's College of Veterinary Medicine. Advancing knowledge and understanding for the benefit of the lives and livelihoods of the people of Oklahoma is a critical element of OSU's land-grant mission. If you would like to support research at the college, please contact Ashley Hesser, director of development with the OSU Foundation, at 405-385-0715 or ahesser@osugiving.com.