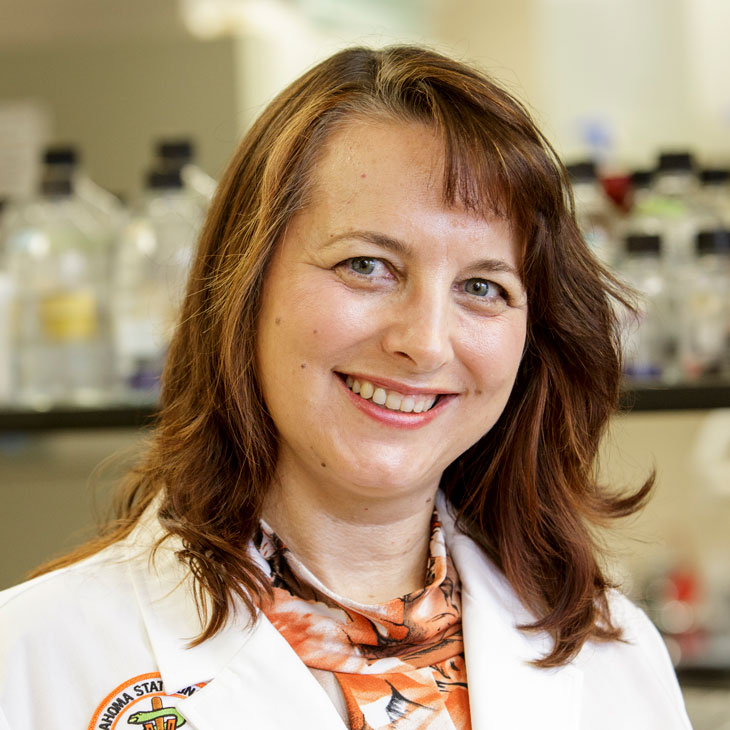 Vet Med Faces of Research: Dr. Lara Maxwell
Tuesday, July 6, 2021
Media Contact: Derinda Blakeney | College of Veterinary Medicine | 405-744-6740 | derinda@okstate.edu
Dr. Lara Maxwell is a pharmacology professor in the Department of Physiological Sciences at Oklahoma State University's College of Veterinary Medicine. She started doing research while earning her DVM degree and continues to do so some 26 years later.
"All of my research focuses on some aspect of therapeutics," Maxwell said. "Therapeutics are drugs that we administer to treat or prevent a disease. While my research interests are pretty broad, two major projects I've recently focused on are Monkey B virus, which can infect people and cause devastating disease, and the disposition of THC, the major psychoactive element of cannabis.
"The people most at risk of getting B virus are laboratory animal workers who work around monkeys, specifically macaques such as rhesus macaques. Even though this virus causes little disease in the macaques, it is zoonotic and the neurologic damage to infected people can be permanent or lethal. People working with these primates in support of human health discovery are at increased risk of developing the disease. Other people who could develop B virus include those who come in contact with feral monkey colonies around Silver Springs, Florida, or with monkey temples in Asia.
"At this point, I am finishing some studies I began on Monkey B virus with recently retired professor Dr. Richard Eberle, a world renown researcher in this field. The goal is to provide a way to prevent disease very safely in people who might have been exposed to B virus. If you wait until people actually develop signs of B virus infection, it's very difficult to treat the disease and about half of the people will die. By giving a very safe drug very early, we think we can prevent them from ever getting sick in the first place. Results have been very encouraging so far. I would love to see kits available at places where people have exposure to monkeys, specifically macaques, so they could immediately treat any bites, scratches, or other ways they could get inoculated with this virus. I think it would be a very practical application and takes our research to the next step and makes it available to protect people.
"With the THC research, we are developing a model to describe the movement of THC around the body. Because of changes in recreational and medical use of marijuana laws, more people are testing positive for THC. I'm working with Kacey Cliburn, a forensic toxicologist, who needed to determine if THC and other metabolites of marijuana were present and how that might have impacted the judgement of a pilot or driver involved in a fatal accident. We use mathematical models on a computer to show how the THC would move around the body and what concentrations would be found in different tissues. That gives us an idea of how to interpret concentrations when they are found in post-mortem samples. I think that calculus is one of the greatest achievements of humankind. These equations are beautiful and eloquent things. Just seeing all of that come together to form a picture is really very satisfying.
"When we come up with a therapeutic or test a therapeutic that looks really promising and is going to help people or animals live healthier lives, that's always exciting. It's also exciting when you work and work on a set of equations and then you are able to graph it and have the program work the way you think it should after all that effort. A good day in my research lab is when the equipment and experiments are working well, or we get a grant funded or a paper published. Those are all big highlights of the research experience.
"Often times people I talk with are surprised that veterinary pharmaceutics are the same as human pharmaceutics. The same drug can be used in both people and animals. There is not a distinct difference biologically between humans and animals. That really shows us how doing work that benefits one species also benefits another — the One Health approach."
Maxwell believes that some of the puzzles remaining in zoonotic viral diseases like Monkey B virus include how they can so differently affect different species. COVID-19 is another puzzle. Coronaviruses are also likely to be zoonotic viruses and seem to have very different effects in different species, so she welcomes more researchers to the field.
Vet Med Faces of Research is a monthly series designed to inform the public about the impact of the numerous studies being conducted at Oklahoma State University's College of Veterinary Medicine. Advancing knowledge and understanding for the benefit of the lives and livelihoods of the people of Oklahoma is a critical element of OSU's land-grant mission.
If you would like to support research at the college, please contact Ashley Hesser, director of development with the OSU Foundation, at 405-385-0715 or ahesser@osugiving.com.