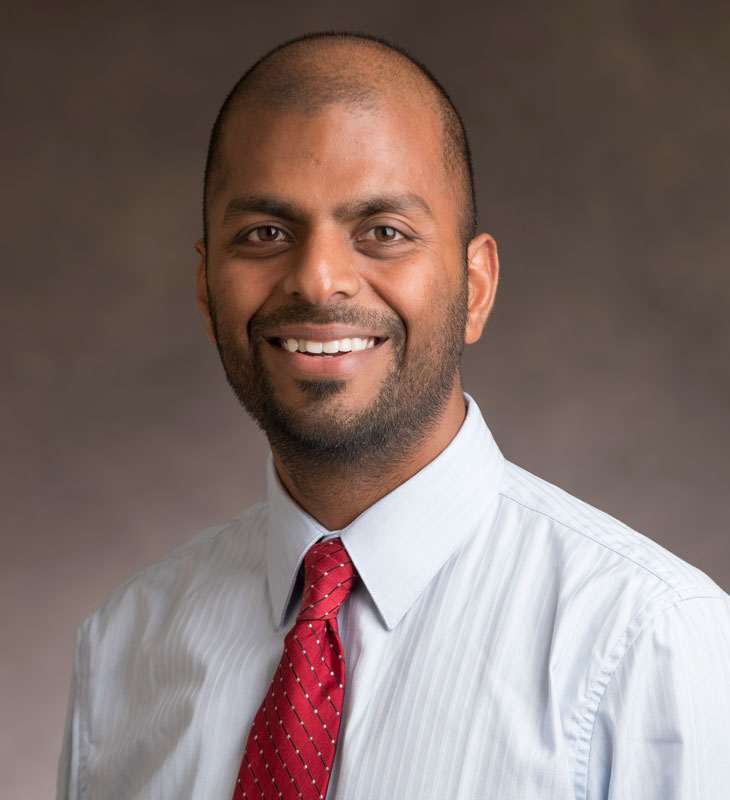 Vet Med Faces of Research: Dr. Madhan Subramanian
Tuesday, March 2, 2021
Madhan Subramanian, BvSc, Ph.D., joined Oklahoma State University's College of Veterinary Medicine in 2017. Since then, the assistant professor in the Department of Physiological Sciences has been conducting independent and collaborative research.
"My research lab primarily focuses on obesity and aging related diseases," Subramanian said. "More specifically, we are interested in understanding the neural mechanisms of these conditions. Obesity and aging are important risk factors for the development of a number of diseases such as heart diseases and neurodegenerative diseases. All these diseases are highly prevalent throughout the country especially in Oklahoma. So, understanding these risk factors better will help us treat or mitigate these diseases. I am most excited about the broad implications our research could have on the health and welfare of both humans and animals," he added.
"We are beginning to understand how obesity causes neuroinflammation in specific regions within the brain through a phenomenon called cellular senescence, a stress-response resulting in irreversible growth arrest in cells. Although the senescent cells cannot divide, they are alive and metabolically active. They release pro-inflammatory cytokines, which in turn leads to inflammation and affects the healthy cells near them. This then could affect normal physiological functions like changes in blood pressure for example."
Dr. Subramanian says his team is very passionate about the research they do. They enjoy doing experiments in their lab and encourage others interested in research to join them.
"As a researcher, I smile when my hypothesis is actually true. In the short term, success to me is getting recognition from your peers through publications and grants. However, in the long term, training the next generation of scientists and seeing that your research is making an impact in the broader scientific community is what I call true success. In the near future, I hope our research has translational potential that could help our community and our nation."
Vet Med Faces of Research is a monthly series designed to inform the public about the impact of the numerous studies being conducted at Oklahoma State University's College of Veterinary Medicine. Advancing knowledge and understanding for the benefit of the lives and livelihoods of the people of Oklahoma is a critical element of OSU's land-grant mission.
If supporting research at the OSU College of Veterinary Medicine is your passion, please contact Ashley Hesser, assistant director of development with the OSU Foundation, at ahesser@osugiving.com or (405) 385-0715.
MEDIA CONTACT: Derinda Blakeney, APR | OSU College of Veterinary Medicine | 405-744-6740 | derinda@okstate.edu