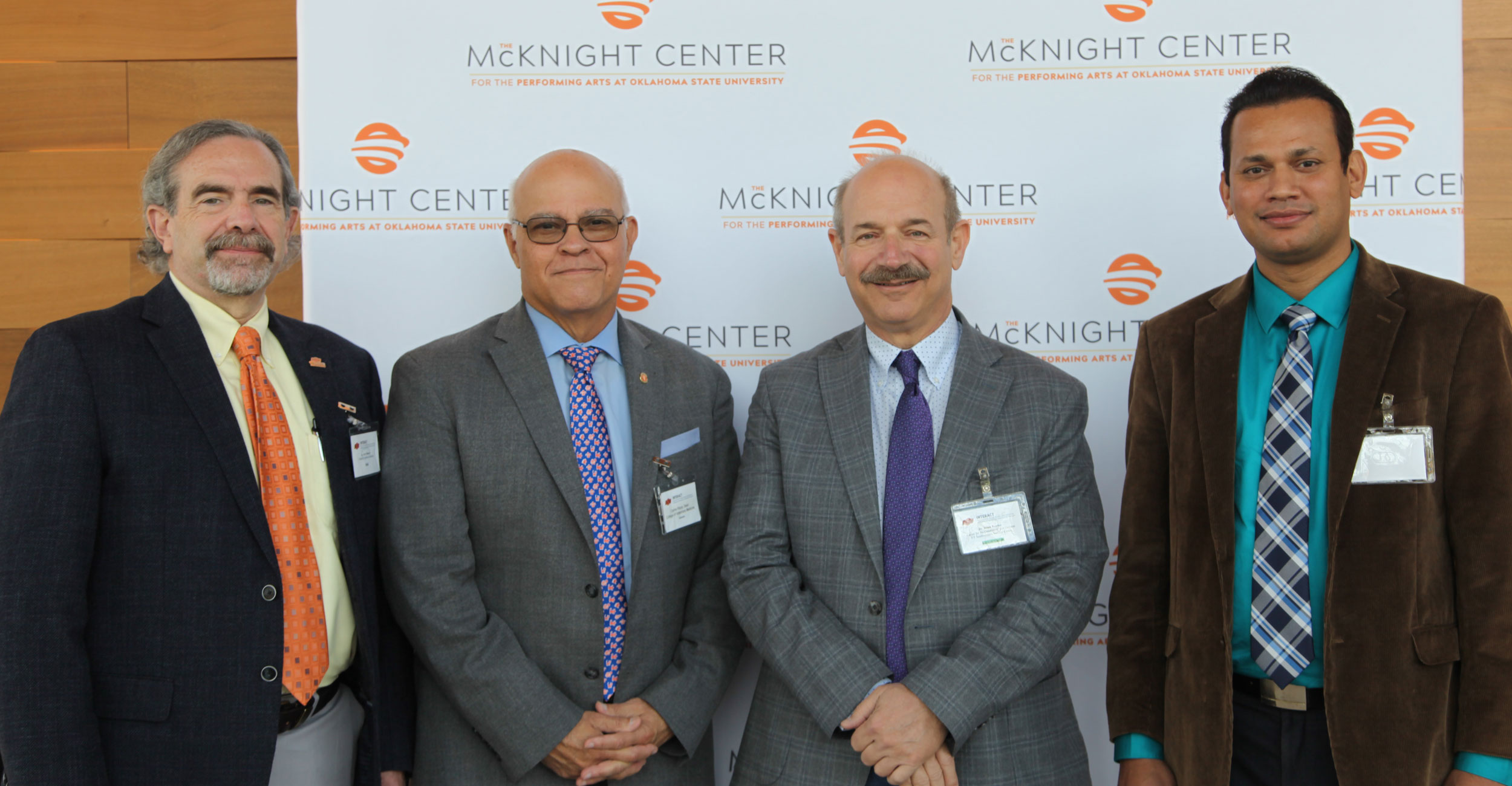 Nobel Prize recipient delivers keynote at INTERACT Research Symposium
Friday, October 22, 2021
Media Contact: Derinda Blakeney | College of Veterinary Medicine | 405-744-6740 | derinda@okstate.edu
The OSU College of Veterinary Medicine recently welcomed a Nobel Laureate to deliver a keynote address for the first time in its 73-year history.
Bruce Beutler, MD, spoke at INTERACT's Research Symposium presenting, "Random Germline Mutagenesis and Cancer Resistant Mice."
When asked what it feels like to win a Nobel Prize, Beutler said, "It's something that you have to get used to. Of course, I was just overjoyed the day that I learned about it. I still think it's very helpful. It gives you a certain measure of credibility that you lacked before even though you were the very same person. That's helpful to the work I do."
The director of the Center for the Genetics of Host Defense at the University of Texas Southwestern in Dallas, Beutler has spent the majority of his career in research. Encouraged by his father, a physician and biomedical scientist, Beutler went to medical school to study biology, the whole organism and how it functioned, physiology and pathology.
"I followed my father's advice and never regretted that," Beutler said. "I think it helped a lot to learn about medicine. It helps me even today to understand what's going on with certain mutations we create in the course of our work with mice."
Following medical school, Beutler worked with patients for a couple of years before returning to laboratory science. Early in his career, he isolated a protein called cachectin, commonly known as tumor necrosis factor.
"I understood that tumor necrosis factor or TNF was involved in inflammatory processes," he said. "I developed inhibitors that would block it and some of them were used to treat diseases like rheumatoid arthritis. I then wondered how this molecule was induced so my work became oriented toward innate immunity. I set out to isolate the receptor for lipopolysaccharide knowing that was a trigger that microbes used to activate innate immunity. It was that work that led to a Nobel Prize for me."
Beutler made the process of finding a receptor much faster.
"Through methods we set up, if we induce a phenotype in a mouse with the germline mutagen, we know immediately which mutation caused it. It's instantaneous. Then we can turn this system around to look for mutations that suppress disease."
Beutler's work aligns with Oklahoma State University's promotion of One Health and One Medicine.
"Very definitely one can use animal models and even plant models and expect relevant outcomes where human health is concerned. If graduate students and clinicians are considering a research track career, they should work on something that really excites them. I find too often people are a little bit paralyzed by indecision. When you come to a fork in the road, take it. It really isn't so much important that you make the right choice but chose something that interests you and then work on it with all your energy. Make it a big part of your life."
That's advice Beutler lives every day.
"The most exciting thing we're doing now is to create mutant mice that are resistant to cancer. It's very surprising the extent to which one can do that with just one or two nucleotide changes in the whole genome, even though the mouse has 2.6 billion nucleotides. You can make an animal that's really quite normal and yet, if you inoculate it with a lethal tumor to wild type mice, it will completely resist that tumor. I can see ways that this can be applied to humans as well. We hope we can use this as the basis of therapy.
"To me the most exciting thing about research is the exploratory component. We use a random process to create opportunities for discovery. Every day when I go to work, I know it might be the day that we find the wonderful mutation that leads to a cure for cancer let's say. Or for some of the other interesting problems we work on. That can be really exciting."
Beutler spent his day at OSU listening to the research symposium presentations made by faculty and graduate students from across the university. He also visited with graduate students during lunch learning about the many projects they are investigating.
"It was an honor for INTERACT and OSU to host Nobel Laureate Dr. Beutler," said Dr. Ashish Ranjan, professor and director of INTERACT at the veterinary college. "We are very fortunate to hear him and surely he will motivate and inspire our researchers to do next generation science."
You can listen to the rebroadcast of the INTERACT Research Symposium morning session, including Beutler's keynote address at INTERACT Research Symposium Morning Session and Keynote and the afternoon session at INTERACT Research Symposium Afternoon Session.