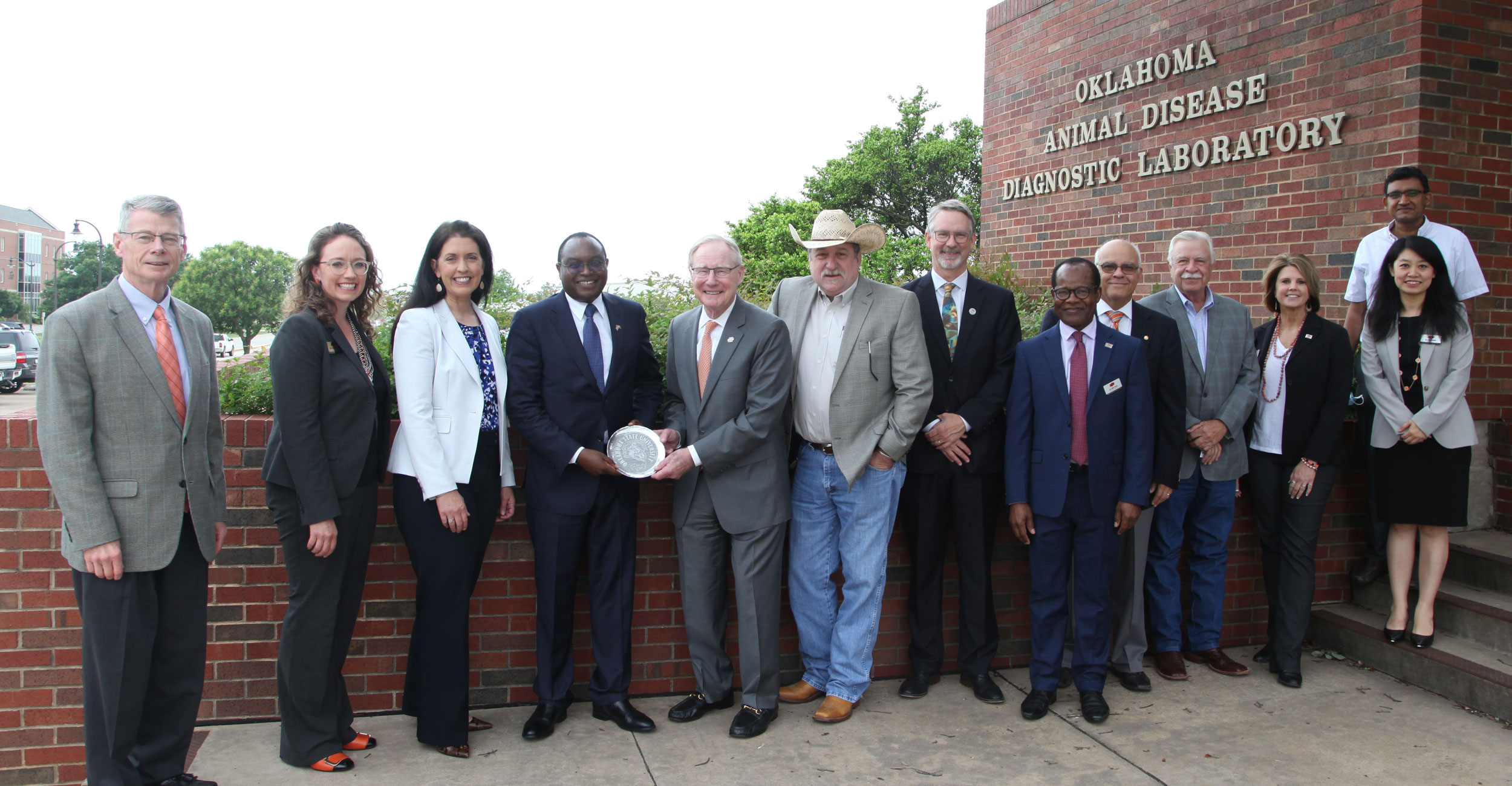 OSU Veterinary College hosts Kenya Ambassador
Wednesday, June 2, 2021
Media Contact: Derinda Blakeney | College of Veterinary Medicine | 405-744-6740 | derinda@okstate.edu
Oklahoma State University's College of Veterinary Medicine recently hosted Ambassador David Gacheru, Deputy Chief of Mission of the Embassy of the Republic of Kenya to the United States of America, and a small group of Oklahoma and OSU leaders.
Gacheru traveled to Stillwater to discuss Kenya's beef cattle industry and opportunities for collaboration with Oklahoma State University. He was very interested in the various disease diagnostic tests handled by the veterinary college's Oklahoma Animal Disease Diagnostic Laboratory (OADDL) and in beef cattle management best practices to improve production.
"We had a very productive meeting," said Dr. Carlos Risco, dean of the veterinary college. "We discussed cooperative activities for instruction and extension to expand the beef cattle industry in Kenya."
Participating in the discussion were: Oklahoma Secretary of Agriculture Blayne Arthur; State Rep. Mark McBride; OSU President Burns Hargis; Risco; Dr. Thomas Coon, vice president and dean of the Ferguson College of Agriculture; Dr. Randy Kluver, associate provost and dean of the School of Global Studies and Partnerships; Dr. Vivian Wang, director of Global Partnerships in the School of Global Studies and Partnerships; Dr. Jerry Saliki, professor and director of OADDL; Dr. Akhilesh Ramachandran, associate professor at OADDL; Emily Cooper, assistant director at OADDL; Dr. Rosslyn Biggs, assistant clinical professor, director of continuing education and beef cattle extension specialist; and Ron Banks, owner of Rendezvous Cattle Inc. and Rendezvous Equine LLC.
Ambassador Gacheru, Rep. McBride and Banks also took an extensive tour of OADDL including the receiving, necropsy, serology, parasitology, bacteriology, histology and molecular sections.