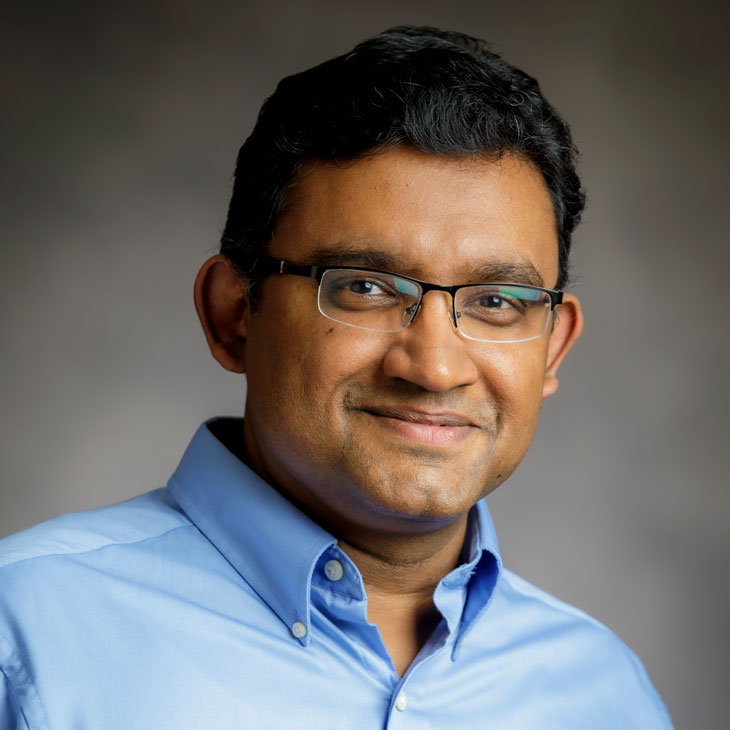 Ramachandran Earns Faculty Award
Monday, January 11, 2021
Congratulations to Dr. Akhilesh Ramachandran on receiving the 2020 Distinguished Early Career Faculty Award! Established in 2018, the award recognizes faculty members granted tenure at Oklahoma State University within the previous three years. Recipients must demonstrate a strong potential for continued contributions to the University and to his/her profession in the areas of instruction, research and creative activity and/or extension/outreach.
An associate professor in the Department of Veterinary Pathobiology at OSU's College of Veterinary Medicine, Ramachandran played a key role in the University's response to testing human samples for COVID-19 during the onset of the pandemic. He is known for being an excellent diagnostician and service provider to Oklahoma Animal Disease Diagnostic Laboratory (OADDL) clients while simultaneously running a productive research program with exceptional scholarly output and participating in graduate education and undergraduate mentorship. His research interests include infectious diseases and applied diagnostics, particularly exploring the genetic basis of the host- pathogen interactions with the ultimate goal of using this information for diagnostic purposes.
"It is great that our work at OADDL is being recognized," Ramachandran said. "We have a great team of staff, faculty and administrators at the veterinary college who sincerely supports research and service activities. I am very honored to receive this award."
"This award bears testimony to Dr. Ramachandran's exceptional contributions to OADDL's diagnostic mission as well as to the research and teaching missions of OSU," Dr. Jerry Saliki, director of OADDL, said. "We are very proud of him."
One faculty member from each College and the Library is recognized annually, with the exception of the College of Arts and Sciences where up to two honorees may be chosen.
MEDIA CONTACT: Derinda Blakeney, APR | OSU College of Veterinary Medicine | 405-744-6740 | derinda@okstate.edu