No shortage of 'pixie dust' at OSU Vet Med
Friday, October 14, 2022
Media Contact: Kaylie Wehr | Coordinator, Marketing and Public Relations | 405-744-6740 | kaylie.wehr@okstate.edu
Everyone hopes for a magical birth story, but unfortunately, complications can occur.
Tinkerbell, a mammoth donkey foal owned by Walt and Saundra Traywick, needed a little more pixie dust than the average baby donkey.
Immediately after Tinkerbell's birth, her owners noticed swelling on the bottom of her abdomen. After close monitoring, the Traywicks consulted their veterinarian, Oklahoma State University alumnus Dr. Byron Schick.
He recommended they take Tinkerbell to the OSU College of Veterinary Medicine's large animal hospital immediately. Forty-eight hours after her birth, Tinkerbell arrived at the OSU Veterinary Medical Teaching Hospital and was diagnosed with a urachal rupture.
Dr. Kelsey Jurek, large animal emergency clinician at the CVM, attended Tinkerbell.
"A urachal rupture is a tear right at the base of the umbilical cord that allows urine from the bladder to leak into the tissue just underneath the skin," Jurek said.
A urachal rupture causing umbilical problems in foals is a rare but critical occurrence that requires surgical treatment. The rupture typically occurs at birth, which complicates treatment as foals are only 24-48 hours old. The risk of damage to the skin or underlying
tissue — along with the contamination of the abdomen with urine — makes surgery even more difficult.
"Urine is extremely irritating and causes severe inflammation and tissue damage around the umbilicus when a urachal rupture occurs," Jurek said.
Jurek and her team removed Tinkerbell's umbilicus, which is where the umbilical cord was connected, as well as the internal structures that connected her to the umbilical cord and any damaged tissue. They then thoroughly cleaned any urine contamination off the body wall. "Thankfully, Tinkerbell's urachal rupture did not extend into the abdomen, so we did not have to worry about urine having leaked around where the intestinal tract is," Jurek said.
Prognosis is excellent when treated promptly, but can vary based on the response time of owners and veterinarians.
"If left untreated, the prognosis is poor due to the development of infection and the effects of urine contamination within the tissues and abdomen," Jurek said. "Any foal that is born with or develops swelling near the site of their umbilical cord should be promptly evaluated to determine the cause."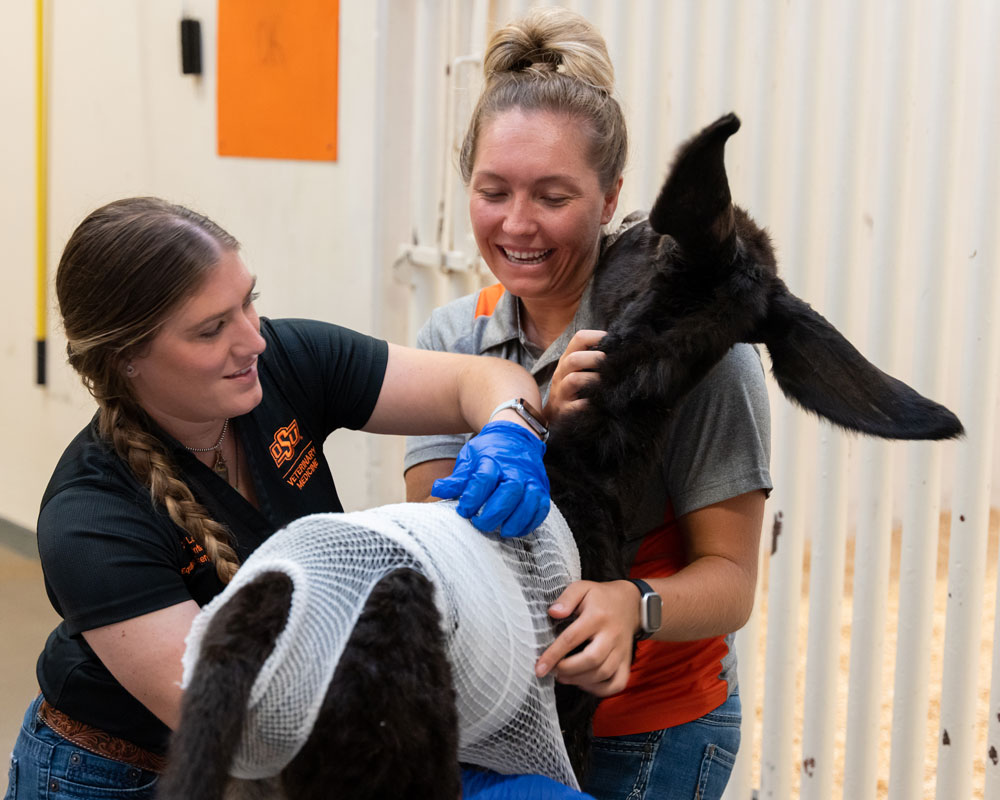 Tinkerbell is now recovering at home and doing well. She left OSU with an excellent prognosis and is expected to live a happy, healthy life.
The Traywicks couldn't be more pleased with the outcome and are grateful to OSU.

"We were so incredibly impressed with everyone," Saundra Traywick said. "They did a great job of explaining everything, all the aftercare, and followed up with us later. It was a great experience. "Being able to bring Tinkerbell home was such a blessing. My daughters loved being up there and seeing the students and doctors. One of them wants to be an equine veterinarian after that experience."

Thanks to the quick actions of the Traywicks and Schick, all involved are enjoying a happy ending.
Tinkerbell will now live a happy, and perhaps slightly spoiled, life thanks to an excellent care team and a little veterinary pixie dust little veterinary pixie dust.
---
Story By: Bailee Schiefelbein | Vet Cetera
Photos By: Taylor Bacon