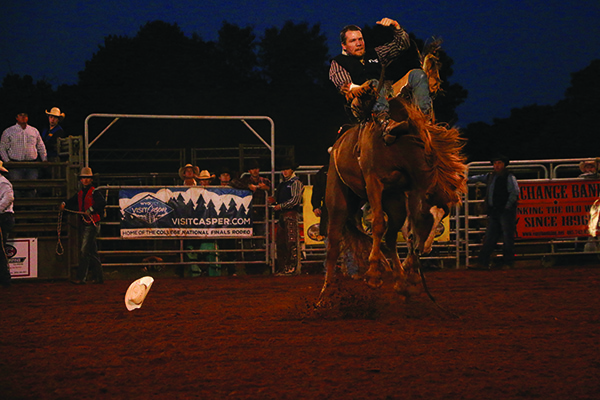 Boots. Chaps. Cowboy hats. The Payne County Expo Center rodeo arena was filled with these items as well as the excitement of hundreds of fans in early October when the Oklahoma State University Rodeo Team hosted its second annual Cowboy Stampede.
OSU is rich in rodeo history, said Cody Hollingsworth, OSU rodeo program and facilities coordinator, and the team jumped at the chance to begin hosting a college rodeo in 2014.
"OSU rodeo has been around since 1946," Hollingsworth said. "We were one of six schools that started the National Intercollegiate Rodeo Association."
Prior to the first Cowboy Stampede last year, the last rodeo hosted in Stillwater was in the mid-1980s. Part of the reason there was such a large gap was because once a school stops having a hometown rodeo getting it back is difficult, Hollingsworth said.
"So many schools in our region want to host a rodeo, so we had to wait for an opportunity to start one back up in Stillwater," he said.
OSU competes in the Central Plains Region of the NIRA, which is the largest region in the United States with 18 member schools.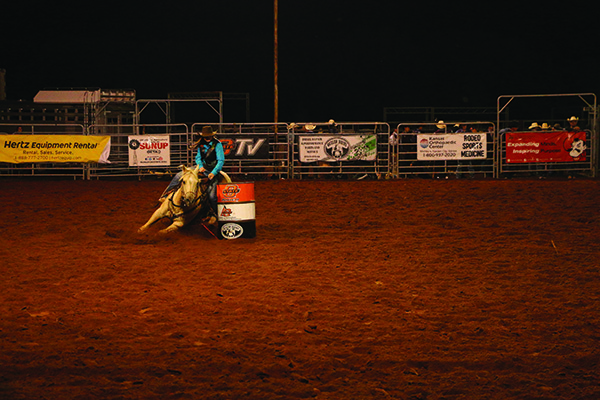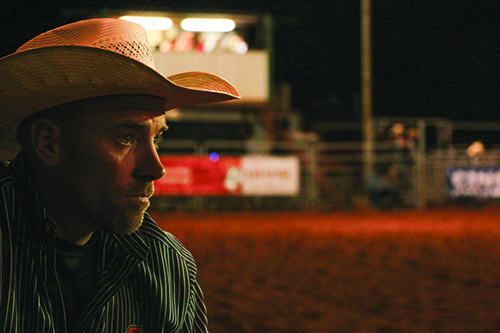 "We decided to go after this to help continue to build the program," Hollingsworth said. "It was important to bring rodeo back to Stillwater so the community and the university could see what our program has to offer."
The Cowboy Stampede has the potential to serve as a major recruiting opportunity to bring new students to OSU, Hollingsworth added.
"In college rodeo, junior colleges and universities are mixed together," Hollingsworth said. "This is a great opportunity for us to bring in competing junior college students and to put Oklahoma State on their radar in terms of continuing their education after their initial two years."
Before Hollingsworth began coaching the team in 2012, the program operated as a student organization.
The OSU Rodeo Team is now a program within the College of Agricultural Sciences and Natural Resources. The program is at an unprecedented height with support from the university, Hollingsworth said.
"Everything has changed in terms of the support we are now getting," he said. "It has helped us improve our facility and allows us to use funds we generate to help students as far as practice, scholarships and travel assistance goes."
Improving the OSU program by having the funds to offer small scholarships and travel assistance allows the team to attract more talented students, he said.
"Our goal is to make the Cowboy Stampede an annual rodeo," Hollingsworth said. "We want to make it something the university and the community can look forward to every year."
Having a rodeo in Stillwater is an advantage to the OSU students competing, said Lexi Bagnell, OSU Rodeo Team president and a design, housing and merchandising major.
"They get to compete in front of friends and family, and it's a weekend they don't have to travel," Hollingsworth said.
Though the weekend was an exciting time for the rodeo team, it also required a lot of time and hard work from members, Bagnell said.
"As soon as everyone got back for the school year, we started planning the rodeo," she said. "What a lot of people don't realize is the team members are the ones who do everything behind the scenes. We have to focus on a lot of moving parts other than how we are going to compete."
The team focused on marketing the event throughout Stillwater, Bagnell said.
"This year, we received more sponsorship from the community," she said. "We did interviews with a local TV and radio station, which was fun and brought out a good crowd. We promoted the event on our website and our Facebook account, and OSU let us put signs up on campus.
"We didn't change a lot from last year," Bagnell said. "Having the first one under our belt helped with the whole planning process."
"Having a rodeo in Stillwater makes the weekend a little more comfortable for everyone on the team," she said. "We're able to go out and practice on the ground at the expo center. It's just like having a home court advantage."
The rodeo team's hard work paid off and the three-day event operated smoothly without any malfunctions, said Brittany Perron, OSU rodeo team member and animal science major.
"We had a lot of help from the rodeo team, the OSU Horsemen's Association and several other campus organizations," Perron said.
Volunteers and support from the university and community played a big role in the success of the stampede, she said.
"CASNR helped out a lot," Perron said. "We also had some local food trucks come out each night to feed everybody."
Even though no OSU team members made the championship round on Saturday night, the weekend was still a success, Perron said.
"Nobody on our team made the short go," she said. "We were all pretty close. There were about five of us who were just two or three places out of the standings.
"Everybody worked hard to make this a successful rodeo," Perron said. "We're all proud of how everything turned out and can't wait for next year."