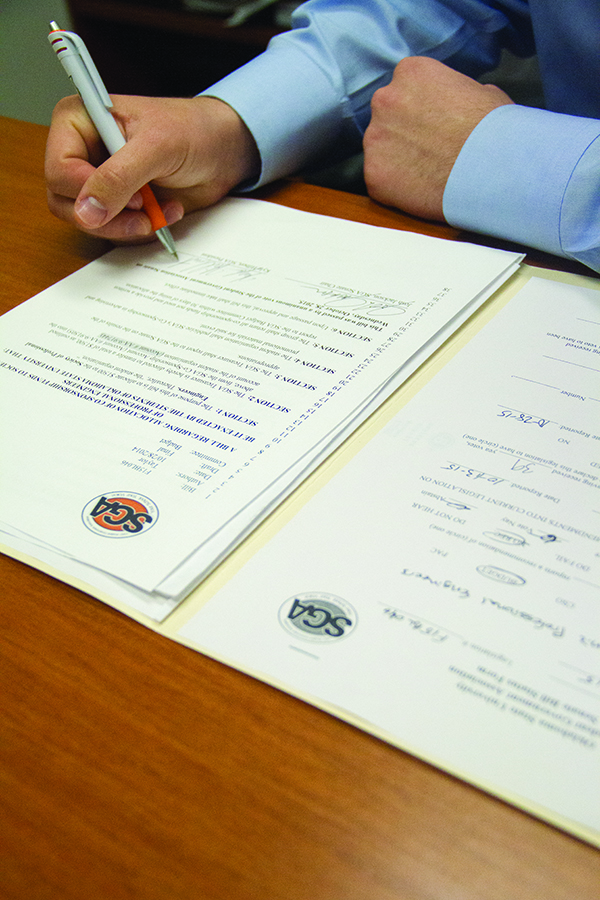 Kyle Hilbert and Taylor Dennis were an unlikely pair to represent the College of Agricultural Sciences and Natural Resources.
Fate and a mutual friend brought together the pair who would become the president and vice president, respectively, of the Oklahoma State University Student Government Association for 2015-16.
An agricultural economics senior from Depew, Okla., Hilbert grew up a fan of the University of Oklahoma, but via Oklahoma FFA, he found his way to OSU.
Dennis, an environmental science senior from Choctaw, Okla., started as a biology major in the OSU College of Arts and Sciences. At the end of her freshman year, she changed her major and decided to pursue her degree in CASNR.
"After spending my first year at OSU and learning about all the degree plans they have to offer, I was attracted to environmental science, which landed me in CASNR," Dennis said.
The two students found each other through Alexis Wiebe, an agricultural economics senior, Hilbert said. Past SGA leaders thought the pair should pursue the top SGA positions, he said.
"Friends told us we would be a good pair and we should consider running," Hilbert said. "We were both totally blindsided by it. We hadn't thought about it."
The pair accepted the challenge to run for SGA president and vice president in the electronic, campuswide election.
Hilbert and Dennis were not convinced to run for their offices purely by the faith of others, Dennis said.
"We decided we actually did have good reasons to run other than just because our friends told us to," Hilbert said. "We thought 'We can help make OSU a better place, so let's do it.'"
Hilbert and Dennis were familiar with SGA because Hilbert served as a CASNR senator in Fall 2013 and Dennis served as the sustainability committee chair.
Being students in CASNR has shaped Hilbert and Dennis and has influenced their role in SGA, Hilbert said.
"Whenever a bill comes forward, I think of it through the lens of being involved in a student organization, which for me is under CASNR," Hilbert said. "In that sense, CASNR influences just about everything. It has shaped me in being prepared for this position because nearly all my involvement was in the college."
Hilbert's campus involvement has included serving as a CASNR Ambassador for the past three years as well as serving on the CASNR Student Council. He also served as an Oklahoma FFA officer.
Dennis said she sees CASNR's role differently than Hilbert.
"SGA led me to CASNR, and CASNR definitely is an influence in my overall college experience," Dennis said.
Part of CASNR's inspiration for both students comes from their mentors: Rob Terry, head of the OSU Department of Agricultural Education, Communications and Leadership, and Brian J. Carter, plant and soil sciences professor who serves as the director of CASNR's environmental sciences interdisciplinary program.
"It is very usual for me to drop in Dr. Terry's office and sit and talk for 30-plus minutes," Hilbert said. "He'll give me advice about life and listen to what students are thinking about."
Terry has known Hilbert since the 21-year-old was in high school. Terry said he admires Hilbert's ability to carry himself with ease, comparing Hilbert to a duck on water: On the surface, he always appears to be at ease, but he is hard at work below the surface.
"His approach is 'This is something I get to do, not something I have to do,'" Terry said.
Terry, who has taught agricultural education for nearly 30 years, said he appreciates Hilbert's work ethic and attitude.
"Kyle is easily in the top 1 percent of young people with whom I have worked," Terry said, "and I have had the pleasure to work with some really outstanding people, great folks who have gone on to do wonderful things."
For 22-year-old Dennis, her first impression of CASNR came through Carter, her adviser, who also has served as her professor for multiple courses.
"Before CASNR, I never had my adviser also as a professor," Dennis said. "I admire Dr. Carter in so many ways and appreciate being able to drop by his office at any moment and he is willing to talk."
Carter said he admires Dennis' leadership roles and looks to her as an influential student and peer to all.
"The interdisciplinary nature of the undergraduate environmental science program within CASNR strengthens Taylor's ability to quickly obtain opinions from a wide range of backgrounds from social to physical sciences," Carter said.
Dennis said she appreciates her college journey and her past experiences that led her to CASNR.
"I had never seen this type of tight-knit community before joining CASNR," Dennis said.
Thomas Coon, vice president, dean and director of the OSU Division of Agricultural Sciences and Natural Resources, said he takes pride in how Hilbert and Dennis represent the college.
"In a way, it is not a surprise to me at all that we would have two of our students in leadership at this university," Coon said. "It is a real point of pride for us because that is not something we did. That is something Kyle and Taylor did.
"We are very proud they chose to come to OSU and chose to be students in our college," he said. "We are proud of what they are doing as leaders at OSU."