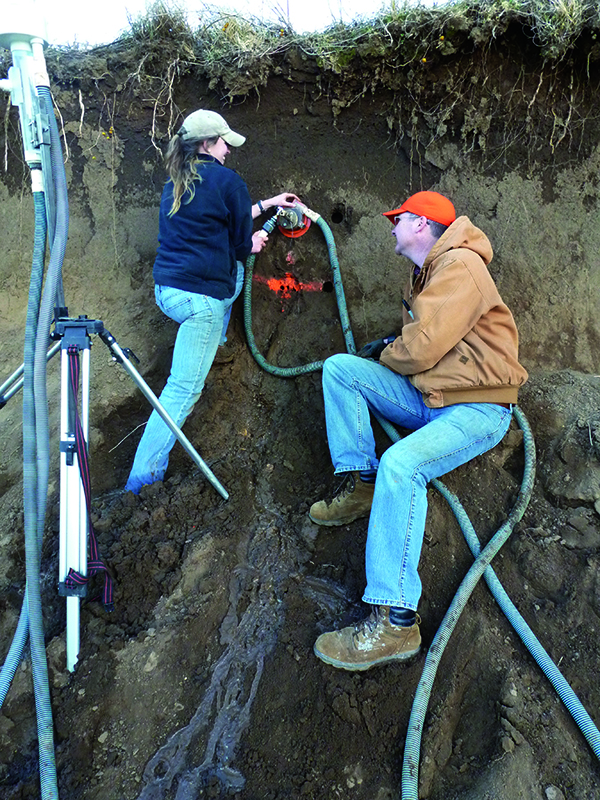 rom a first-generation college student from a small Texas town to a nationally recognized water researcher and professor, Oklahoma State University biosystems and agricultural engineering professor Garey Fox serves the OSU College of Agricultural Sciences and Natural Resources in many roles.
In addition to prestigious awards and accreditations, Fox has an unyielding passion to see students succeed, said Steve Damron, CASNR assistant dean.
"His work with undergraduate students is the best example of his dedication," Damron said. "He works continually with undergraduate research scholars, and that takes a lot of effort, but he feels strongly that effort is worthwhile."
As one of only 35 graduates from Godley High School in 1994, Fox said he was the first of his family to leave the farm and go to college.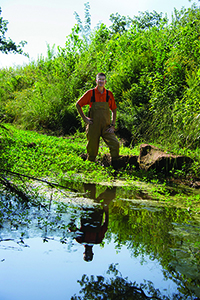 "I really had no idea what I wanted to do in school," Fox said, "but I knew I was really good at math and science. I got some large FFA scholarships through Texas FFA that required me to go to a public school in Texas and major in something agriculture-related."
At that time, Texas A&M University had an agricultural engineering program. Fox chose the engineering path, and he said he found his passion for research during his undergraduate years.
"I got connected with a faculty member while I was there who asked me if I wanted to do research with him, and I was like, 'Wow, they'll pay you to do that?'"
Fox said he enjoyed doing research as an undergraduate student and decided to earn his master's degree on a U.S. Environmental Protection Agency graduate fellowship, which he said is a prestigious national fellowship for master's and doctoral students in environmentally related fields of study.
After graduating from TAMU with a master's degree in agricultural engineering in 2000, Fox continued his studies as a doctoral student in civil engineering at Colorado State University.
Fox said he decided he wanted to go into academia while he was obtaining his doctoral degree.
"It turned out to be the best thing I've ever done," he said. "My passion is being in the classroom, field or laboratory, interacting with students, watching them grow, and seeing their accomplishments. It's a real pleasure."
Fox joined the OSU BAE department in 2006 and continued his research and teaching. The National Science Foundation, U.S. Geological Survey, EPA and USDA have supported his research of stream and aquifer interaction through competitive grant funds.
"His work with accreditation in his department is absolutely stellar," Damron said. "He's recognized nationally as an expert on assessment as it's done in engineering, and I think that's quite remarkable."
While he may be a research expert, teaching and interacting with students are where Fox truly shines, said Whitney Lisenbee, a BAE master's student.
"Everyone knows if Dr. Fox is teaching it's going to be a good class," she said. "He's been my professor, research mentor, Cowboy Waterworks club adviser, senior design adviser and overall role model for nearly six years.
"Although he wears many hats, he is still available for 'life talks' with his students and wants us to succeed," she added.
Fox said he wants to ensure when his students graduate they are prepared for what they are going to do outside of OSU.
"I challenge them every single day," he said. "When I was in school, I had a lot of professors who didn't challenge me much. I don't remember them, but I do remember the ones who cared about students and challenged them."
When Fox came to Stillwater, he wanted to make OSU "the" water place, he said. One of the ways he has worked toward this goal is by creating and implementing the annual Student Water Conference, which is designed specifically for students to present their research and receive feedback.
"Last year," Fox said, "we had students from Hawaii, Washington, Connecticut, Iowa and across the U.S. who came to present their research. It's become a nationally known conference."
Damron said Fox's creation of the Student Water Conference is not only innovative but also ambitious.
"When you consider all of Dr. Fox's contributions outside the classroom and add that he's an outstanding classroom teacher, you have a true contributor, not only to the discipline and its students but also to the college and the university," Damron said.
"Garey Fox is a force to be reckoned with in higher education," he added.
Fox recently received the national USDA Excellence in Teaching award, which is given to two recipients among all land-grant institutions each year.
"This national teaching award is a tremendous honor," Fox said, "not only for me personally, but also for BAE and DASNR, as well.
"I am thankful for the opportunity to go to work each day and do something I love," he added. "This recognition should be shared with my family, who serve as my foundation and support, and my previous and current graduate and undergraduate students who make teaching and research so enjoyable."
Last year, Shida Heneberry, director of the OSU Master of International Agriculture program, received the same award. This marks the first time in history any university has won this award in two consecutive years.
However, Fox said he tried never to focus on the end goal.
"The awards are great," he said. "They are very nice recognitions, but they're not something absolutely necessary for my career. My point has always been 'Do you enjoy it every day?'
"I love my job," he said. "I can only see myself in academia, where I can interact with students and contribute to their education."