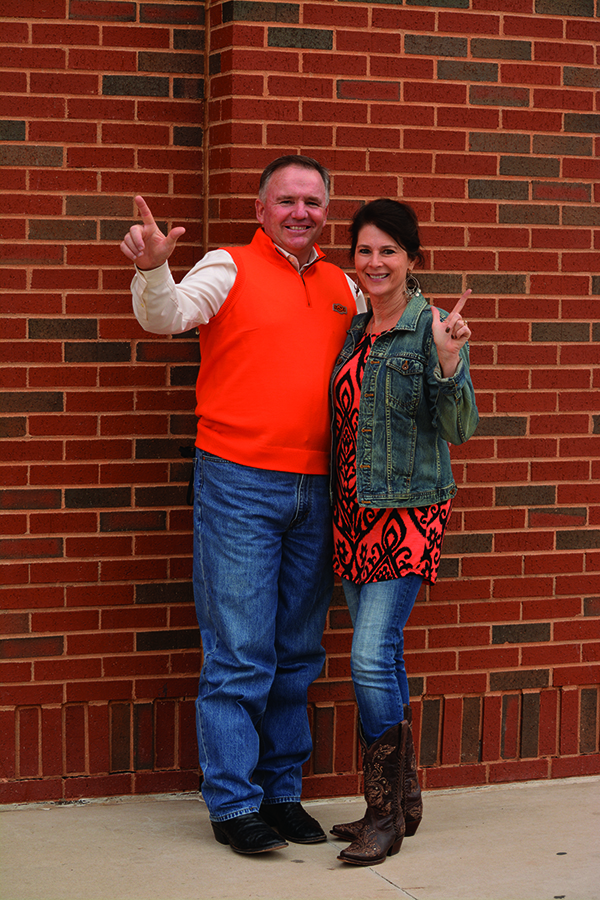 From harvesting fields in Logan County to donning the robes of an Oklahoma A&M Regent, Rick Davis has spent a large portion of his life involved in agriculture and Oklahoma State University.
Appointed by Gov. Mary Fallin to the Oklahoma A&M Board of Regents in 2011, the OSU College of Agricultural Sciences and Natural Resources alumnus said his responsibilities go far beyond his involvement with the university. Davis and his two brothers, Kenny and Steve, manage Davis Farms of Guthrie, a family-owned-and-operated business.
"My parents raised my brothers and me on our farming operation, and from my earliest memories, it was always a team effort," Davis said. "We were taught at an early age that we all had strengths and things we offered to the operation that made us both unique and valuable to the family business."
Davis has a long history of involvement with agriculture, including serving as the 1979-80 Oklahoma FFA Secretary and the 1980-81 Oklahoma FFA President.
"FFA was for me, as it is for many young people, a key part of my early life," Davis said. "The years of serving as a state FFA officer were blessings. It allowed me to meet so many different people across our state and to develop lifelong friendships that have meant so much."
A 1983 graduate of OSU, Davis received his Bachelor of Science in agricultural economics.
He said he credits a big portion of his professional success to the education he received at OSU and the activities in which he was involved.
"I always felt like my time in the college of agriculture was time spent with like-minded people who were like a community of friends," Davis said. "As students, we were encouraged to be active outside the classroom, which was a very beneficial lesson to learn and one that has benefited me and other students who have gone through CASNR throughout the years."
While pursuing his degree, Davis met his wife, Pam, who earned her OSU degree in elementary education. Their son, Ben, graduated from OSU with a degree in agribusiness. Their daughter, Emily, played basketball at Oklahoma City University and has a degree in education.
Davis was a member of FarmHouse Fraternity at OSU. He said some of his favorite memories were made with his FarmHouse "brothers."
"My fondest memory was my initiation into FarmHouse," Davis said. "The members were like a band of brothers. That group of individuals has played a huge part in my life."
The entire Davis family has shown huge support for the university, Pam Davis said. Kenny and Steve Davis also graduated from OSU in agricultural economics before they pursued law degrees. Kenny Davis said despite their busy lives, they still manage to make the family farm run as successfully as possible.
"While there are, of course, many challenges along the way," Davis said, "the benefit of having such a close-knit group of 'partners' far outweighs any negatives that come with such a structure.
"It's hard for me to visualize my life without the blessings that have come as a result of raising my family side by side with my brothers' families on the farm," he added.
As a regent, Davis said he enjoys overseeing the university he and his family love most. He said his job consists of working with leaders from OSU and its affiliate schools to create budgets, work on risk management, and plan for the future, while making the college experience valuable for every student.
"I have the opportunity to work as a team with the other members of the board to provide the best quality education possible at the most affordable prices possible to the students at our institutions," Davis said. "On a personal level, I must say it was a joy and very rewarding to have served as chairman of the board this past year. It was a unique opportunity I was thankful to experience."
Davis has shown leadership and dedication to the quality of education students receive at all A&M institutions, said Lou Watkins, Board of Regents member.
"One thing I have noticed working with Rick is you can see the agricultural training he received through FFA," Watkins said. "He presides over meetings in such a professional manner, and his parliamentary procedure is flawless. He is really an outstanding leader."
Davis said when he is not farming, he spends five hours a week working toward his Regent responsibilities. While serving as the chairman of the board last year, Davis said he dedicated at least 20 hours a week to his duties on the board.
"Our single largest responsibility on the board is to staff OSU and its affiliate schools with the best administration and work force possible," Davis said. "We are the policy makers, but we also try and stay out of the way of our institutions making their own decisions."
Even with all the Davis family does for OSU, nothing is more important to any of them than their family values, agricultural roots and faith, Davis said. This was instilled in him and his brothers at a young age, he added.
Growing up on the family farm taught the Davis men responsibility and the value of hard work, Kenny Davis said. They have tried to instill these same core principles in their children because they believe them to be vital to success, he said.
"The environment we grew up in was one in which we not only lived together but also worked together," Kenny Davis said. "Personally, I have tried to continue that trend in my own family by getting my kids involved on the farm and also being active with them in their extracurricular activities such as sports and FFA."
Davis attributes many of the values and traits he holds in the highest regard to his upbringing on the farm. He said his parents and their faith have been big contributors to his family's way of life.
"I do believe it is a result of my upbringing and the things in life that my parents tried to stress to my brothers and me that were important," Davis said. "We were taught from an early age to try to live our lives in a manner that would please our heavenly Father."
Pam Davis said her husband tries to carry these values into what he accomplishes for OSU as a Regent. She said he focuses on making the OSU experience exceptional for every single student who sets foot on campus.
"Rick is committed to God first and foremost," Pam Davis said. "He's committed to his family and very humble. His humility comes from knowing we do nothing on our own and we have a creator to thank for everything."
Watkins said she also sees Rick's agricultural roots and values in the work he does for the board on a daily basis. She said even though he is fair to all the colleges within the A&M system, she can tell he has a strong love for production agriculture and farming.
"His passion and love is agriculture and that comes through," Watkins said. "As we are becoming more and more aware, we need commitment like Rick's in both the United States and throughout
the world."
Even with everything Davis has achieved as a state FFA officer, an agribusinessman and now a Regent, his love and passion are based in the grass roots and upbringing he holds close.
Because of these morals, Rick and Pam Davis love OSU and its family atmosphere so much, he said.
"We are a part of the OSU family, and the people we have met here have changed our lives," Pam Davis said. "The family feeling of this campus and the friends we have made here keep us rooted to this institution and everything it stands for."
By: Author: Ashley Judge