A Site For New Opportunities
Friday, December 17, 2021
Media Contact: Samantha Siler | Communications and Marketing Manager | 405-744-2977 | samantha.siler@okstate.edu
If you daydream of fixing tractors, managing your family farm, or enjoy working with your hands, Oklahoma State University's new agricultural systems technology major may be a good fit for you.
Students looking for a hands-on degree program now have a new opportunity with the AST major in the Ferguson College of Agriculture.
Nestled in the OSU Department of Biosystems and Agricultural Engineering, the AST undergraduate degree program offers a uniquely different learning experience compared to other majors, said Paul Weckler, BAE professor.
"It's a very practical, hands-on, industry-oriented degree that is not focused on a specific technical discipline," Weckler said. "The AST program looks at all the aspects of the technology needed in different areas."
Because of this, graduates of the AST degree program can work in the industry as food scientists, machinery technicians, grain elevator operators, water treatment plant operators or several other management and hands-on positions, Weckler said.
"Companies want folks who know how to design things, but they also want folks who know how that is going to be applied in the real world," said Kellen Smith, AST junior.
The goal of the AST degree program is to fill "the niche between an engineer and a subject matter specialist," Weckler said.
Although the new AST program began in Fall 2021, the program is not the first of its kind to be offered through the BAE department.
Prior to 1990, the department offered a mechanized agriculture degree program, according to the OSU Office of the Registrar Catalog Archives.
However, with the oil crisis leading to a poor economy, budget cuts meant eliminating this program, Weckler said. Talks of adding a technology degree to the BAE department have occurred for years, he added.
"We've had lots of feedback from our industry advisory board," said John Long, BAE associate professor and AST academic adviser. "One of the things they kept telling us was there's this big need for technology students and not necessarily engineers."
The suggestions from the advisory board — coupled with similar thriving degree programs offered at Texas A&M University, Kansas State University and the University of Nebraska — meant adding this degree program became more important than ever, Long said.
"We felt like we were missing out on a major that there's definitely a need for," Long said.
Long chaired the BAE department's committee to start the process of implementing this new degree program. This included creating the course curriculum, demonstrating a need for a new program, and submitting proposals to the college and OSU/A&M Board of Regents, Long said.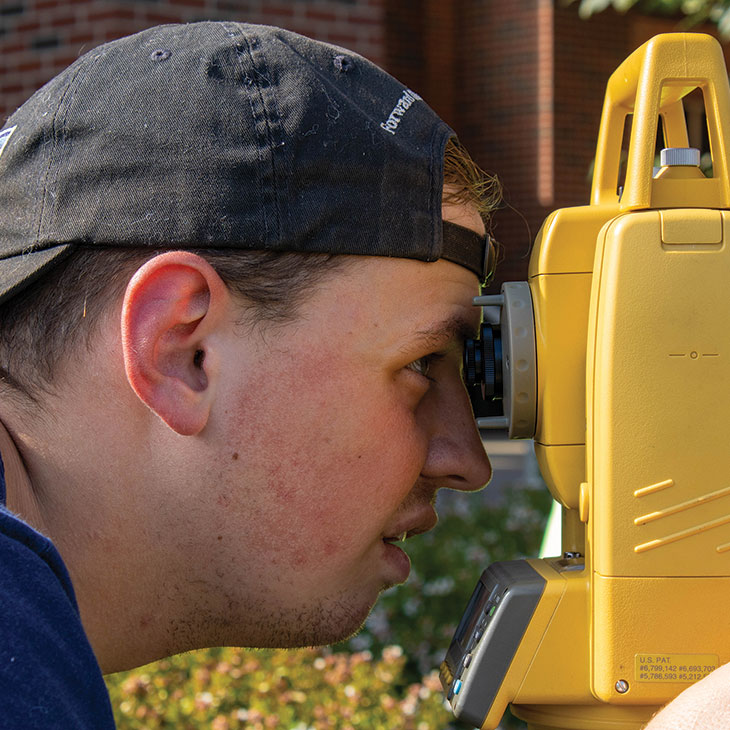 During the first semester of the major, five students enrolled in the major and took core curriculum courses in agricultural water management, surveying and agricultural electrification.
As a part of the core curriculum, AST students also take business and economics classes, Long said.
"One of the things that sets the AST degree apart from the other technology majors at other universities is we actually have a business portion required," Long said. "It gives students the ability to go into a situation where they could work as a manager for other people in a technology-related field."
In addition to the core curriculum, students pursuing the AST degree choose their own path for 21 hours on their degree sheet, depending upon the direction they would like to go after college, Long said.
This offers more flexibility to students and their interests, making it unique among similar programs at other universities, Weckler said.
Across the U.S., other agricultural technology degree programs are focused on more specific disciplines, such as machinery and tractors, which offers less flexibility, he added.
"With my agricultural systems technology major, I will also be earning an agribusiness minor," Smith said. "You can configure this degree to just about any way."
A different path to take with the AST program is a plant and soil sciences focus, said Alan Davis, AST junior. Davis said he chose this path because he enjoys his job at Oklahoma Foundation Seed and knows this program fits well with his interests and future job opportunities.
Students also can take a machinery-focused course load within the new AST major, said Michael Bird, AST junior.
"Agricultural systems technology is really cool because it is such a niche major," Bird said. "What I have chosen to do is a very mechanical and machine systems-based major, anything that can be useful in a professional scenario when it comes to working on tractors or in a design and/or prototyping position."
Students in the program agree they are being prepared for the real world in a hands-on career path, but the faculty are what make this program so special, Smith said.
"They want you to be there, be engaged, and ask questions," Davis said. "They are not there just to present. They are there for you to actually learn in their classes."
Since the major is new, the classes are small and the professors take interest in each student, making a point to interact one-on-one, Smith said.
"The community and the culture in the department really makes the major worth it," Bird said.
With stellar faculty who genuinely care, applicable curriculum and hands-on learning, the new AST degree program is a good fit for students seeking something a little different in college, Bird said.
"Everything in this major is applicable to life," Smith said. "If you learn something, there is a reason you are learning it and you can directly see what it is going to be used for and what it is going to be.
"That's something I really appreciate about AST. For students who love being hands on and working with machinery, I think this would be a great fit."
---
Story By: Kaylyn Branen | Cowboy Journal