Beyond the Bees
Friday, December 17, 2021
Media Contact: Samantha Siler | Communications and Marketing Manager | 405-744-2977 | samantha.siler@okstate.edu
What if the world's perception of the agricultural industry was one of innovation, opportunity and youthfulness? One Ferguson College of Agriculture senior is determined to make this idea a reality.
Tré Smith, an Oklahoma State University agricultural communications student, is the owner of TreBee Farms — a new beekeeping operation in Bristow, Oklahoma.
Smith began his agricultural journey through FFA. While his parents are not involved in production agriculture, they supported his interest in the industry and laid the groundwork for his work ethic, Smith said.
Smith exhibited swine throughout high school and attended the Oklahoma Pork Council Youth Leadership Camp in 2016.
"This is where I found my love for the pork industry," Smith said. "After camp, I knew I wanted to attend OSU and work at the swine unit."
In 2018, Smith achieved that goal. He worked at the OSU Swine Research and Education Center for two years. Smith used the knowledge he gained there to advocate for pig farming across the nation during his term on the National Pork Board's student social forces team.
Working with other young agriculturists on the social forces team inspired him to create a production agriculture experience that appealed to young people, Smith said.
While his love for agriculture lies within the pork sector, Smith believed beekeeping was a better introductory species for new agriculturists, he said.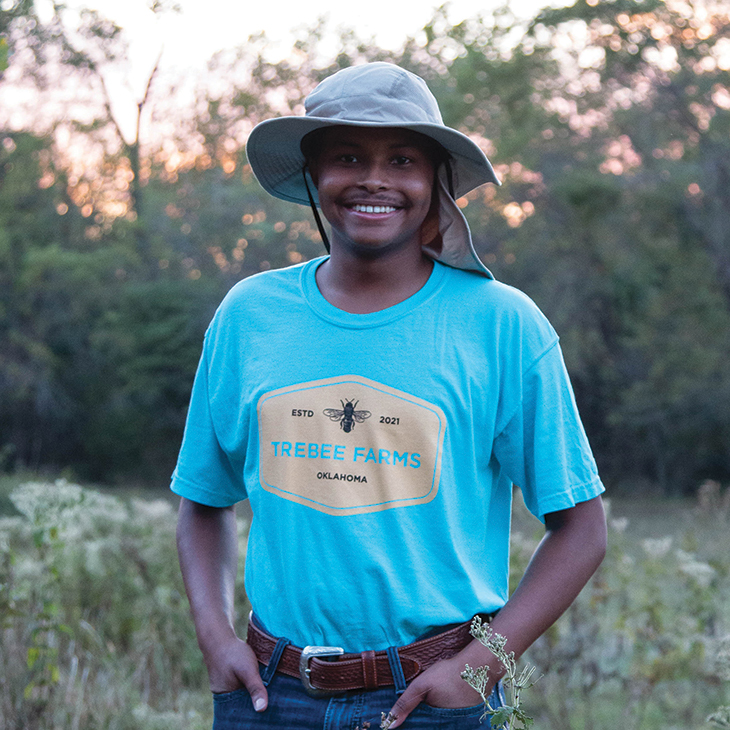 In 2018, Smith attended the Young Farmers National Leadership Convergence and met Kamal Bell, chief executive officer of Sankofa Farms.
Smith was inspired by Sankofa Farms' agricultural academy, he said. The academy targets African American youth and is designed to show them careers in the agricultural industry through beekeeping and crop production, Smith said.
"Beekeeping lets you enter the field without much overhead," Bell said. "The youth get to learn business and all these different aspects of agriculture at an earlier age."
Bell said Smith was clearly capable of owning a beekeeping operation but had potential for more.
"I see Tré reviving agriculture," Bell said. "I think more people will be inspired to enter the agricultural field because of him."
After Bell's encouragement, Smith was determined to make his dream a reality, he said.
Smith began saving money, accepted a young farmer grant sponsored by the Young Farmers Coalition, and received a donation from an anonymous business owner from his hometown, he said.
In 2020, Smith purchased four beehives, but has expanded to 10 hives. While he achieved the main goal of becoming a beekeeper, Smith envisioned a component of TreBee Farms beyond the bees, he said.
"I wanted TreBee Farms to be a place that inspired young people," Smith said. "I wanted to show them they could do anything."
When it comes to innovative thinking and being a visionary for the agricultural industry, Smith is a shining star, said Kylee Deniz, Oklahoma Pork Council executive director and Smith's internship supervisor.
"Tré is full of ambition," Deniz said. "When a new opportunity hits his radar, and he determines it's the right fit for his goals, there is no stopping him."
Through his involvement with the Oklahoma Pork Council, Smith developed a passion for showcasing career opportunities in agriculture to young people, Deniz said. Now, he has woven that passion into his business model for TreBee Farms, she added.
"I wanted TreBee Farms to empower and uplift young people," Smith said. "This business is about ensuring we still have young people coming into the agricultural industry."
Whether Smith is hiring for the production side or for the business side of TreBee Farms, he said young people are his preference.
Employment at TreBee Farms gives young people the experience required to apply for future opportunities, Smith said.
The vow to invest in young people through TreBee Farms does not stop at his hiring process, Smith said. Beginning Jan. 1, 2022, TreBee Farms will present a series of scholarships to deserving college students, Smith said.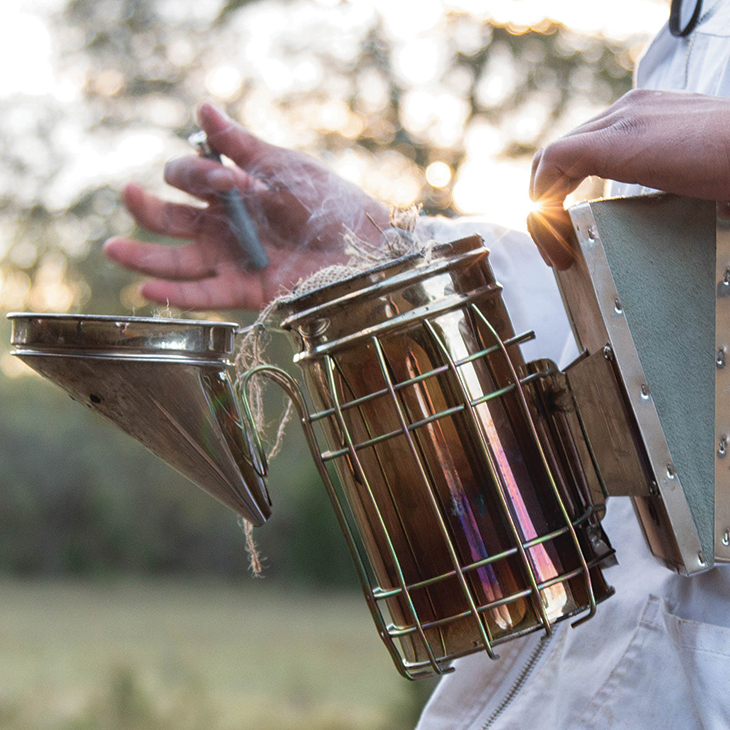 Tyler Harris, a marketing senior at the University of Oklahoma, is one of five TreBee Farms employees.
"Tré wants TreBee Farms to be young people supporting young people," Harris said. "You never hear about college students giving out scholarships to other college students."
As Smith examines the future of TreBee Farms, he plans to produce honey and beeswax products such as lip balm and lotion, he said. Production will begin summer 2022 when the bees are mature enough to begin harvesting products, he said.
Smith has arranged a partnership with Airpark Coffee in Oklahoma City to market his products in their storefront. When honey production begins, the coffee shop will use TreBee Farms' honey in their recipes, he added.
While Smith waits for his bees to mature, he hopes to provide Oklahoma FFA members access to his operation for educational purposes, he said.
Through a sponsorship with TreBee Farms, FFA members could have a unique supervised agricultural experience, Smith said.
"At the end of the day, I want people to know I tried to make sure young people are represented and they have a shot," Smith said. "Anything is possible if you work hard enough for it."
---
Story By: Shadi Nettles | Cowboy Journal