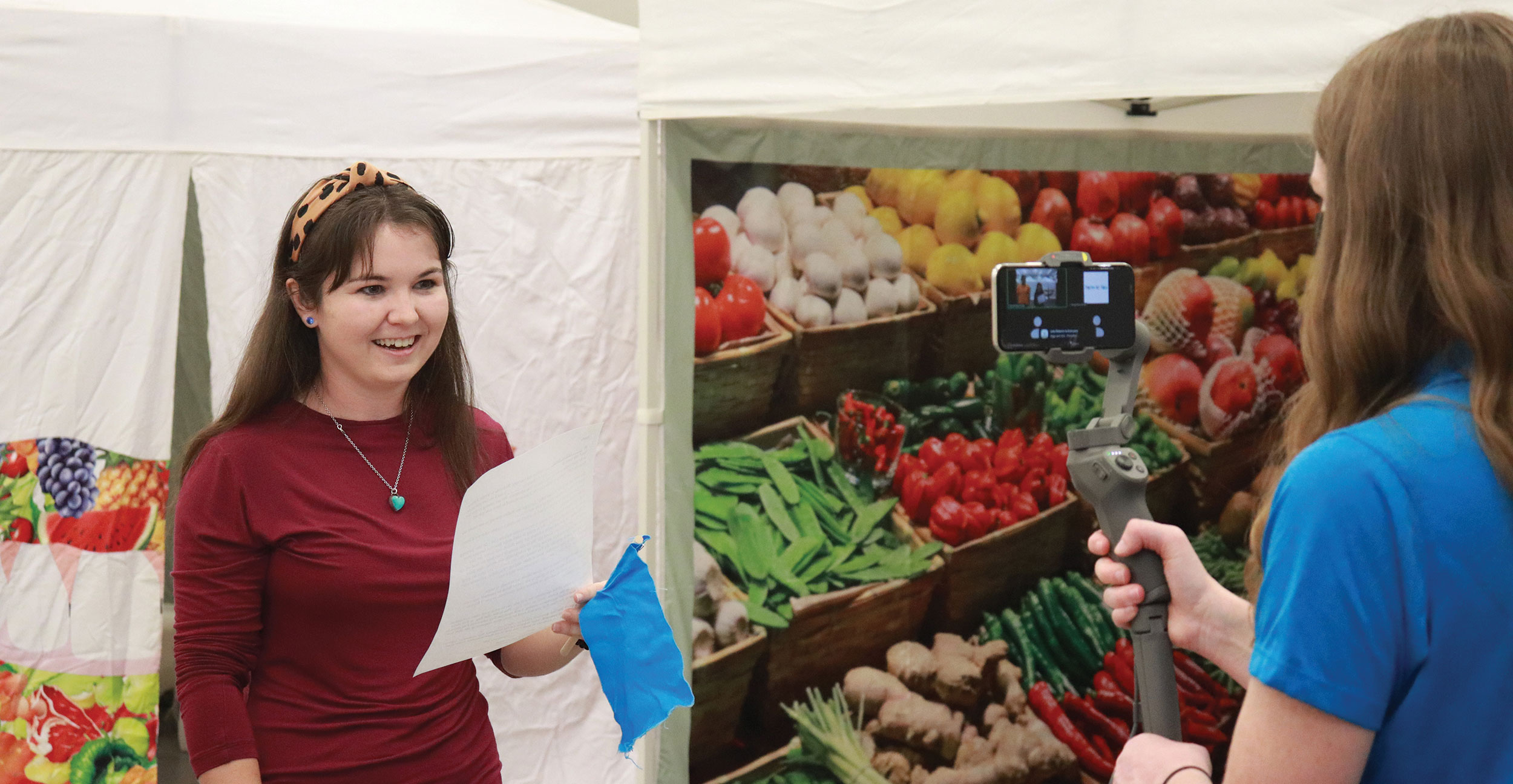 Serving Up Good Nutrition
Friday, December 17, 2021
Media Contact: Samantha Siler | Communications and Marketing Manager | 405-744-2977 | samantha.siler@okstate.edu
An elementary boy runs down the halls of his school and shouts, "This is the best day of my life!" He stands there with a proud smile across his face because he completed the Farm to You program.
Stories like this bring a smile to the face of Becky Brown, Farm to You coordinator and OSU Extension education coordinator.
Created in 2008, Farm to You is an educational and immersive experience for elementary students that was designed to be a live, in-person experience, Brown said. Its purpose is to teach, engage and inform students about proper nutrition and agriculture.
Created by Community Nutrition Education Programs, a service of Oklahoma State University Extension, Farm to You has hosted more than 160,000 students and has been displayed at hundreds of schools across the state.
"Farm to You is one of our most popular exhibits because there is certainly a buzz at the school when kids get to experience it," said Jennifer Klufa, assistant state specialist for OSU Extension. "Seeing the kids' reactions makes it worthwhile and proves Farm to You is just one example of direct education that can make an impact."
Oklahoma ranks in the bottom five for overall state health with 34.8% of children ages 10 to 17 being overweight or obese, Brown said. Farm to You presents students the opportunity to learn about Oklahoma agriculture, nutrition and health as a way to overcome those statistics in a fun way, she added.
"Our goal is to educate about where food comes from and the importance of wise nutritional choices so as to negate misinformation and improve the health of Oklahoma youth," Klufa said.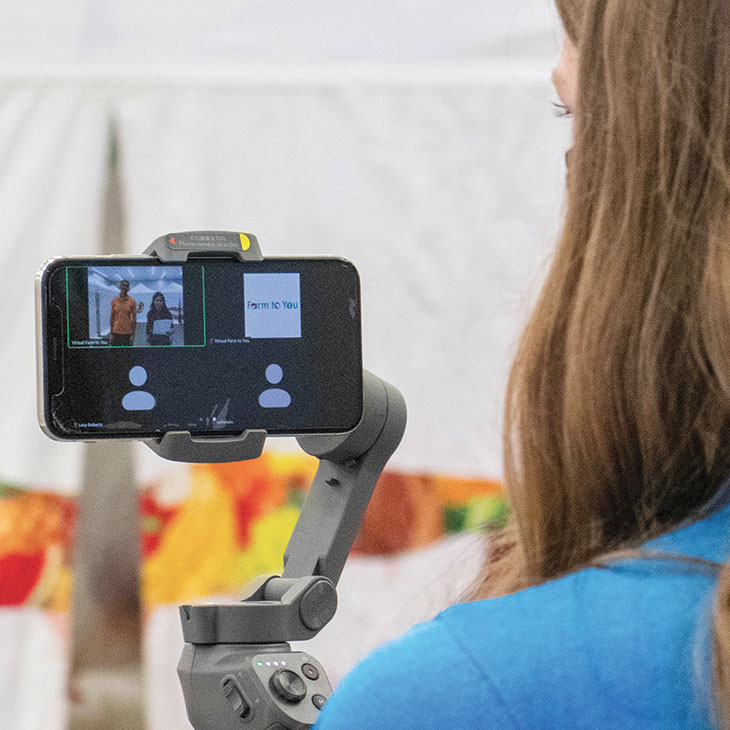 Several Oklahoma schools work hard to teach about health, but Oklahoma's unfavorable health statistics show there is still work to be done, Klufa said.
This is why the team travels to schools and provides those resources in an engaging and enjoyable way for kids, Brown said.
When Farm to You is offered in person, first- through sixth-grade students travel through the physical display and attend nine primary stations curated by CNEP. Third- and fourth-grade students receive a passport booklet in which they answer eight evaluation questions to test their knowledge and retention of the station they previously attended.
In response to the COVID-19 pandemic, CNEP created a virtual version of the program in 2020: Virtual Farm to You. Virtual was the sole avenue Farm to You was offered during the Fall 2021 season and will be offered as an option for the foreseeable future, Klufa said.
"Hosting virtually allows us to open more opportunities to everyone," Brown said. "Our normal exhibit has a 250-student minimum, and that can count out smaller schools.
"With the virtual program, we have no minimum and can reach any schools that want to participate," she said. "That is pretty rewarding."
Since its launch in December 2020, Virtual Farm to You has reached more than 4,600 students across Oklahoma.
While some changes were made in adapting to Virtual Farm to You, much of the content is still the same, Brown said, and the focus remains on the students' learning.
Once a school has signed up for Virtual Farm to You, personnel from the local county OSU Extension office contact school officials and coordinate a time to drop off tangible teaching and program materials, Brown said. The OSU Extension personnel also may be present the day of the event and help as needed.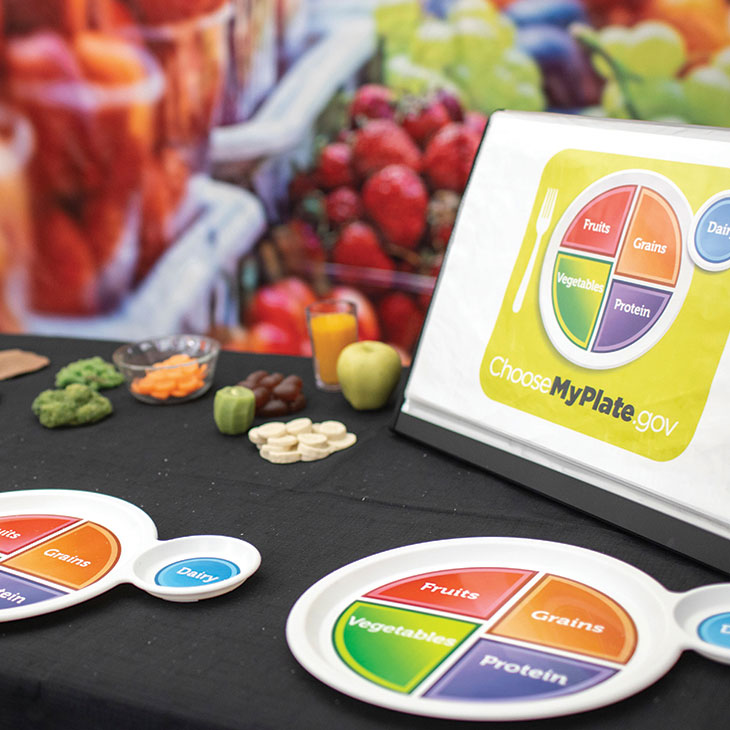 During Virtual Farm to You, students and teachers experience the program from the comfort of their classrooms, Brown said.
Conducted via Zoom, the CNEP team films the exhibit from the Stillwater office while teachers and students project the livestream in their classrooms.
Volunteers at the school read an educational and instructive script provided by CNEP and facilitate the interactive learning activities.
Teachers help the students communicate with the CNEP team by typing answers to questions into the chatbox during the session and by distributing any supplemental learning materials provided by OSU Extension personnel.
While in the virtual session, students travel through nine Farm to You exhibits: Oklahoma Farmland, A Farmer's Life, The Farmers Market, The Mouth, The Stomach, The Intestines, The Muscles, The Bones and The Brain.
Throughout their time in these exhibits, students learn curricula designed by CNEP that highlight the journey of food from farm to table, the composition and digestion of foods, and how to make healthy eating choices, Klufa said.
Collected data and testimonials from teachers report numerous positive impacts relative to those students, Brown said.
At the conclusion of the spring 2021 Virtual Farm to You season, the CNEP team collected 513 passports from third- and fourth-grade students. Once analyzed, data showed, "86% of youth surveyed could identify foods needed for good health," Brown said.
Liz Lazar, nutrition educator for Tulsa Public Schools, said she credits that encouraging statistic to programs like Farm to You.
"When I found out about Farm to You, I jumped at the opportunity to participate," Lazar said. "Students need more nutrition education, and they need it in a way that is enjoyable and memorable.
"I believe in this program because even though it is virtual, kids still have a fun, hands-on activity," Lazar said.
When the children would talk about the Farm to You program after it ended, you knew they were learning the content, Lazar added.
Lazar said she frequently recommends Farm to You to others and hopes to have her schools participate again in the future.
The positive impact proves undeniable, as Virtual Farm to You won the 2021 National Innovative Youth Development Award offered through the National Extension Association of Family and Consumer Sciences.
"At the end of the day, we are trying to make a difference and change the lives of Oklahomans," Brown said. "There is a need for greater health education, and that is exactly why our program exists."
Completed by Brown, the application won first place at the state and regional levels prior to being selected as a national winner, Klufa said.
Brown and the CNEP team were notified of their accomplishment during summer 2021.
They accepted their award and presented about the Virtual Farm to You program in early November during the virtual NEAFCS Conference.
"Our hope is this award elevates our program and provides a platform to share it with other organizations and states because we want to show them they can do it, too," Klufa said. "We will carry the torch onward and hope to keep Virtual Farm to You both relevant and timely with all that is still to come."
---
Story By: Emile Mittelstaedt | Cowboy Journal