Sponsored research on the rise
Friday, October 23, 2020
Faculty studies supported by outside funding create opportunities
Sponsored research by Spears Business faculty is on the rise. Research paid for by outside organizations such as government agencies or private industry is an important and growing part of the school's research portfolio because it provides opportunities for faculty to work on practical solutions to problems businesses face while enhancing teaching.
"Business is an applied discipline, so the Spears School of Business has been doing practical work supported by industry for a long time," said Dr. Ramesh Sharda, vice dean for research and graduate programs. "Sponsored research is an important dimension of that work."
One of the longest continuing sponsored research projects at Spears Business is the Oklahoma State Econometric Model, the state's only large forecasting model that provides data for the annual Oklahoma Economic Outlook and many other reports produced by the OSU Center for Applied Economic Research. The state of Oklahoma has funded the forecasting work of OSU economists for more than 40 years.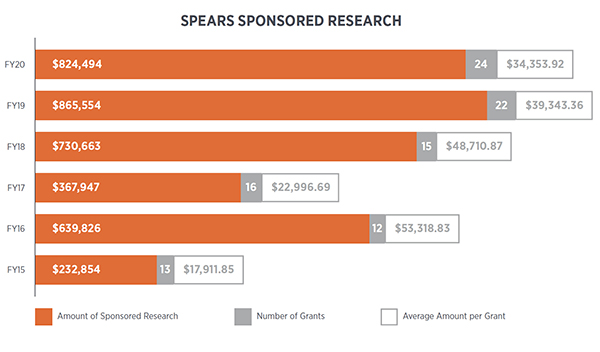 To encourage researchers to seek external funding, Spears Business offers faculty incentives including summer salary support and bonuses based on a percentage of the sponsored grants. In recent years, the incentives have increased faculty interest and participation in sponsored opportunities, Sharda said.
Other benefits of sponsored research include allowing faculty to buy advanced technologies needed for projects or hire graduate assistants or students. This year, Dr. Miriam McGaugh, an assistant professor of professional practice, is working on three sponsored projects and has been able to hire 10 graduate student research assistants.
"These GRAs are dealing with Institutional Review Boards, data collection protocols, the lag between the project design and collecting data and the work it takes to get ready for analysis," she said. "Sponsored projects allow students to work on skills that they would not have an opportunity to in class."
Assistant professor Dr. Bryan Hammer landed a sponsored grant from OG&E to study weather impacts on energy consumption and integrating business strategy and technology. For him, working directly with businesses is a way to "give back" to his community.
"Sponsored research provides me the opportunity to engage directly with the business community, to help them become something more," Hammer said.
Along with benefits for faculty members and students, external funding also benefits society when researchers seek answers to chronic problems, such as in health care.
Dr. Dursun Delen, a Spears Business Regents Professor at OSU-Tulsa, and Dr. William Paiva, director of the Center for Health Systems Innovation in Tulsa, have been funded by the National Institutes of Health and the University of Oklahoma Health Sciences Center to use health analytics to study the relationship between chronic pain and opioid abuse.
"What differentiates funded research is its intentional focus on pressing problems, innovative solutions and actionable outcomes," Delen said.
The Projects
The following Spears Business faculty and staff have received sponsored research grants this year for the following projects and sponsors:
Ramesh Sharda, Vice Dean, and Andy Luse, Associate Professor, Management Science and Information Systems
Analytics/Data Science Decision Support for Management of Oklahoma COVID-19 Pandemic — Oklahoma State Department of Health
Betty Simkins, Professor and Head of the Department of Finance
Aggregation of U.S. Midstream Industry Data — GPA Midstream Association
Bryan Hammer, Assistant Professor, Management Science & Information Systems
Marketing Research Data Analytics — OG&E
Chad Mills, Manager of Outreach Programs, Entrepreneurship
Veterans with Disabilities Entrepreneurship Program — U.S. Small Business Administration
Dan Rickman, Professor, Economics
Oklahoma State Econometric Model — Oklahoma Tax Commission
David Thomison, Associate Professor of Professional Practice, Entrepreneurship
Aeration Process Controls to Reduce Energy Costs in Wastewater Treatment Plants — Oklahoma Center for the Advancement of Science and Technology
Deanna Hildebrand, Associate Professor, Nutritional Sciences and Mark Cochran, Instructor of Professional Practice and Chef, Hospitality and Tourism Management
Cooking for Kids — Culinary Training for School Nutrition Professionals — Oklahoma State Department of Education
Dursun Delen, Professor, Management Science and Information Systems and William Paiva, Director, Center for Health Systems Innovation
Predicting Chronic Pain Development for Preventing Opioid Abuse — University of Oklahoma Health Sciences Center and the National Institutes of Health
Goutam Chakraborty, Professor, Marketing and International Business
Loyalty and Merchandising Analytics — Love's Travel Stops
Data Mining and Dashboard Development — CIS Group
Chemical Treatment Effectiveness Project — Chesapeake Energy
Rx-Focus Project — PharmaCorr LLC
Advanced Analytics and Artificial Intelligence Development — CSL Behring
Data Analytics — OG&E
Discovery for Job Leveling Automation — ONE Gas
Intern Health Care Analytics Program — Infinedi
FA19 Data Analytics — HAVI
Opportunity Intelligence Project — Heartland
Data Analytics Project — Infinedi
Object Tracking Using Machine Learning and/or Mathematical Models — Concast Systems
OKC Fallen Bottle Project — Niagara Bottling
Equipment Analytics & Real-time Monitoring — Laredo Petroleum
CICS Integration Analytics — HostBridge
Natural Gas Appliance Disaggregation — ONE Gas
Miriam McGaugh, Assistant Professor of Professional Practice, Marketing and International Business
Game Harvest Survey Analysis — Oklahoma Department of Wildlife Conservation
Sexual Risk Avoidance Evaluation — Oklahoma State Health Department, Chickasaw Nation Indigenous Project LAUNCH
Oklahoma Early Childhood Integrated Data System — OMES
William Paiva, Director, Center for Health Systems Innovation
Wolters Kluwer Health Collaboration — Wolters Kluwer
Curbing Obesity in Adair and Muskogee Counties — U.S. Department of Health and Human Services
Quality Improvement Program — Pfizer Inc.
Validating a Clinical Decision Support Algorithm Developed with Big Data to Diagnose, Prevent and Monitor a Patient's Diabetic Retinopathy — Oklahoma Center for the Advancement of Science and Technology
Willie Tao, Assistant Professor, Hospitality and Tourism Management, Li Miao, Professor, Hospitality and Tourism Management and Gemmy Moon, Graduate Student, Hospitality and Tourism Management
Authentic Dining Experience in a Peer-to-Peer Meal-Sharing Context: Conceptualization and Scale Development — Foodservice Systems Management Education Council
Stacy Tomas, Assistant Professor, Hospitality and Tourism Management
Agrotourism Survey — U.S. Department of Agriculture

---
Story By: Jeff Joiner | Discover@Spears Magazine
MEDIA CONTACT: Terry Tush | Director of Marketing and Communications | 405.744.2703 | terry.tush@okstate.edu