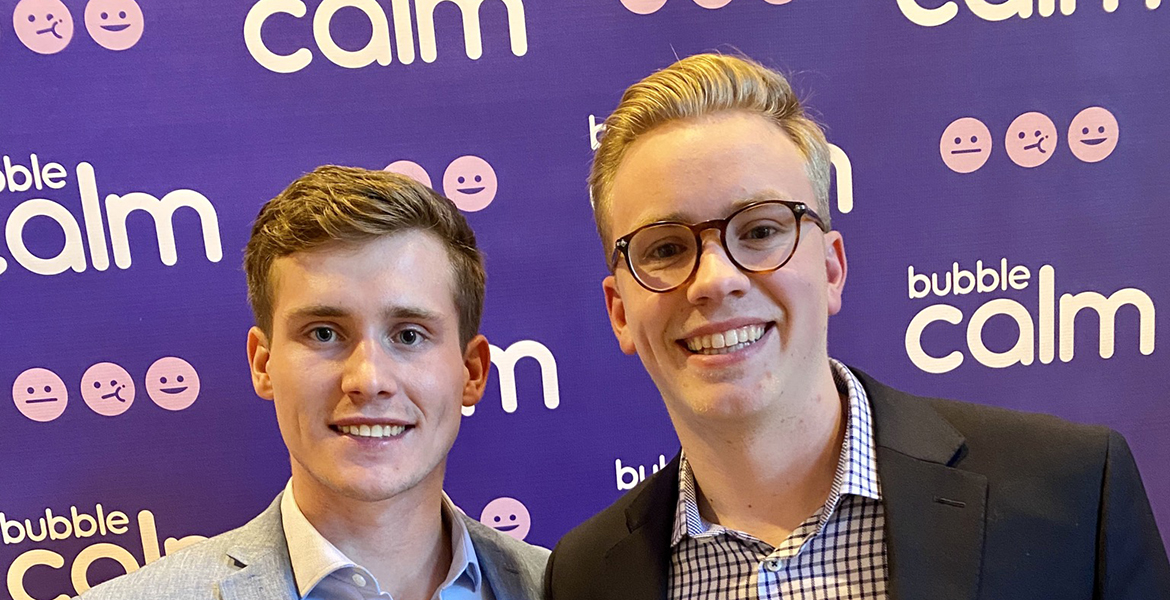 Riding high on Bubble Calm
Monday, July 27, 2020
Student startup takes off despite pandemic
You would think that the two Oklahoma State University students who started a business selling a gum that promotes feelings of calmness would have done well at the height of the COVID-19 pandemic with all the fear surrounding it. But like nearly every business in the U.S. caught up in the crisis, the founders of startup Bubble Calm ran into all kinds of hitches following their launch on the last day of February 2020.
Spears School of Business students Will Petty and Walt Bowser have actually faced much more difficult times getting their calming gum Bubble Calm formulated and their business plan implemented in the three years they've been at it. Nevertheless, despite countless gum recipes and coronavirus mayhem, the friends agree the effort has been worth it: The young entrepreneurs created a product with a growing customer base and successfully raised money to launch their company. How many college seniors can say that?
"Right now, we're making a lot of gum and taking orders, but we're learning that it's hard to create a marketing plan because we haven't been able to find out what works, and COVID has so many people scared," said Petty, a senior accounting major. Bowser graduated this spring with a bachelor's degree in economics.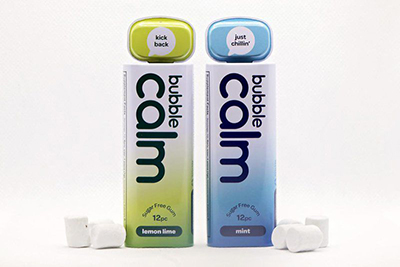 The February launch party for Bubble Calm at the ConocoPhillips OSU Alumni Center included the introduction of a new look for the gum's packaging and a new website. The party was a high point for Bower and Petty, who have worked an incalculable number of hours to see their dream become a reality.
The partners are longtime friends who grew up in Stillwater and were OSU roommates. They dreamed of starting their own business and creating a product that people needed. Knowing that a growing percentage of people suffer from anxiety and based on their own experiences, the two devised a recipe for a gum that uses natural ingredients that target receptors in the central nervous system to reduce hyperactivity and promote feelings of relaxation and reduce stress — Bubble Calm.
While Petty and Bowser worked with food scientists at OSU's Food and Agricultural Products Center to formulate the gum, they also worked with Spears Business faculty member Kyle Eastham on a business plan. Eastham is executive in residence and an instructor in the School of Entrepreneurship who works with OSU students with ideas for businesses. Eastham said he hears lots of ideas, but probably more important than the idea itself is the person behind the idea.
"There are a lot of factors that make a startup successful," Eastham said. "One of the biggest depends on how hard you want to work. Will and Walt have put the work in and stuck with it for years. That's what most people don't see."
The pair and Eastham won the undergraduate category of the 2019 Love's Entrepreneur Cup, a statewide collegiate business plan competition, including a cash prize $20,000. Bubble Calm also won $25,000 in 2019 from the Riata Center for Entrepreneurship Pre- Seed Fund for proof-of-concept startup capital.
The Bubble Calm entrepreneurs have had to work through challenges, including a strategic shift in the gum's development. Their concept was to create and market the gum as a product made with all-natural ingredients, but customers didn't like the taste.
"They wisely talked to customers and the feedback they got was that customers were more interested in the calming effects than whether or not it has natural ingredients," Eastham said.
To improve the taste, the partners turned to Taste Tech, a company in the United Kingdom that specializes in flavorings and ingredients for food products. The company came back with several ideas. Bowser and Petty, who make all of the gum themselves, tried new sweeteners and other ingredients and followed advice for changing its preparation to protect the flavor.
"Just making the gum one time like they told us, and it was perfect," said Petty.
One thing Petty and Bowser didn't count on was COVID-19. The entrepreneurs are making the best of the situation and are learning by trial and error. With wholesale distribution on hold, Bubble Calm relied almost entirely on online sales, which were encouraging.
"But right now, people are afraid to buy products online and have them shipped to their homes that have been touched by other people," Bowser said. "We are seeing that when people buy the product, they buy a whole bunch of it."
MEDIA CONTACT: Jeff Joiner | Communications Coordinator | 405.744.2700 | jeff.joiner@okstate.edu