Business groundbreakers: Betty Murrell Hove
Thursday, July 23, 2020
Vision and determination
We often celebrate visionaries and groundbreakers who stand their ground in the face of opposition and adversity. This story is one of three that introduces us to women who attended Oklahoma State University at times when respect and inclusiveness were not equally offered to all people.
Betty Murrell Hove arrived on Oklahoma State University's campus as a business student in 1960. She gave no thought to being a groundbreaker or an inspiration for future students, but through her determination and strength of personality, that's exactly would happen a few years later when she became the first woman at OSU to earn a Master's of Business Administration degree.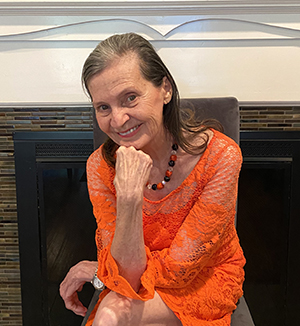 "It was nice after graduating from high school to find myself in college, where I was encouraged to be my own person," Hove said. "OSU encouraged us to find our own way."
From the southwestern Oklahoma town of Altus, Hove followed her father's path to OSU — or Oklahoma A&M College as it was known when Ray Murrell studied agriculture. Her brother and sister also went to OSU as did her husband, Larry Hove, who earned three degrees in civil engineering. The married couple graduated together in August 1964 when Betty, at age 21, received her MBA and Larry, 25, his engineering doctorate.
Hove entered the MBA program soon after it was launched in 1960, and the OSU business college began teaching a multidisciplinary concept for business management and leadership to a small army of future CEOs, entrepreneurs and visionaries who would now include women.
Hove remembers growing up wanting to be a businesswoman — while still a youngster, she decided she wanted to become president of General Motors. Though she was the only female student in her MBA class of 32, Hove said the graduate program, and the business college in general, fostered an inclusive, supportive learning environment for all students and she bonded easily and worked closely with her male classmates.
"The teachers made me feel important, and that was neat," Hove said. "And I wasn't the only one who felt like that. We all felt accepted and supported."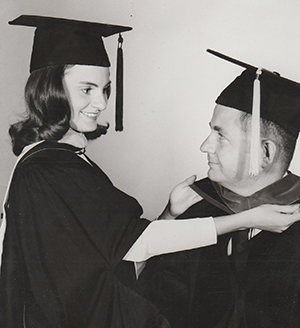 Hove taught in an undergraduate statistics lab as a graduate teaching assistant and she considers the experience one of her college highlights. It gave her valuable work experience, spending money and a new appreciation for the work of teachers. It was such a positive experience that in 2019 the Hoves endowed the Betty Murrell Hove Graduate Assistantship Fellowship for female MBA students at the Spears School of Business through the OSU Foundation.
Though Hove doesn't recall facing any educational barriers as a woman, the reality of a woman competing in a business world dominated by men became apparent when she went to find a job. While still at OSU, Hove tried to land interviews with company recruiters visiting campus, but their announcements openly stated that only men need apply. Out of all the posted notices at the time, only one job was open to female candidates at a federal laboratory in New Mexico.
"In the '50s and '60s, the so-called corporate glass ceiling for women wasn't so much glass as concrete," Hove wrote for MBA Preferred: Celebrating 50 Years, the 2011 book profiling 50 distinguished OSU MBA graduates. The section Hove wrote about herself is aptly titled, "Don't Tell Me I Can't."
Her husband was offered a job with defense contractor General Dynamics in Fort Worth, Texas, and the couple moved there. Hove's first job was as an accountant at a small Fort Worth manufacturing company, followed by positions with Bell Helicopter, Fort Worth Public Works, and American Commercial Colleges. She also worked as the chief financial officer for the manufacturing company Larry bought and she started her own business providing small companies with accounting services.
Throughout her career, Hove bumped into that concrete ceiling, including facing blatant discrimination at one company early in her career. Not long after starting, a man with fewer qualifications and less education than Hove was hired for a better-paying job in her department. She filed a complaint with the federal Equal Employment Opportunity Commission and won the case.
The Hoves, who have been married for 59 years, still live in Fort Worth. Betty is retired, and Larry still works as an engineering contractor and consultant. In addition to managing her accounting business and working with her husband, Hove spent years serving as an officer and on boards of Fort Worth organizations, including the Women's Center of Tarrant County, the Texas Ballet Theatre Guild and Planned Parenthood.
Betty and Larry are proud of their Oklahoma State legacy and especially because their two kids attended OSU. Jennifer Hove graduated in 1993 from Spears Business with a bachelor's degree in accounting and management information systems. Eric Hove graduated in 1995 with a bachelor's in mechanical engineering. Both families, including Betty's five grandchildren, live in Fort Worth.
Earning an MBA was a decision that rewarded Hove with experiences, opportunities and the confidence to always move up despite ceilings made of concrete. She said she always had a vision for her future, and her OSU education set her on that path.
"Even when I was just growing up, I could always see into the distance, and if you can see into the distance, you can go there," Hove said. "That's the lesson I've learned."
MEDIA CONTACT: Jeff Joiner | Communications Coordinator | 405.744.2700 | jeff.joiner@okstate.edu