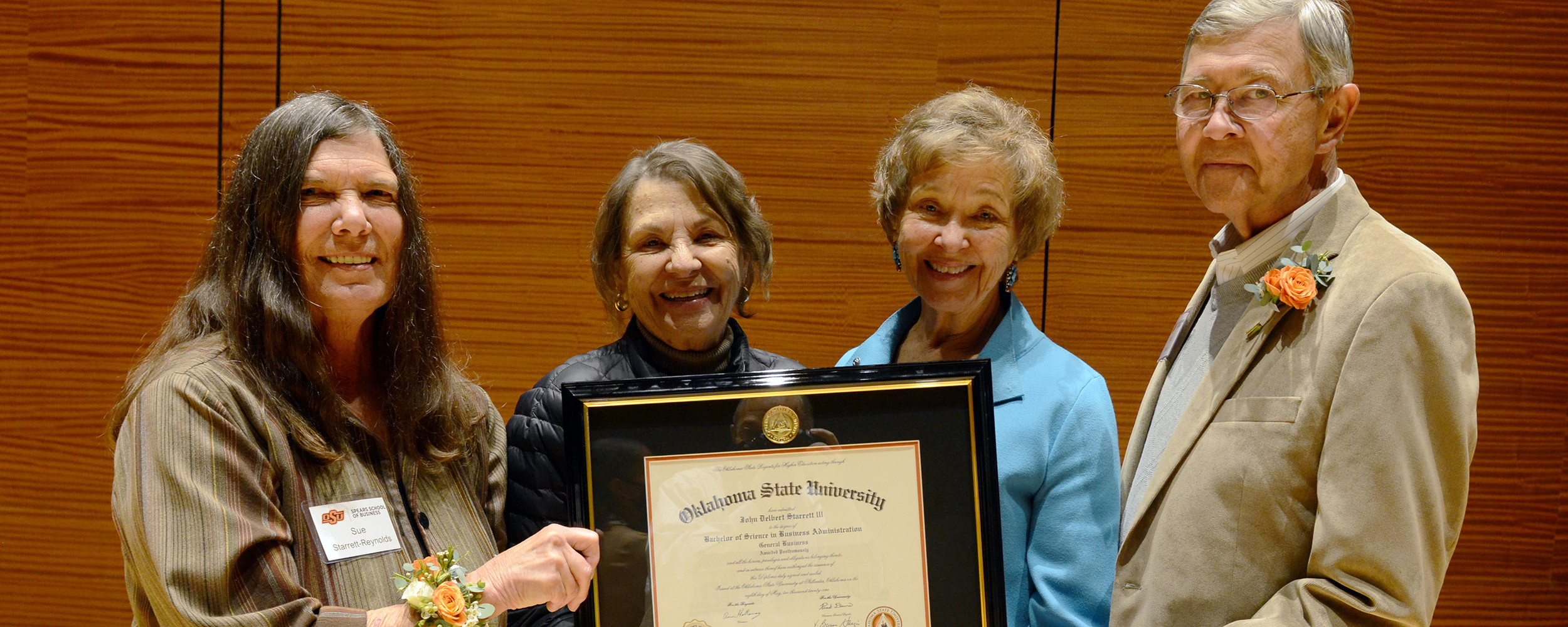 OSU, Spears award a posthumous degree to a student killed fighting in Vietnam
Tuesday, June 15, 2021
Media Contact: Terry Tush | Director, Marketing and Communications | 405-744-2703 | terry.tush@okstate.edu
It is not often that a person's graduation is celebrated 51 years after he attended college. But that was the case in March 2021 when Oklahoma State University and the Spears School of Business honored the late John Delbert "J.D." Starrett III with a posthumous degree.
Starrett grew up in Bartlesville, Oklahoma, where he spent hours tinkering with his Erector set as a young boy and later tinkering with an attention-demanding motorcycle. Summers included camping trips with his Boy Scout troop, learning survival and leadership skills. He kept active during high school by joining clubs and working at Foodtown Grocery.
His family encouraged him to pursue a college education and in 1965, he traveled to Stillwater with friends, enrolling at OSU as an accounting student. He took his education very seriously to set an example for his younger brother David, but he also had fun during his days on the OSU campus. On May 31, 1968, he married his high school sweetheart, Sue LeMaster, in Bartlesville. They both attended OSU and lived together in married student housing on campus.
In 1970, with only one semester left at OSU, Starrett was drafted and sent to Vietnam. Although he qualified for student deferment, he accepted the call to serve his country. He planned to return to Stillwater to finish his degree after the war.
"It was a very sad day when he first left Bartlesville for his training at Fort Polk Army base in Louisiana, but a very, very sad day when he left for Vietnam," said sister Janice Starrett Banks.
Leaving for Vietnam on June 9, 1970, Sgt. Starrett was assigned to Company D, 1st Battalion, 5th Cavalry of the 1st Air Cavalry Division. He was awarded the Bronze Star for Meritorious Service for his heroism on Sept. 18, 1970, when he exposed himself to hostile fire during battle. Starrett's display of personal bravery and devotion to duty that day was an inspiration to the other members of his unit, the commendation said. Less than a month later, on Oct. 4, 1970, the 23-year-old Starrett was killed in combat.
"Even though we had J.D. for such a short time, and his death was such a tragedy for our family, we know he was kind, caring and a loving young man," said Claudean Starrett Stotts, his older sister. "He was a gentleman and a man of integrity. He had a sense of duty to do the right thing and to finish the job."
Starrett's father traveled to Stillwater to speak with the university officials about the possibility of his son receiving a diploma because he was so close to meeting the degree requirements. His request was denied.
Fifty years later, after hearing stories about J.D. for much of her married life, Carol Starrett, the wife of his younger brother David, decided to get the ball rolling again. She contacted OSU to request a posthumous degree and eventually connected with Shelby Cypret, executive administrative assistant to Dr. Ken Eastman, dean of the Spears School of Business, who helped initiate the conversation.
On Oct. 25, 2019, the OSU Board of Regents voted unanimously to award a posthumous bachelor's degree to Starrett and to present the diploma to his family in May 2020, but OSU's commencement ceremony was postponed because of the COVID-19 pandemic.
But on March 12, 2021, a small ceremony at the McKnight Center brought together Starrett's family and close friends to celebrate his graduation, where he was honored by OSU President Burns Hargis and Eastman.
"Oklahoma State University is honored to recognize J.D. Starrett for his academic success and his military service," Hargis said. "We offer our deepest gratitude to his wife, sisters and brother for his ultimate sacrifice for our nation."
"We have never forgotten our J.D. He has lived in all of our hearts. He wanted to serve our country and he did with his life. We are so honored that he received his college diploma posthumously some 50 years later," Banks said.
Accepting the degree from Hargis was Starrett's widow, Sue LeMaster Starrett Reynolds, who remarried and lives in Bartlesville. Eastman and Spears Business also presented duplicates of the diploma to Starrett's siblings.
"The presentation of J.D.'s diploma had such an impact on our family and friends. It was so special and so complete, a beautiful closure," Claudean said. "We are so moved to see our fallen soldier, our beloved John Delbert Starrett III, honored in this way."
David Starrett and his wife, Carol, traveled from their home in South Carolina for the ceremony.
"I was the younger brother, and he was all things to me," he said. "I remember being in the first grade, walking to the bus stop through knee-deep water for a 7-year-old, and I fell. All of sudden, I was picked up and it was J.D., following me to the bus stop. He was always there for me when I didn't know he was."
A donation by Starrett's family in his name has been made to the Veterans Endowed Scholarship in the Spears School of Business. The fund is for scholarships for full- or part-time veteran students and deployed veterans.
Story By: Grace Hentges | grace.hentges@okstate.edu