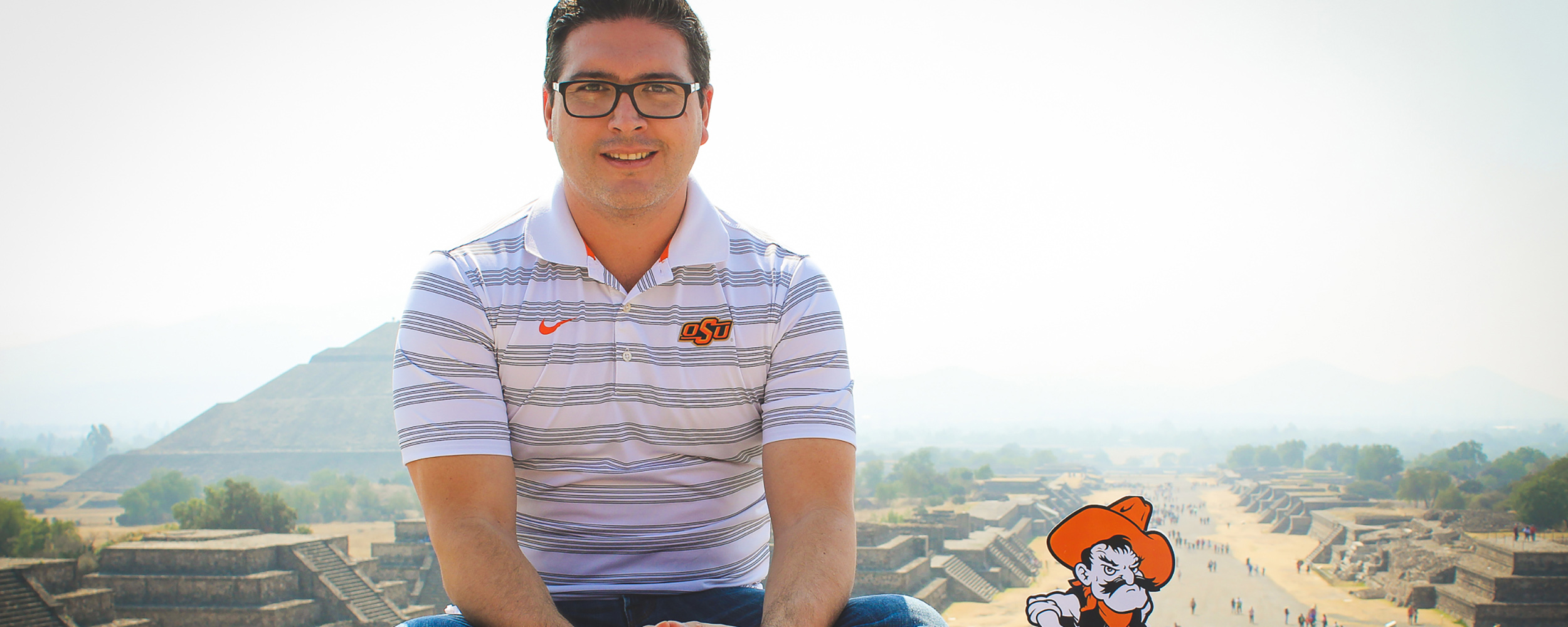 José Sagarnaga's mission is to open students' eyes to the world
Tuesday, June 15, 2021
Media Contact: Terry Tush | Director, Marketing and Communications | 405-744-2703 | terry.tush@okstate.edu
From the suburbs of Chihuahua, Mexico, to the classrooms of the Spears School of Business, Dr. José Sagarnaga's career has spanned a world of experiences that he says have enriched his life. But it's the many people that Sagarnaga has encountered along his life's journey, from teachers in high school to university professors, colleagues and administrators, who have had the greatest influence on his life and the opportunities he has enjoyed. Today, he makes giving back a personal mission.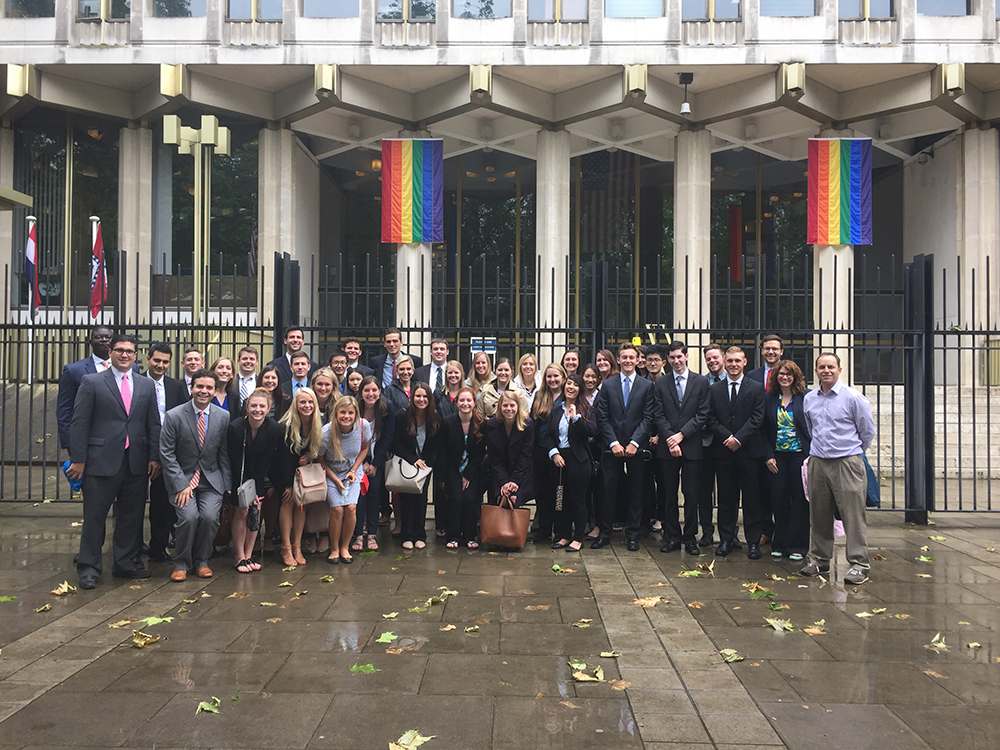 "I've been blessed by being surrounded by kind people, mentors, even just strangers who I met," Sagarnaga said. "Now, every time there's an opportunity, I give back."
Sagarnaga is an associate professor of professional practice in the Department of Management in Spears Business and director of the Center of Advanced Global Leadership (CAGLE). He has been on the Spears Business faculty since earning his doctorate in 2014, first as a visiting professor then an assistant professor, but he also worked for the business school and Oklahoma State University in a number of roles since receiving his master's degree in international studies from OSU in 2005.
Sagarnaga grew up in a middle-class family in Chihuahua, a city of more than 1 million people in northern Mexico. His parents worked in banking, and he is the first to admit that he had an idyllic childhood, but that changed as a teenager when his parents divorced. Growing up in a conservative Catholic family, the stigma was difficult for the young Sagarnaga, who began to act out in school. It was the intervention of teachers in his school that kept him on course.
"They saw that underneath the pain I was going through, I was still a good kid," he said. "They took me under their wings and talked to me about it. That taught me a lot. Now as a professor, I don't want to miss an opportunity to be able to touch students' lives in a meaningful way."
After earning a bachelor's degree in financial management from a university in Chihuahua, Sagarnaga began thinking about graduate school. A chance visit to OSU in 2004 changed the direction of his life. He admits that at the time he was not considering OSU.
"Oklahoma State was not on my list. Schools in Texas and New Mexico were because of the proximity to Mexico, and those major East Coast universities were, but not Oklahoma State," Sagarnaga said. "And then I met the people at OSU and in two or three days I met so many people and all of them made me feel that I was important."
Sagarnaga completed his master's degree in 2005 at the OSU School of International Studies with a focus on international business and economic development. After graduating, he was offered a position at OSU through International Studies and an initiative of OSU President David Schmidly to increase engagement with Mexico by opening liaison offices in Puebla. For three years, Sagarnaga managed an exchange program between OSU and Mexico, traveling back and forth between Stillwater and Puebla.
After Schmidly left OSU in 2007, the office in Mexico was closed, and Sagarnaga managed the program from Stillwater. Eventually the program was phased out, and he went to work for Spears Business as a program coordinator for the Center for Executive and Professional Development, where he assisted with the celebration of the 50th anniversary of the school's MBA program and worked with study abroad programs in Costa Rica, Greece, Ireland and Italy.
In 2012, Sagarnaga joined an effort to launch a new graduate program at the business school, the Ph.D. in Business for Executives. Sagarnaga joined the effort as interim assistant director, then finished his own doctorate from the Universidad Popular Autonoma del Estado de Puebla in Mexico and moved up to assistant director.
Sagarnaga has always been a fervent traveler with an interest in international business and development. While earning three university degrees, he has studied abroad and participated in internships that have taken him throughout the world.
"My passion for global education starts from my own experiences," he said. "And as a professor, it's my responsibility to make my students more mindful of global knowledge and to be open to new ideas."
With that mission in mind, Sagarnaga was named director of the newly created Center for Advanced Global Leadership and Engagement at Spears Business in 2015. Sagarnaga created the acronym CAGLE to describe the program's goals as well as recognize the financial support of Roger and Cindy Cagle, who made the center possible. CAGLE houses business-focused travel abroad programs and educational efforts to prepare Spears' students for careers in a global economy.
"That engagement piece, global leadership and global engagement, is what makes CAGLE the advocate for international engagement at Spears," he said.
Even as the COVID-19 pandemic put trips abroad on hold, Sagarnaga insists the potential for global business education still exists. One of the ways he's making sure of that is by introducing Spears Business students and employees to the school's global students and global faculty through an awareness program that profiles international students and professors who come to Spears Business from all over the world.
"The Power of Personal" is Spears Business' motto, and Sagarnaga takes the phrase seriously. For him, it even applied to the business school before the phrase was adopted. He says he decided to go to school at OSU as a graduate student because countless faculty, staff and administrators made a point of interacting with him, making his experience visiting Stillwater so personal that he chose ultimately to make his career at OSU and his home in Stillwater.
The positive influence of so many people in the direction of his life has made him focus his career on helping others.
"In my profession as an administrator, as a professor, I have made that a priority in my life," he said. "I don't want to miss an opportunity to impact or assist anyone I can who needs help and to be able to touch their lives in a meaningful way."
Story By: Jeff Joiner | Spears School of Business