Personal loss energizes OSU student to tackle her depression and help others
Tuesday, June 15, 2021
Media Contact: Terry Tush | Director, Marketing and Communications | 405-744-2703 | terry.tush@okstate.edu
Life can be challenging at times. Careers, relationships, finances and the academic pressures of college can take an emotional toll. Add a personal tragedy, and the weight of it all can be overwhelming. Mikaela Stamper knows well how facing such a loss while trying to put on a brave face can leave one isolated and lost.
Stamper, who was part of the Spears School of Business' class of 2021, faced a devastating tragedy when her stepbrother took his life in 2013. She was a 14-year-old high school freshman at the time in Fairfield, Texas, between Dallas and Houston, overwhelmed with emotions she couldn't easily process.
"In that moment, I felt like I had let down one of the most important people in my life," Stamper said. "I was angry, guilty and lonely, and I didn't talk to anyone because I didn't know who to approach."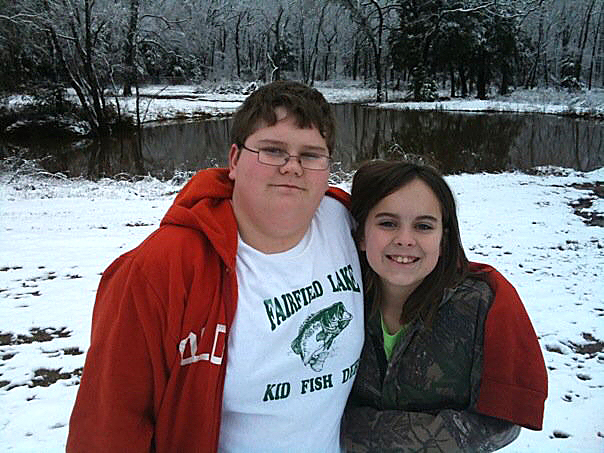 Coming out of this dark period, Stamper found the strength and resolve she needed to continue pursuing her own dreams including going to college. That strength also led her to take on state legislatures, first in Texas and now in Oklahoma, to help pass legislation to train teachers to recognize the signs of students who may be in trouble, like her big brother was.
Stamper was especially close to her stepbrother, Dustyn Blake Sandefer, 16, who always looked out for his little sister.
"Blake was the most loving big brother," she said. "He was playful and incredibly smart, probably the smartest person I've ever met in my life, but I now realize that he was fighting a battle that he never told me about."
It took Stamper years to return to feeling normal again. Her emotional state worsened when she entered Oklahoma State University as a freshman. She was living several hours from home and dealing with depression, isolation and anger as she tried to come to terms with "the new normal" as she describes her life.
"I would sit in a room with a bunch of people and put on an act that I was a happy person because I didn't want to tell anyone or let anyone in because I didn't want anyone to judge me or think differently of me or my family," Stamper said. "It was an internal battle that I thought I could face alone."
Feeling more and more isolated, Stamper nearly quit school after her freshman year at OSU, but her family convinced her to return to Stillwater. Over time with therapy, she has become more comfortable talking about her emotions and seeing feelings such as sadness as not a weakness but a normal part of life.
Another outlet for Stamper has been her passion and involvement with passing the Jason Flatt Act in her home state of Texas and now working with Oklahoma state legislators to pass it here. The Jason Flatt Act is a teenage suicide awareness and prevention law named for a high school student who took his own life in 1997. The law, now enacted in 20 states, requires teachers to go through annual training to recognize the signs of suicidal teens in school and how to intervene.
"Four out of five teens who attempt suicide give clear warning signs and usually they're missed," Stamper said. "I missed it."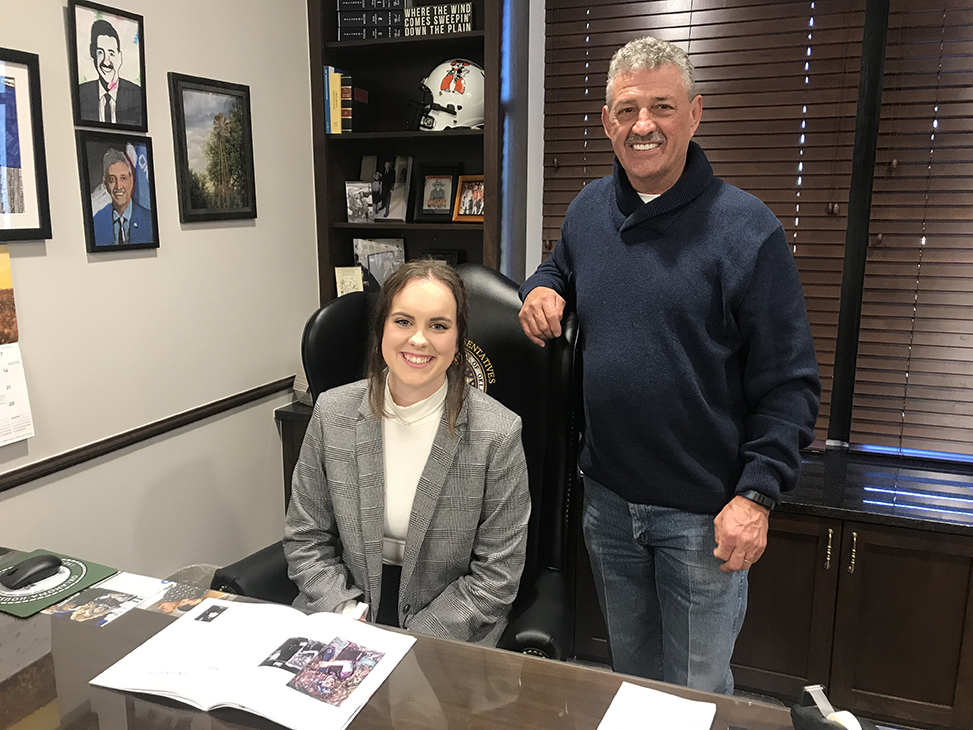 Stamper became aware of the Jason Flatt Act on the day her stepbrother died. Only a few weeks before, the son of Fairfield High School football coach Kevin Childers committed suicide, and Childers approached Stamper knowing that she needed help with her grief.
"He came to me and said, 'I've got something I want your help with,'" she said. "He said it's something that will help us and help others, and that's how I found out about the Jason Flatt Act."
Stamper worked with Childers and many teachers to lobby the Texas Legislature to pass the bill, which was signed into law in 2015. When Stamper decided to attend Oklahoma State, she knew the state had not passed the act and it became her goal to see it become Oklahoma law. Stamper contacted state Rep. John Talley of Stillwater and asked for his help. Together, the two and Talley's legislative aide worked to draft the bill's language, and it was introduced to the Oklahoma Legislature in the 2021 session as House Bill 1686.
Talley said Stamper was an important resource for his office in understanding the need behind the Jason Flatt Act.
"She's very genuine and totally understands what she's trying to accomplish with this bill," Talley said. "And that's very important when educating legislators about an issue. She can answer questions before the bill even hits a committee."
Talley said the bill was not ready for committee consideration this year and will be reintroduced with some tweaking in the next legislative session. Stamper said she was excited to see the progress they made to get legislators thinking about the issue.
She knows much work needs to be done to see the law passed, but Stamper says the effort to educate people about the need has energized her. Also this year, Stamper joined an OSU mental health awareness campaign called "Let's Talk About It" to help her fellow students see that depression and other emotional challenges don't have to be stigmatizing.
"One of the things that keeps me going every day is knowing that I have family and friends who support me and love me, no matter what season of life I'm going through," she said. "Knowing that I found the strength and courage to share my story and my brother's story, and to help save someone else, makes me feel really good."
Stamper graduated in May with a double major in management and marketing. She will be a management trainee with Cintas in Tulsa.
Story By: Jeff Joiner | Spears School of Business