Man of Many Talents: Brandon Jackson is right at home whether he's singing or creating online content
Tuesday, June 28, 2022
Media Contact: Terry Tush | Director, Marketing and Communications | 405-744-2703 | terry.tush@okstate.edu
Brandon Jackson was out of his element when he walked into his new office in the Michael and Anne Greenwood Center for Online Excellence on his first day as a multimedia producer at the Spears School of Business.
Hired just 10 months before the coronavirus pandemic swept across the United States, Jackson began working closely with Spears Business faculty in developing and managing multimedia content for online classes.
His new role meant working behind the scenes to assist faculty in creating engaging content for their classes. It was different from being in front of the crowd where Jackson was used to starring as the lead in a high school musical, singing concerts in front of audiences as large as 20,000 people or as the public address announcer for Oklahoma State baseball games and Cowgirl soccer matches.
Now, Jackson is not only comfortable being the person on stage accepting the applause, he is just as comfortable in working behind the computer to edit videos that have led to record-setting growth for online programs in Spears Business the past two years.
"I have been singing and performing in front of people my entire life," he said. "Music has always been in our family."
Jackson was a regular in musicals and other performances at Memorial High School in Edmond, Oklahoma, before accepting a music scholarship to OSU. He also fulfilled a dream when he was a non-scholarship walk-on wide receiver for the Cowboy football team starting his freshman year in 1994.
"I'd get taped over at the stadium for football practice, walk across the parking lot and go to choir, finish that and go back to football practice. It was crazy," Jackson said.
His highlight as a walk-on was catching a pass during the spring game and hearing his name called by the OSU football announcer at then-Lewis Field.
"Ultimately, I made the decision to start focusing on music," said Jackson, following in the footsteps of his dad, Jerry, who played in the OSU Marching Band in the 1960s and his grandfather, Kenneth Jackson, who played the fiddle in bluegrass bands in the 1930s and '40s.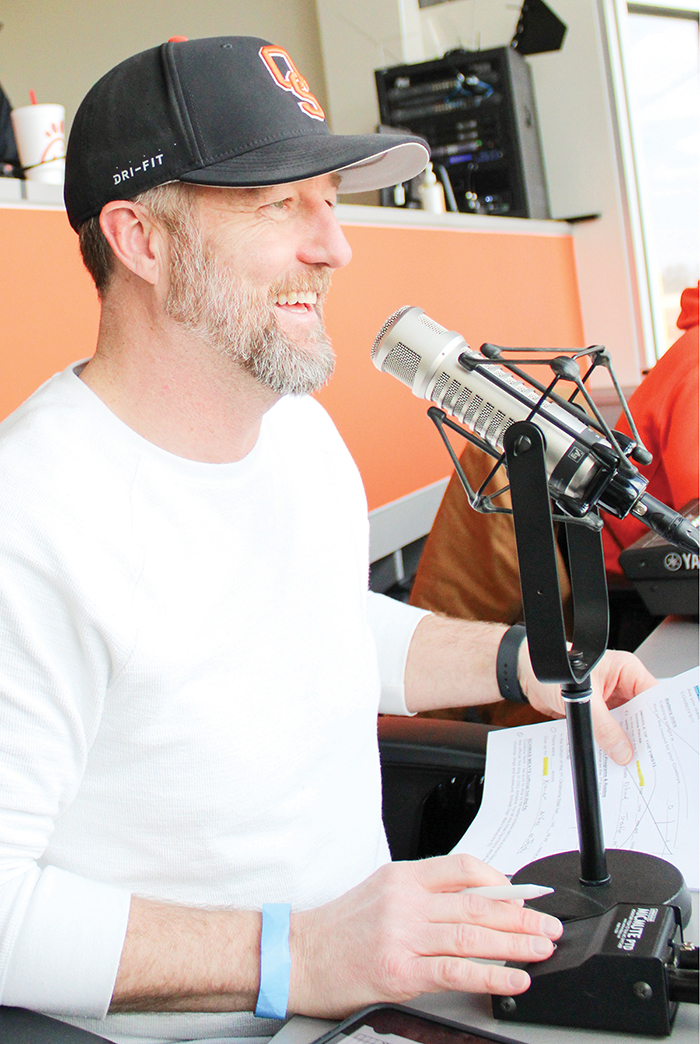 Jerry Jackson played the banjo and guitar and was willing to teach Brandon, but the youngster never showed an interest. Then, the former Oklahoma Highway Patrol officer came home one day to a surprise.
"I heard somebody playing the guitar and asked my wife who it was, and she told me it was Brandon," Jerry Jackson said.
Brandon taught himself to play the guitar as a freshman in high school when he and a few friends decided to form a band for a talent show.
"We decided to play a song in the show but none of us really knew how to play an instrument, so I learned to play the guitar, another guy had a set of drums at home, so he learned to play the drums and so on," Brandon said.
At OSU, he joined a rock band named 12 Pearls, formed by a few college buddies that played around Stillwater. Jackson and 12 Pearls began playing shows with a band that was just getting its start — Cross Canadian Ragweed — as well as playing acoustic shows on The Strip in Stillwater. To help make ends meet, he served as the worship leader and led the band at his church in Edmond.
Jackson eventually transferred to Oklahoma City University, where he earned a bachelor's degree in music business. That's when he faced a life-changing decision.
"I was still working at the church, but I didn't know what I was going to do," he said. "I didn't know if I was going to go to Dallas or to Nashville. I made the decision that I was going to quit my job and I was going to jump feet-first into a music career."
Jackson was playing acoustic shows on Monday nights at the Wormy Dog Saloon in Stillwater and had previously opened several times for a band called No Justice. At the end of 2004, they asked him to join as the fifth member. Within days, Jackson and No Justice began a tour he would never forget. The band's first stop was in West Texas, where it opened for Jason Boland and the Stragglers, along with Cross Canadian Ragweed.
"I came on stage and I was like, 'All right, this is exactly what I wanted,'" Jackson said of his first show with No Justice in Odessa, Texas. "But the other half of me was like, 'Oh, I didn't expect to get here all of a sudden.'"
"I love what I'm doing here at Spears, and to be able to do both is a huge success in my mind. I'll never stop performing, no matter what I'm doing."
- Brandon Jackson
Jackson began living out another one of his dreams: writing songs, singing, and playing lead and rhythm guitar for No Justice. The group played nearly 200 shows a year over the next five years, including opening for country superstars Dierks Bentley and Jason Aldean.
No Justice recorded a "Live at Billy Bob's" album inside the famous venue in Fort Worth. One of Jackson's favorite memories during this time in his music career was performing at the Larry Joe Taylor Festival in Stephenville, Texas, playing in front of crowds of more than 20,000 people.
"There were people as far as you could see," Jackson said. "It was amazing. It was so much fun."
After marrying his wife, Beki, in November 2008, Jackson needed a change and made another life-altering decision.
"I started wanting more and made the decision that I was going to step out on my own," he said. "I needed a break. We had been hitting it five straight years, and I was exhausted. I ultimately told the guys, 'I'm done, and I'm ready to move on to something else and try my own thing.'"
Jackson recorded his first solo album, entitled "The Good Times" in 2010, while concurrently acting in commercials and doing voice-over work. He even had a small role in a film, where he would go to the set and shoot his scenes and then head to the recording studio in Denton, Texas, for his music. Jackson and his band began touring and promoting the album after its release in 2011.
Life couldn't have been much better. He was making a living while writing and performing his own songs, and Beki was pregnant with their first child. After a complicated pregnancy, Beki gave birth to their daughter, Charlotte, three months early.
"We were determined that Brandon was going to be on the road and that was going to be our life," Beki said. "Then all of a sudden you not only have a baby, but you realize that life is going to be very different than what you expected. It was a huge turning point for us."
Instead of heading back on the road, Jackson spent the next three and a half months traveling each day to the Oklahoma City hospital to visit his daughter in the neonatal intensive care unit.
"That changed a lot for me," he said. "Once you have kids, you slowly start taking the focus off yourself and start looking at your kids, and this really did it. I didn't play any shows for three months. It certainly changed my focus and my drive.
"I started thinking, what am I going to do now? Am I going to continue doing this? For a few years I would play some shows and I was still writing songs, but I began asking myself if this is going to work. I came to the realization that after my son was born (in 2017) that I needed to get real on some things."
The Jacksons — Beki is the pom coach and spirit coordinator for the OSU spirit squads — had bought a home in Stillwater before getting married and they were wanting to stay in the area. Luckily for Brandon, the Greenwood Center for Online Excellence was expanding due to the increased need for online classes.
The timing was perfect for everyone involved as he joined Spears Business before the pandemic, and the online office saved the day when COVID-19 spread across the nation in March 2020. Jackson and Jerimy Sherin, production manager for the center, worked long hours to assist faculty in taking their courses online midway through the 2020 spring semester and then worked tirelessly over the summer to prepare for the fall semester.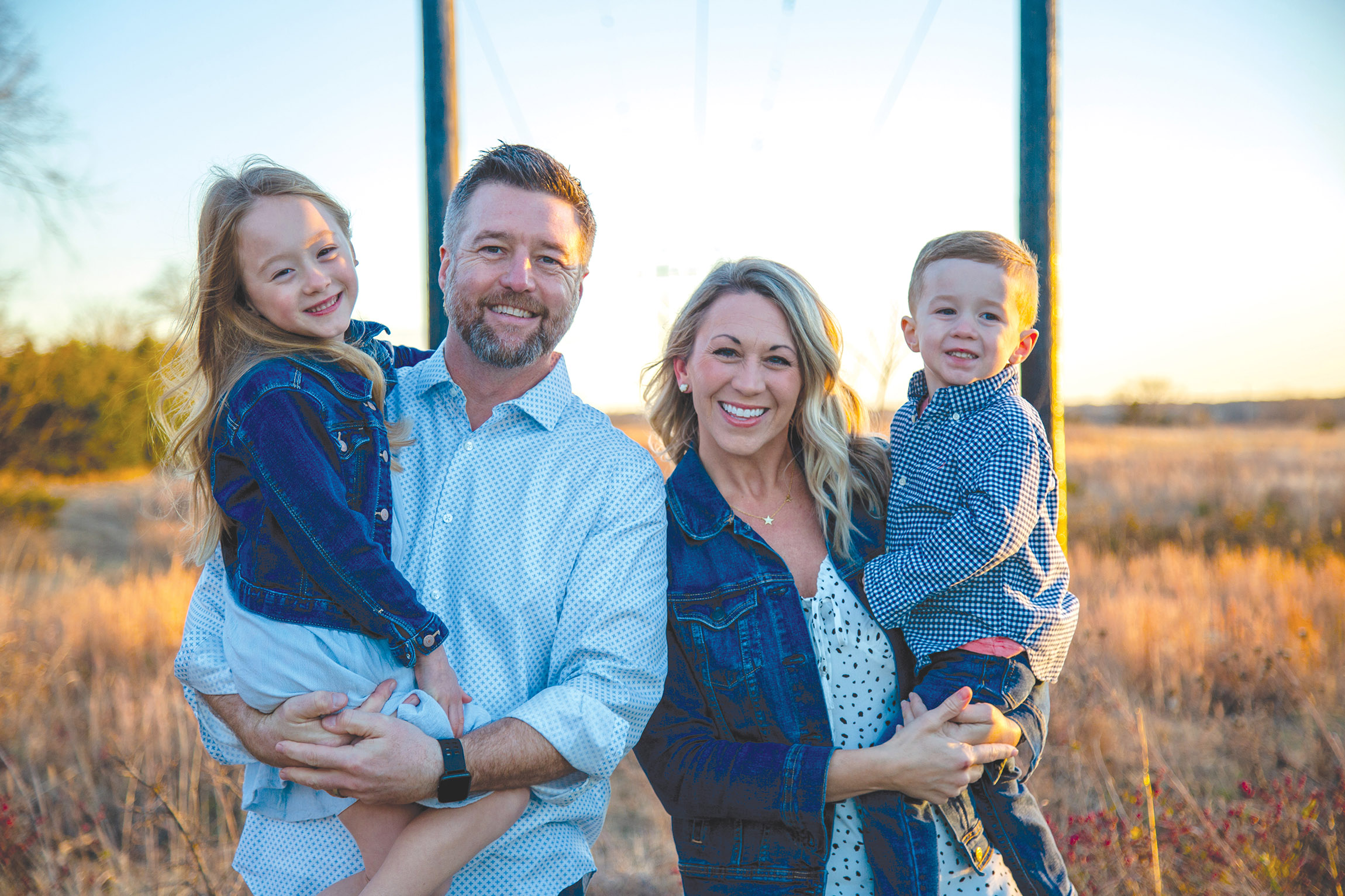 In 2019 (pre-pandemic), the office was averaging 45-50 videos a week. During the first weeks after face- to-face courses were moved online, Jackson and Sherin created nearly 150 videos. In the past three years since joining Spears Business, Jackson has created 2,567 videos, or the equivalent of 76 videos per month. The number of business students taking online classes has increased 28% from 2019 to 2021. The number of classes has increased 21% and is expected to continue to increase as more students enroll in online classes.
"With Brandon's experience outside of Spears with commercials and movies, he has been able to give our professors some great tips on presenting in front of a camera, as well as calming professors' nerves about being in front of a camera for the first time," Sherin said. "He has also come up with some great techniques to use on videos recorded by professors from home that allows us to highlight material discussed in the video similar to what we do in videos recorded properly in our studio."
Jackson has found a work "home" at Spears Business, but stays involved outside of his normal 8-to-5 office hours preparing online videos. When not writing songs and performing throughout Oklahoma with his band, he still finds time to shoot commercials and voice-overs. Jackson began serving as the public address announcer at Cowgirl softball games a few years ago and now is the announcer for Cowboy baseball and Cowgirl soccer, occasionally filling in for Larry Reece at men's and women's basketball games and for Les Thomas on the MidFirst Mic.
Beki said what you see is what you get with Brandon.
"The truth is he's just such a genuine person that really pours himself into everything he does, whether it be singing or his job at Spears," she said. "He works extremely hard and he's a great husband and father. When it comes to his commitment to his job, he really is committed to being the very best. He really, truly, is a genuine, hardworking, intelligent human being; and who doesn't want to spend time with somebody like that?"
While he's right at home in Stillwater and at Spears Business, Jackson says he'll always be performing, whether it's at a musical venue, in television commercials or introducing the next Cowboy coming to bat at O'Brate Stadium.
"I'd like to keep creating music and performing, and hopefully it's music that people enjoy," Jackson said. "I'm not looking for superstardom. I feel like I got to experience a lot of that, and even though it wasn't a super long career I still got to taste that, I got to see it and I got to live a little bit of that. I don't know if I'll ever go on full tour again, but I'm certainly writing and I have enough friends in the business that we can write together and keep performing. I love what I'm doing here at Spears, and to be able to do both is a huge success in my mind. I'll never stop performing, no matter what I'm doing."
---
Story By: Terry Tush | Engage@Spears Magazine