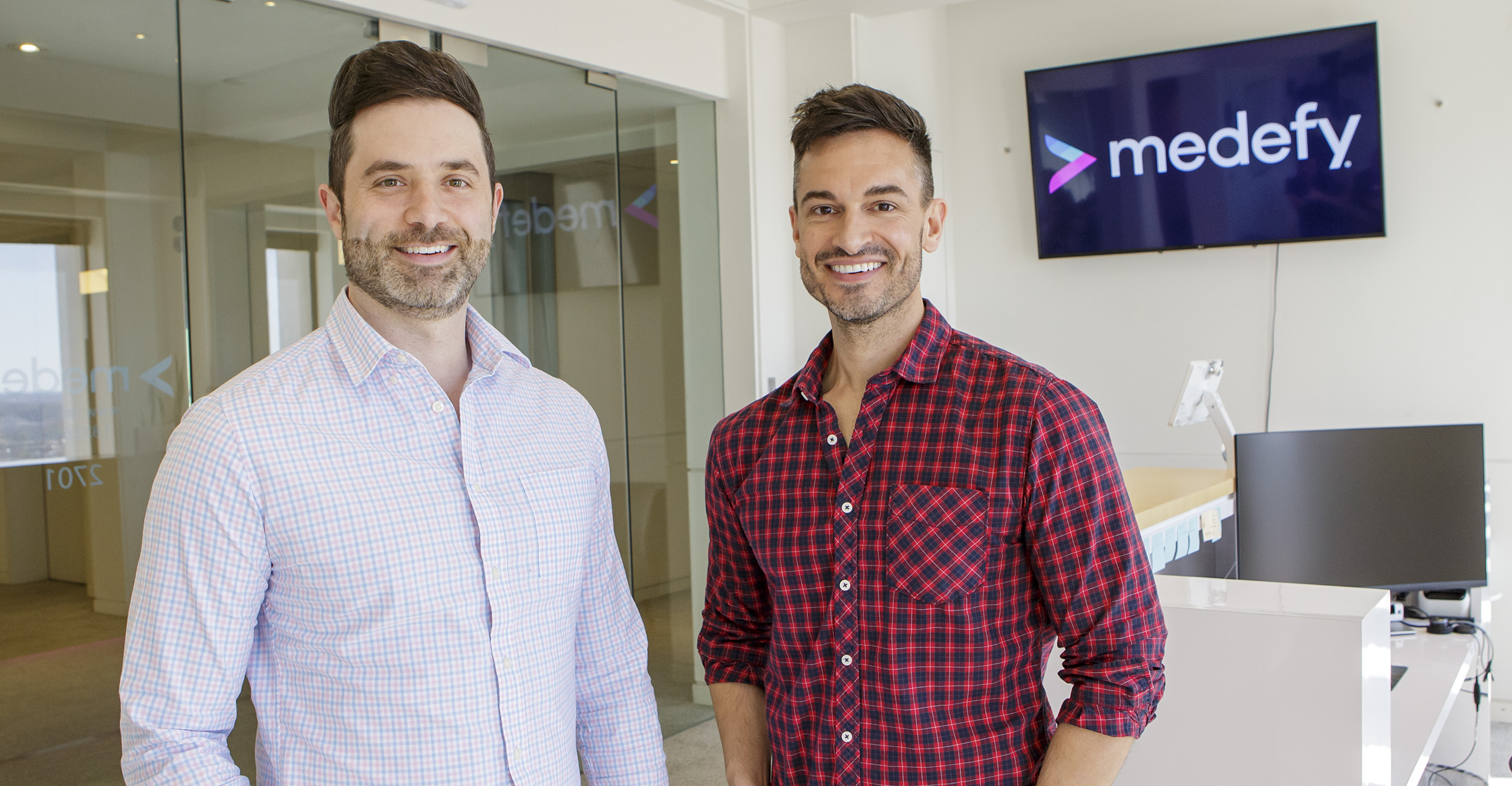 Shower Thoughts: OSU graduates develop multimillion dollar company
Tuesday, June 28, 2022
Media Contact: Terry Tush | Director, Marketing and Communications | 405-744-2703 | terry.tush@okstate.edu
One day, after a difficult time attempting to identify the cost of an eye exam, Matt Scovil came up with an idea while in the shower. That's when Medefy, a technology company specializing in health benefits navigation, was conceptualized.
Scovil, who earned his bachelor's degree in international business and marketing and MBA from Oklahoma State University's Spears School of Business, had already developed two businesses with his cousin — Nathan Gilchrist, an OSU civil engineering graduate — when he felt the call to fix a distinct problem within the health care benefits industry.
The cousin duo always had entrepreneurial aspirations to start a business together. In 2007, as they were both interviewing and fielding job offers after graduation, they decided to take the leap and follow their longtime dream.
On his way home from a job interview in Dallas, Scovil called Gilchrist from the Wi-Fi phone on the plane to tell him to cancel his interviews because he realized he didn't want to work for anyone anymore, he wanted to team up with Gilchrist.
"We just decided through a series of circumstances that we were going to start our own business," said Scovil, chief executive officer and co-founder of Medefy.
Noticing a large, underserved niche in the medical licensing market, the pair put together their first business plan while living in the James Creek housing addition in Stillwater. The plan was to aid practitioners with acquiring their licenses in other states.
Having no knowledge of how to obtain a medical license, they took to Google to learn the ins and outs of the industry and how they could leverage technology to make the process faster and easier. Utilizing Google once again, they launched an advertisement for their business with only $20 worth of AdWords. Before they knew it, their $20 investment turned into a paying customer.
"Eventually we got a doctor to go with us," Scovil said. "I think he possibly mistook us for another service, but that's on him.
"We successfully got him licensed in two states and through our new method we refined it and eventually grew that to be quite a nice business."
The business was hit hard when the Affordable Care Act was passed in 2010, though. Many doctors were uncertain of the implications of this law and therefore stopped practicing medicine beyond state lines, which meant there was no longer a need for new licenses. Scovil and Gilchrist's first business venture seemed to be a thing of the past just as it was getting started.
They took this opportunity to assess being self-employed and realized they weren't willing to give up the ability to set their own hours, work for themselves and wear gym shorts all day. So, in their spare room in a little rent house in Tulsa, they put their entrepreneurial minds together for the second time to develop a website development business.
"Keep in mind, we did not know how to build websites or anything of that nature," said Gilchrist, chief operating officer and co-founder of Medefy. "I had taken a couple HTML courses in high school. So, we Googled it, we figured it out and we built a little business out of that, which sustained us for the next handful of years until the idea for Medefy was born."
Their early businesses trained the pair in character, grit and emotional capacity. Ultimately, they prepared them to launch a company that would grow extremely fast.
"We were serial entrepreneurs," Scovil said. "In the industry, generally serial means successful entrepreneurs. We were kind of 'feeding ourselves' entrepreneurs, but that was good enough for us. We had no overhead, we were two dudes, you know, just living life."
"The Cowboy 100 was honestly, really awesome just because the other companies that were in there with us were so well known and had such high growth. I mean big name companies, it was an honor just to be in the same room with them, much less, you know, being No. 1."
- Matt Scovil
In 2012, Scovil was beyond due for an eye exam and attempting to find out how much the appointment would cost when he realized a problem that needed to be solved.
"I was out of contacts. I was wearing four-prescriptions-ago-glasses, so I started calling around," Scovil said. "And no one could really tell me how much an eye exam was. They were like, 'Well, it really depends on what insurance.' OK, cool, I've got Blue Cross. How much does it cost? 'So it depends.' What do you charge exactly?
"And so I thought, 'Alright, this is crazy. I don't understand how this works, it seems to be the only place in America where costs are not up front with the consumer.' So, I did some research on it. Found out that this was a big problem everywhere from eye exams all the way through transplants, major surgeries and medical equipment."
Scovil approached his partner about the epiphany that occurred to him through this experience and a thought in the shower. Gilchrist was hesitant at first as he was thinking practically about their website business and bandwidth needed to sustain both companies. But Scovil insisted that they reach out to a company he remembered from college who helps fund startups, i2E, to introduce his idea and hear what they had to say.
"I said if they get back to us, that's going to be our sign to move forward," Scovil said. "If they don't, then the shower was too hot and I was wildly hallucinating and it is not right."
Three weeks later on a Friday afternoon, Scovil got the call that would change their lives. A representative from i2E was on the other end of the line and wanted Scovil to pitch his business idea. After his five-minute pitch, there was dead silence on the other end of the phone until someone from i2E finally responded. They said it sounded like the business was still in the early development process and might be a little too early for the company to invest, but that they saw promise and were willing to meet with them.
Over the next year, Scovil, Gilchrist and i2E worked together to shift the business model into a more profitable monthly recurring model marketed for employers versus the end user. At the end of that year, i2E provided its first round of funding.
Medefy initially started as an app which provided medical price transparency and showed people the cost of care, but pivoted after beta testing and consumer feedback to be an app that helps everyday people navigate health insurance.
"Health benefits, the health care system, it's very complex for most people, and what happens due to that complexity is people tend to delay care," Scovil said. "Because they don't know how their health insurance works, where they should go or they are unable to afford it very easily, they end up spending all this money on care. The app just helps them make better decisions.
"But really, the crown jewel of the platform is a function in our app called 'chat with care guide.' We have a live team that knows everything about your health benefits that you can text 24/7, who can help you navigate your plan and get you scheduled at care. We try to get people to low-cost, high-quality care to lower the cost of care for the member and their employer."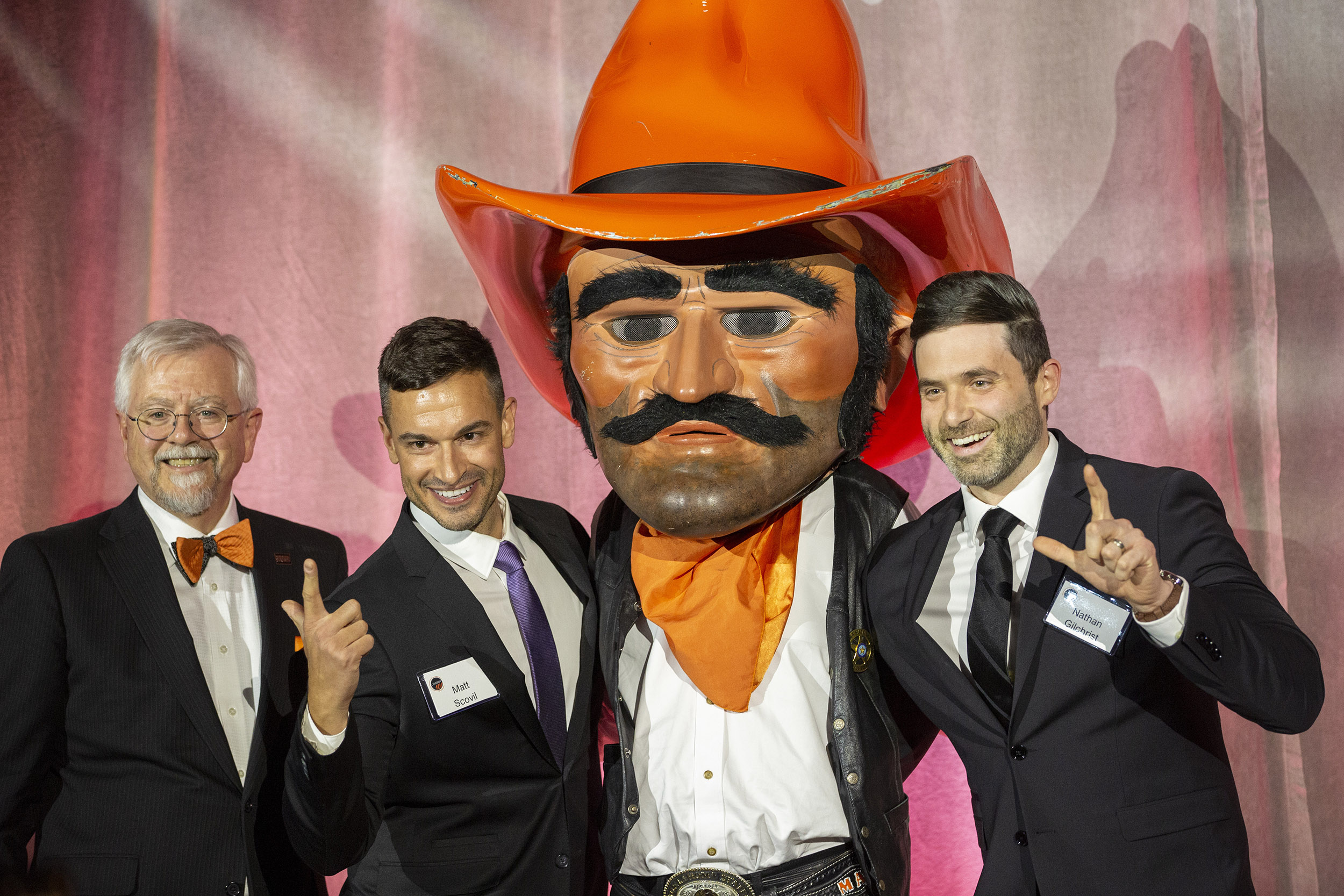 From their official production launch in early 2018 to 2021, Medefy had an average growth rate of 350%, earning them the No. 1 spot at the inaugural Cowboy100 Gala, which recognized the top Cowboy-owned or Cowboy-led businesses based on their growth rate. The gala, held last November, was sponsored by the Riata Center for Entrepreneurship in Spears Business. The Cowboy100 will be held again March 2023, and nominations are being accepted on the website (okla.st/cowboy100).
"The Cowboy 100 was honestly, really awesome just because the other companies that were in there with us were so well known and had such high growth," Scovil said. "I mean big name companies, it was an honor just to be in the same room with them, much less, you know, being No. 1."
Their success didn't come without sacrifice, a strong work ethic and the willingness to wear every hat in the company. It wasn't long ago that Scovil and Gilchrist would spend the day working in the business and then spend the evening vacuuming the office and going to Costco to buy water, coffee and pop. Now, they have 52 employees from engineers, marketers, sales, finance, customer success and care team members to human resources and front office staff.
Through the pairing of Scovil's business knowledge and Gilchrist's process knowledge the dynamic duo made the perfect business partners, filling in for the other's shortcomings.
"Matt has a very good ability to get people excited about things," Gilchrist said. "He's kind of the chief storyteller, whereas I struggle creating the amount of excitement that I feel about things because I talk in facts and figures and processes because it's a completely different skill set ... It's a good kind of pairing of everything."
Scovil agreed that they worked well together.
"Nathan didn't know much about business, he was an engineer," Scovil said. "He knew a bunch of nerdy numbers stuff, but I've watched him become this brilliant businessman throughout the years, especially at Medefy. His business acumen has grown to legendary status."
The cousins who started their first business from their rent house in Stillwater have now grown an idea into a multimillion-dollar business with customers in all 50 states and almost 3,000 five-star reviews just by seeing a problem and working to fix it.
"My advice to everyone is if you really believe in yourself and you believe in your product and you know in your heart that it's right, keep at it until you figure it out because you will, and it will work and it will change the world," Scovil said.
"We've done it, we're national now from an idea I had in the shower because we just made the decision that night together that we're going to keep at this until we figure it out, until it works."
---
Story By: Bailey Stacy | Engage@Spears Magazine