Adopted brotherhood
Monday, June 12, 2023
Media Contact: Terry Tush | Director of marketing and communications | 405-744-2703 | terry.tush@okstate.edu
This is a story of one of the worst pool games ever played at Finnegan's Pub in downtown Stillwater, a couple eloping during a global pandemic, the newlyweds not telling their parents for several months after getting married and shortly thereafter, the pair adopting four brothers under the age of 10.
Please meet Amber and Aaron Pitts.
The two Stillwater natives connected through an online dating app in 2019, and their first date was at Finnegan's.
"I knew who he was because I had had a few interactions with his brother, who was in the choir program (at Oklahoma State University) while I was in the instrumental program," Amber said. "I decided I might as well go have a few drinks, and it turned out to be the absolute worst game of pool ever."
Aaron agreed.
"It was great because we were both awful," he said.
It was also great because that horrendous game of pool led to a second date, which led to a third and … eventually the beginning of this adoption story.
Today, the Pitts have been married for three years and are the proud parents to four adopted boys ­— Johnathan, 12; Blake, 9; Oliver, 7; and Dexter, 5. But thanks to the COVID-19 pandemic, this whole adventure almost never happened.
The pair had set a wedding date of Aug. 1, 2020, and they were looking forward to the big day. In March, COVID-19 spread across the globe in ways no one could imagine, especially an engaged couple that had a terrible feeling about the next few months. Thus, they eloped, getting married on March 14, 2020, just a few days before the global pandemic started shutting down the state of Oklahoma.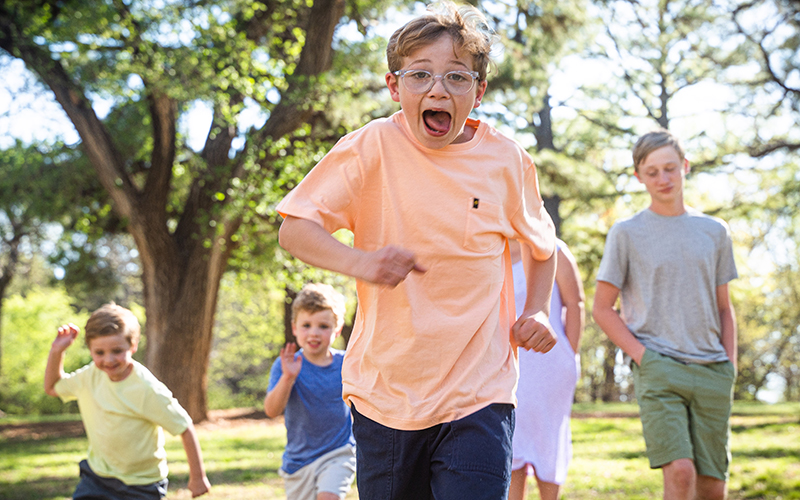 "We saw the writing on the walls that life was about to change big time and we didn't want to wait any longer to be married," Aaron said.
In addition to marriage, life was getting ready to change more than Aaron and Amber could imagine.
After eloping, they faced the unenviable task of telling their parents that they were already married.
"That was not easy. We waited about two months to tell our families because we had come to terms with the fact that we wouldn't be able to have our wedding ceremony as planned on Aug. 1," Amber said.
While dating, the pair had talked at length about one day fostering some children and possibly adopting them into their own family.
"We thought, 'We can do this in a few years,'" Aaron said.
That was the plan, but again the pandemic changed that scheme. Like nearly everyone else, both Aaron and Amber began working at home when their places of employment closed their offices for several months. Aaron, a computer support specialist in the Spears School of Business, and Amber, a care coordinator working with children with mental illness, soon found themselves together 24 hours a day, seven days a week.
Or, as Amber says, "We spent our honeymoon in lockdown."
Soon, after moving into their newly purchased home, the Pitts began thinking about fostering. One of Amber's coworkers was applying to foster a child, so she had some knowledge of the process.
It wasn't until after several months of being together night and day, Aaron and Amber agreed the timing was perfect.
"We were cooped up and we were home 24-7 with each other, and really got to know each other," Aaron said. "When the workday was over, there wasn't much else to do other than watch TV, watch movies and play video games, and that got old pretty quick. We got to thinking that there has to be something more that we can do."
Amber said, "We felt like there was more purpose."
Aaron and Amber's desire was to help kids, beginning with fostering children that have experienced difficult situations in their lives.
"We wanted to open our home to kids who had nowhere else to go," Amber said. "Part of our decision to foster early on was because we didn't have biological kids, and there are certain types of traumas and behaviors that parents with biological kids are hesitant to bring into the home. But those children still deserve a place to heal and feel loved and safe."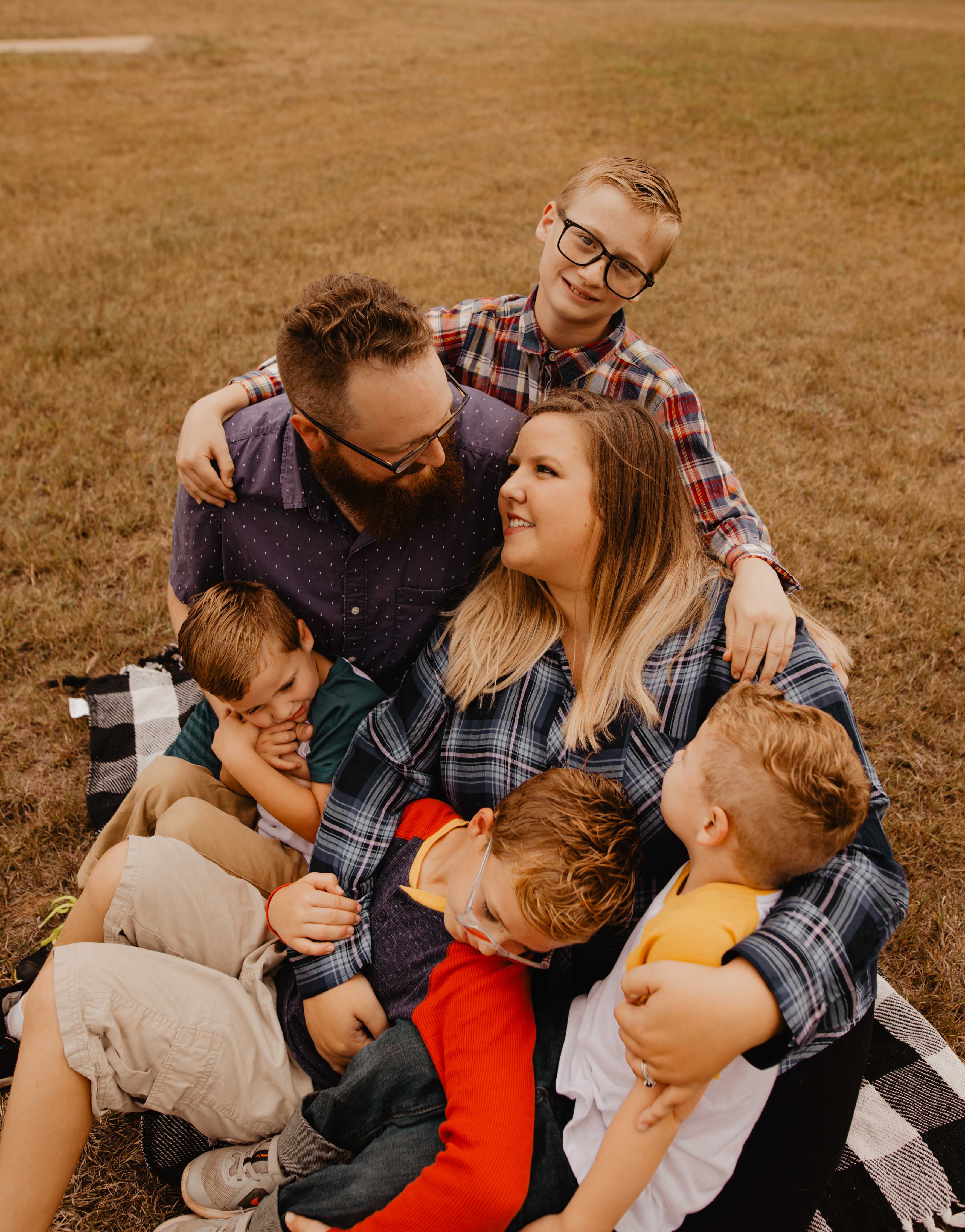 The Pitts' first experience at fostering involved two brothers who stayed with them for seven weeks. They enjoyed their time with the boys, and it was difficult to see them leave.
"We took a break for a few weeks after the boys left, and we decided we did want to do another traditional foster placement or two before accepting a placement that could potentially be an adoption. But that's not how things worked out," Amber said.
When they received the placement call for Johnathan, it was a sign.

"We knew it was time for us to open our home to this boy forever. We knew he would need a forever home from the initial placement call, and we both just knew that we would adopt him," she said.
Aaron said he couldn't have made that life choice if Amber hadn't been so assuring.
"I definitely wouldn't have felt confident to even start if Amber wasn't my partner because of her experience and knowledge through her job," Aaron said. "I just knew that I could create a safe space, that's what I thought I could offer the boys."
At that time, then 10-year-old Johnathan and his three brothers were separated in foster care in three different homes. But slowly, Aaron and Amber were able to reunite the four.
After taking in Johnathan, they became foster parents to Blake, but the two younger brothers were in foster care with another family. The plan was for Aaron and Amber to adopt the two older brothers and the other couple to adopt Oliver and Dexter. The two families would often meet so the four brothers could still have interaction and remain close. However, the younger boys' foster mom became pregnant, and that family decided having three new children — their soon-to-be daughter and two adopted boys — at once was not in anyone's best interest.
"We didn't panic. We just knew that this is the only alternative, the only way this can end up well is if we get all these boys," Aaron said. "We said we'd do it and then kind of figured out all the logistics."
So, in May 2021, Aaron and Amber became the foster parents to the four brothers.
"I don't think anyone expects their daughter who is 24, almost 25, who eloped in the middle of a global pandemic to be like, 'Hey, now we're going to start fostering,'" Amber said. "We got a lot of questions about whether we could have kids on our own. We weren't even trying to have kids at that time, we just knew we wanted to help. It wasn't really about infertility or fertility issues, it was about helping kids who needed a safe place."
On Jan. 12, 2022, standing in front of Judge Thomas C. Reisen in Oklahoma City, Aaron and Amber officially became the four boys' parents when the adoption was granted. In June 2022, the Pitts family moved into their forever home: a three-bedroom, three-bathroom house on 23 acres in southern Payne County. They currently are raising chickens and ducks, and hope to add other farm animals in the future.
"Our kids come from a country life, and so that definitely had something to do with what we were looking for in our forever home," Aaron said. "They grew up raising goats and raising chickens, so we wanted to be able to provide that. We're hoping to get some goats this fall."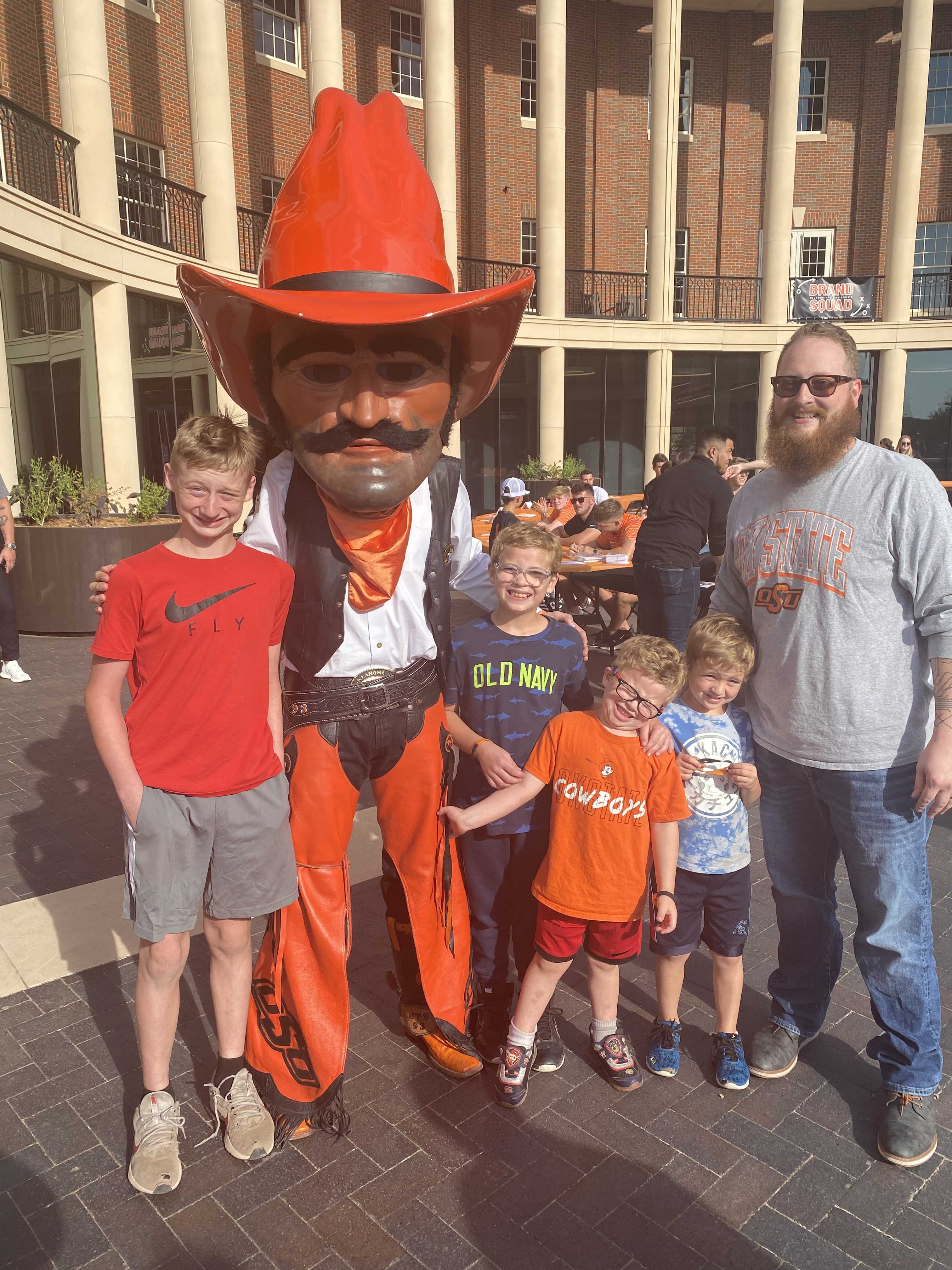 Amber is now a stay-at-home mom while Aaron continues working at Spears Business. If being the dad to four boys doesn't keep him busy enough, Aaron also is pursuing his bachelor's degree in management information systems at OSU. But their lives revolve around their four boys and their activities. Amber coached both Dexter and Oliver's basketball teams last fall, and both her and Aaron coached Dexter and Oliver's spring T-ball team. Blake is playing baseball and practices two nights during the week. Johnathan enjoys running and the nature on the family's property.
"Sometimes I feel like our life is crazy," Amber said. "During the fall, we would shuffle off to basketball practice. In the spring, we shuffle off to T-ball and baseball, get home, cook dinner, rotate through showers, do some reading, finish our homework and then it's off to bed."
While their lives may be crazy, they wouldn't trade it for anything. As a matter of fact, the Pitts would like to add to their family in the future.
"We do want to have a biological child at some point, and we are pretty confident that we do want to adopt another sibling set one day," Amber said. "We started this process young enough (Aaron turned 30 in April and Amber is 27) that we do see ourselves fostering and potentially adopting another sibling set. But that's not anytime soon."
For now, their plates — and beds — are full with Johnathan, Blake, Oliver and Dexter. The Pitts had no idea what life would be like after that first date at Finnegan's. But the adoption of the four boys has changed their lives forever, and they wouldn't have it any other way.
"Our children are amazing," Amber said.
---
Story By: Terry Tush | Engage@Spears Magazine
Photos By: Adam Luther, Courtesy of the Pitts and Murphy families