Building the dream
Monday, June 12, 2023
Media Contact: Bailey Stacy | Communications Coordinator | 405-744-2700 | bailey.stacy@okstate.edu
Taber LeBlanc wasn't sure where his career would take him when he graduated college. The only thing he knew at the time is that he was built to be an entrepreneur.
Now, Homes by Taber has become a household name in the Oklahoma City metropolitan area with more than 5,000 homes being constructed by the builder and 50 different neighborhoods being solely built by the company.
LeBlanc, CEO and founder of Homes by Taber was an OSU business management and marketing major who graduated in 1999, which ended his illustrious four-year Cowboy football career as a linebacker. May 1999 was a busy month for LeBlanc after graduation, he married his wife and started his short career as a claims adjuster.
"I didn't know what I wanted to do," LeBlanc said. "I went to college, I got a degree and I played football and football took up almost all of my time. I just thought, 'I'll figure it out later.' So, I started interviewing for jobs my last semester of college and landed a job as a claims adjuster."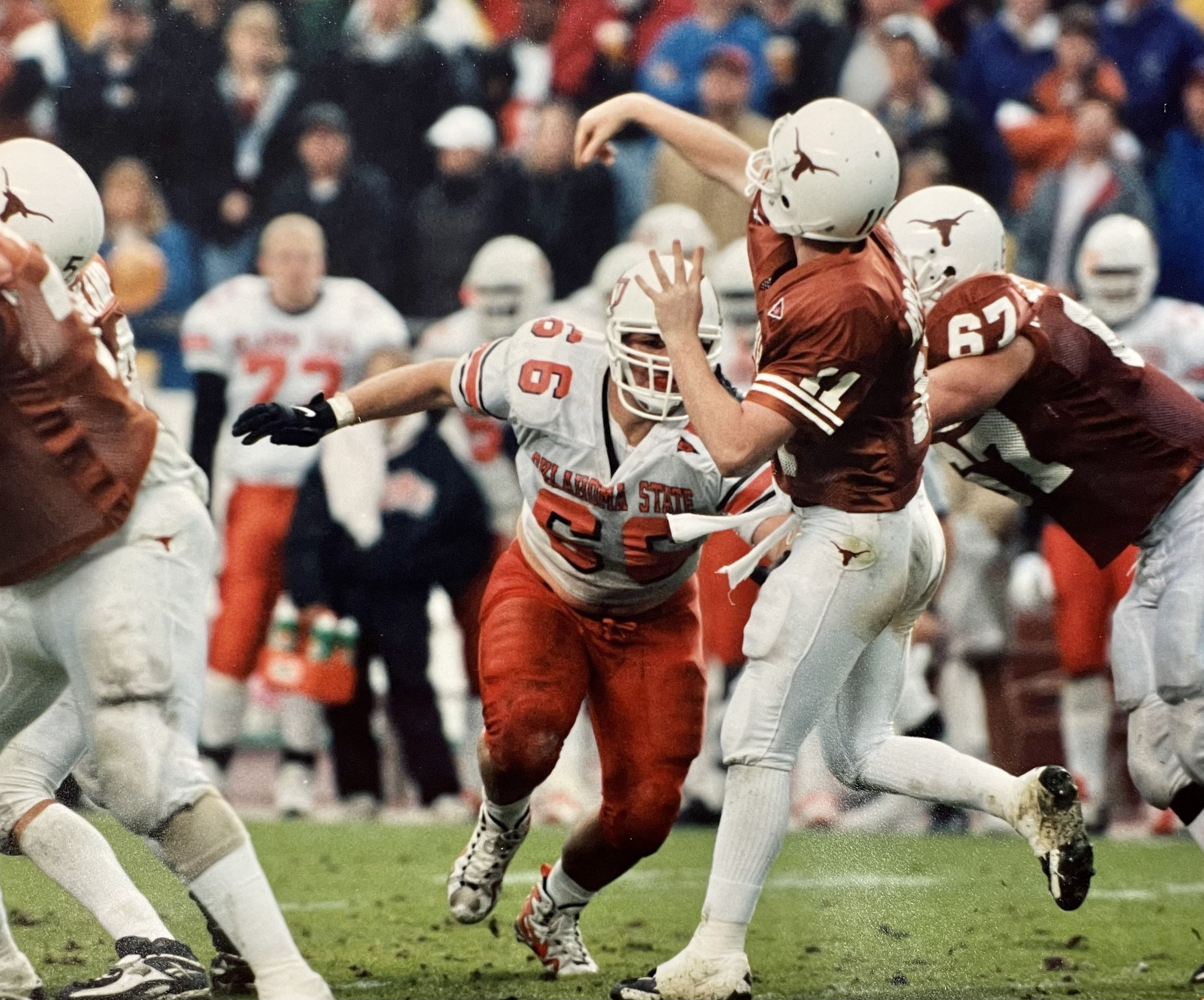 LeBlanc knew he didn't want to be a claims adjuster for the rest of his life, so he began pestering his father-in-law, the late John Alexander, a residential and commercial construction developer, to teach him about the industry. At the time, Alexander was one of the most successful and prominent developers in Edmond, Oklahoma, and the surrounding area.
"Finally, he (Alexander) says, 'I've got five daughters, I'm going to have five sons-in-law and I'm not going to teach you all how to build. If I teach you, I'll have to teach everybody and I don't want to do that.' So, I respected that," LeBlanc said.
Fast forward to the following May, LeBlanc was offered a job as a medical sales representative. It was an exciting opportunity for the young alumnus; a six-figure salary, along with benefits, and, the icing on the cake: he would be able to leave his insurance job. He eagerly accepted the position and was told he would need to move to a larger city with a bigger airport in order to best serve his clients. Before he could even put his two weeks' notice in at his current position, LeBlanc and his wife were traveling to Dallas to find an apartment.
"We put a hot check down on our apartment because we had no money," LeBlanc said. "We were broke and moving to Texas."
As fate would have it, LeBlanc would never make the move to Texas, though. On a double date for a shared anniversary celebration, Alexander had a change of heart and provided LeBlanc with an opportunity that would change the course of his life and empower him to use his entrepreneurial spirit. His father-in-law offered to be his mentor and provide five lots for LeBlanc to build on with the stipulation that LeBlanc would keep his job as a claims adjuster to provide for Alexander's daughter because building revenues would take time.
"I chose the riskier path with no guarantees and stayed in the job that I disliked and started building houses," LeBlanc said. "There are so many people who can't be entrepreneurs because they can't take that risk."
This risk more than paid off for the Oklahoma home builder as he has now been in business for 23 years and has earned the prestige of being both named Oklahoma City and Oklahoma's biggest builder. He also recently earned the No. 7 spot at the Cowboy100, which recognizes the top Cowboy-owned or Cowboy-led businesses based on their growth rate and No. 9 in the Blazing 10, which is based on revenue. Homes by Taber has been recognized in both categories since the inception of the Cowboy100 in 2021.
"One of the biggest things is that when I became an entrepreneur, I learned everything by making mistakes and whatever my father-in-law taught me," LeBlanc said. "It's not like I have this background in construction or production. So, one of the things that cost me millions and millions of dollars was I did not go self-educate until later in my career. I learned that knowledge is not power. The implementation of knowledge is what is powerful."
According to Forbes, only 33% of businesses make it to the 10-year mark and Homes by
Taber is going on 24 years of proudly serving the Oklahoma City metro. This success did not come without its challenges. Among those challenges were growing pains, the 2008 housing crisis, two other market downturns, COVID-19, supply chain shortages, labor shortages and current high interest rates. He was able to overcome these trials by being strategic, planning ahead, listening to what the market is saying and following the advice of his father-in-law.
"If I didn't have my father-in-law's help, there is no way I would be doing what I'm doing," LeBlanc said. "He said, 'You need to save every dollar you get. In the banking world, you've got to have money to get money, so you need to save and save and save.'"
LeBlanc started building on three of the five lots and by the end of the first year, he had all five houses built, sold and closed on. This allowed him to take another risk he had been looking forward to taking since before he laid his first foundation, finally quitting his day job as a claims adjuster and focus on building what would become his legacy: Homes by Taber.
Homes by Taber has since skyrocketed, going from a production rate of five houses in 2000 to producing more than 850 homes a year. The company has experienced so much growth that they outgrew exclusively relying on land lots from Alexander to needing to develop land of their own to keep lots in front of them. Now as part of their strategy, Homes by Taber makes sure to have ownership of all the lots in a neighborhood giving them a competitive advantage.
"The funny thing is the harder I work and the harder my team works, the luckier we get," LeBlanc said. "That's something I was known for when I played at Oklahoma State was working harder than anybody there."
Another thing that sets this Cowboy-owned business apart from other builders is their dedication to being "proudly overbuilt." To the Spears Business alumnus, this means safety features such as a storm shelter in every home and adding more specifications into Taber-built homes at the same or lower price point than competitors by utilizing their purchasing power to secure the best prices on materials and passing those savings on to the homeowner. Since a storm shelter is standard in every Taber Home, they have become the largest purchaser of storm shelters in the country.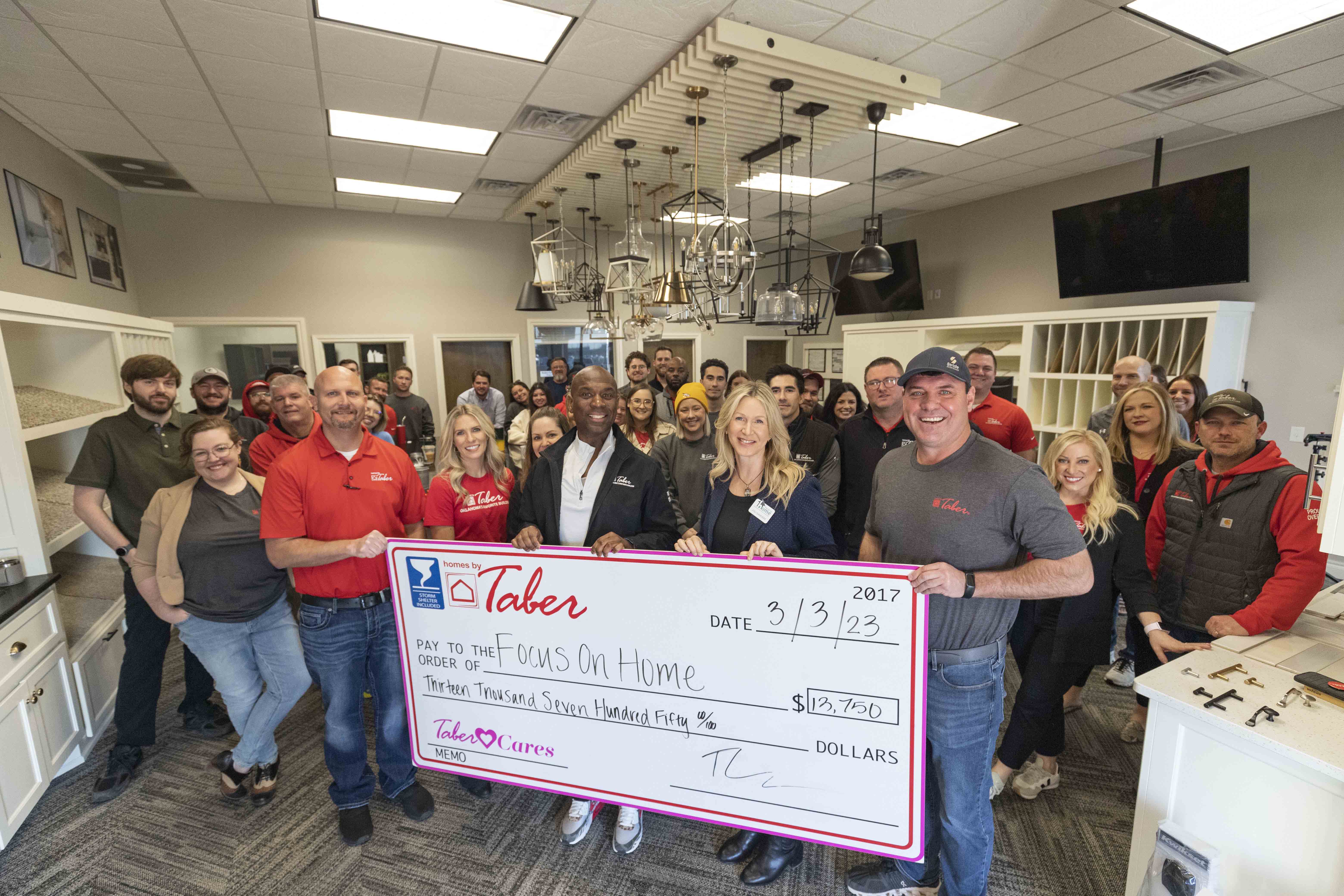 "We could use it to put money in our pocket," LeBlanc said. "But I feel that we can increase revenues by taking our discounts that we get and getting better specifications, better amenities into our homes for our customers. So instead of pocketing the money, we invested into the home for the people, for our customers."
Homes by Taber has adapted in the modern time of high interest rates and utilized other market downturns to find creative solutions and opportunities. With those rates making purchasing an affordable home difficult, LeBlanc saw the need for more affordable housing and launched a new product line focused on affordability while still being "proudly overbuilt." This line includes eight new floor plans with new specifications for home buyers to choose from all with quality affordable housing in mind.
The way LeBlanc has been able to navigate the changing needs of the market has been pivotal in his success as an entrepreneur. He has used his success to give back to his community by establishing Taber Cares in 2015. Taber Cares is an initiative by Homes by Taber that seeks to give back to the community by donating volunteer hours and money. It has now become ingrained in the company culture.
In 2022, Taber Cares donated more than $250,000 to 24 local Oklahoma charities and donated 2,300 volunteer hours to 12 different nonprofits in the area.
"My dream when I started the Homes by Taber was just to be able to quit my insurance adjusting job and support my family," LeBlanc said. "We far exceeded whatever my dream would have been. We are by far bigger and even more successful than I would have ever dreamed, even if I would have dreamed big."
---
Story By: Bailey Stacy | Engage@Spears Magazine
Photos By: Taber LeBlanc and Aaron Murphy