Cowboy Life 2.0
Tuesday, June 13, 2023
Media Contact: Stephen Howard | Manager of Communications | 405-744-4363 | stephen.howard@okstate.edu
Paul and DeeDee Wiese knew they wanted to get out of the busy San Francisco Bay area, but they didn't really know where their next stop would be. Their kids were grown and out of the house, and Paul's job in medical equipment sales allowed him the flexibility of a hybrid work model.
Really, the next phase of their journey together, or as they call it, Life 2.0, could take them anywhere in America.
The Wieses met in Dallas, and DeeDee originally hailed from Fort Worth, Texas, so the DFW area seemed like the logical landing spot for them. In fact, they even found a house in the sprawling metroplex. But DFW is now home to 8 million bustling people, and Paul had an uneasy feeling about trading one big city for another.
"I felt the crowd, the traffic, and I didn't like it," said Paul, who grew up in Chandler, Oklahoma. "I didn't say anything to DeeDee at the time because it was her dream to move back to Texas, or so I thought."
It turns out that DeeDee was having second thoughts as well. She had just read an article about how retiring in a small, university town will help you live longer. Apparently, the article said, living near a college campus will give you plenty of things to do, as well as a sense of community and belonging.
Those were the exact things the Wieses missed during their 25 years in the San Francisco Bay Area, and what they were longing for in Life 2.0. To Paul and DeeDee both, Dallas seemed an unlikely place to find them.
"And then one day, she says to me, 'I don't know if I want to move back to Texas. You know what; let's move to Stillwater,''' Paul said.
Strong Foundation
Halfway between Oklahoma City and Tulsa on historic Route 66 sits the town of Chandler, population 2,890. That's where the four Wiese brothers grew up in a two-bedroom, one-bath house alongside their parents.
Harry, the Wiese patriarch, worked their land and also served as the town's optometrist, while Maxine kept after the home and worked as her husband's nurse at the office. The room the boys shared had a set of bunk beds on each side, and when the kids weren't in school or asleep, Harry had them outside feeding cattle, picking pecans or hauling hay.
Maxine was a 5-foot dynamo and the definition of unconditional support for the boys. She was an avid sports fan to boot, and was their biggest cheerleader at sporting events as well as in life. Harry was a hard-nosed father who had no time for tomfoolery. He instilled all four kids with a dogged work ethic with the farm serving as his instrument.
"If we got into squabbles, which we did, we had to take them outside," said Jay Wiese, who along with his twin brother Jon, is the oldest of the four. "Dad's way of solving squabbles was to put some work instrument in our hands, like a sickle, and send us out to go chop some weeds. We actually dug our own pond as well. It took us 10 or 12 years to dig this pond. So, if we got in trouble, or dad thought we should go work off some energy, that's what we did."
When it was time to go off to college, the Wiese boys made their way to Oklahoma State University, one by one. The twins both started at Central State University in Edmond, Oklahoma (now the University of Central Oklahoma) but found themselves in Stillwater every weekend seeing friends and going to sporting events. They transferred to OSU as quickly as they could, and Paul followed right behind them a couple of years later. Carl wasn't going to miss out on all the fun his older brothers were having and eventually joined his brothers in Stillwater as well.
From the start, Harry implored each of his sons to become doctors or engineers, and these weren't mere suggestions. Each of the boys gave these honorable majors a shot, but something just didn't click. Carl, the youngest of the four, started his time at OSU as an engineering major, and his first semester began with an introductory course on drafting, freshman-level chemistry and calculus.
"I was always a really good student, like, really good, and I hated every second of it," he said. "I walked into class on the first day and everyone had all these tools and things, and I didn't even know what they were. I knew it wasn't for me because I was struggling. I just didn't get it. I was working my tail off and was barely getting a 3.0 (grade point average)."
He endured the fall as an engineering student, but as soon as school started in the spring, Carl walked over to the Registrar's office and changed his major to business. However, he didn't dare tell his father. He couldn't muster the courage to have that conversation yet. Instead, Carl studied his brains out and got straight As in order to prove to Harry that he had found his calling and that he was serious about succeeding in it.
"When Dad got my grades he said, 'What's all this stuff?' Carl said. "I told him that I had switched my major to business and that I really loved it. He said, '4.0. Not bad, but who couldn't get that in the business school?'"
Harry didn't like it much, but something in the Business Building just made sense to the four Wiese boys, and they flourished there. Jay and Jon graduated in 1978 with bachelor's degrees in management and finance, respectively. Paul switched from biology/pre-med to management, and earned his OSU degree in 1982. Marketing was the calling for Carl, and he graduated with that degree in 1983.
The Wiese boys were finding out that while their two-bedroom home in Chandler seemed an unlikely place to raise four successful businessmen, the skills needed to navigate Harry and Maxine's house were the same ones that would take them places in business.
Complete Careers
The Wieses went places, alright. The business world suited their hardworking yet warm personalities, which were molded by Harry, Maxine and the farm, and each of the four brothers quickly found success in their fields.
A hound for innovation, Jon went into the telecommunications and technology industry and had a prosperous 25-year career that took him all over the globe. He started with Texas Instruments in 1980 while also pursuing his MBA, which he earned from OSU in 1983. He went on to become the vice president of marketing at AT&T, helped Lucent Technologies become one of the industry's largest IPOs and later joined Xeta Technologies as its president in 1999.
Throughout his career, Jon served as a senior corporate officer with four publicly traded firms and managed operations in 90 countries around the world. But after moving his family throughout the U.S., Canada and Belgium, he and his wife, Suzanne, moved back to Stillwater, where their journey began 33 years earlier with a marriage proposal at Theta Pond. Jon joined the faculty at the Spears School of Business and would go on to become the Riata Distinguished Professor of Entrepreneurial Practice while also serving on the OSU Foundation Board of Governors and the OSU-Tulsa Presidents' Council.
Tragedy struck the Wiese family when Jon died in 2013 after a courageous battle with cancer. Suzanne passed away just two years later.
"He told me that his favorite job he ever had was working at the Spears School of Business," said Jay, with an admiring smile. "That's the job that fulfilled him the most. He got to be a different person in that role. He loved being a mentor, and who better to teach these lessons to the students than someone who had actually done it himself. He thoroughly loved academia."
Jay joined his brother on the OSU Foundation Board of Governors as the chair of its investment committee. Money management is Jay's specialty, and he went on to spend 24 years with Magellan Midstream Partners, a petroleum pipeline enterprise in Tulsa, while also consulting for Morgan Stanley and Goldman Sachs.
In 2006, he opened his own wealth management company, Wiese Family Investments, which he considers his "retirement job" because now he uses the firm in his spare time to help friends and family invest in commercial real estate, oil and gas, or for their own retirement. Jay spends about half of the year in Tulsa, and when it gets too hot in Oklahoma, he and his wife head to the mountains of western North Carolina near Asheville.
Carl also considers himself "semi-retired" after a rich career in the technology world. He excelled in a variety of roles with several heavyweight companies across the country including Texas Instruments, Apple, Avaya and Lucent Technologies. Those positions led to a senior vice president role at Cisco Systems. Looking for a new challenge after 13 fruitful years at Cisco, Carl joined BlackBerry as their president of global enterprise sales in 2015, where he stayed until 2020 to take over as chief revenue office of Poly, a telecommunications firm that specializes in hybrid work solutions.
His career took him all over the country, and he rang the New York Stock Exchange bell twice. Carl married his OSU sweetheart, Debra, and they raised their three kids, mainly in New Jersey, before she passed away in 2015.
The salesman of the group is Paul, which is evident to anyone that meets him. Since 1997, he's been the vice president of sales for Pacific Medical, a distributor of medical equipment used for prosthetics, orthotics, rehabilitation, arthroscopic surgery and sports medicine based in California.
Paul travels a lot in this role, and because of that fact, he can basically live anywhere that has an airport. Well, that and a local university.
All Roads Lead to Stillwater
As strange as it might sound, Life 2.0 for the Wiese family was set in motion by OSU basketball and a little-known assistant coach named Mike Boynton.
In the fall of 2015, Paul and his brothers were looking for an excuse to get together when a Cowboy basketball event called "Brad School" piqued their interest. This was a new behind-the-scenes event where first-year coach Brad Underwood let donors spend an all-access weekend with the program, including scouting reports, recruiting breakdowns, film study and meals with the players and staff.
Paul brought his 15-year-old son, Collin, and the two of them had a blast meeting the team and the new coaches. Paul also enjoyed being able to reconnect with his alma mater after so many years on the West Coast. The taste of home was just what he needed.
The following week, a letter addressed to Collin arrived at the Wiese home in California. It was a hand-written note from Boynton thanking Collin for spending the weekend in Stillwater. Paul was immediately hooked on the Brooklyn, New York, native.
"I looked at DeeDee and I told her, 'This man was raised right,'" Paul said. "Mike Boynton might end up becoming a Hall of Fame basketball coach. I hope he will be. But he's going to be a hall of fame person because of how he treats people."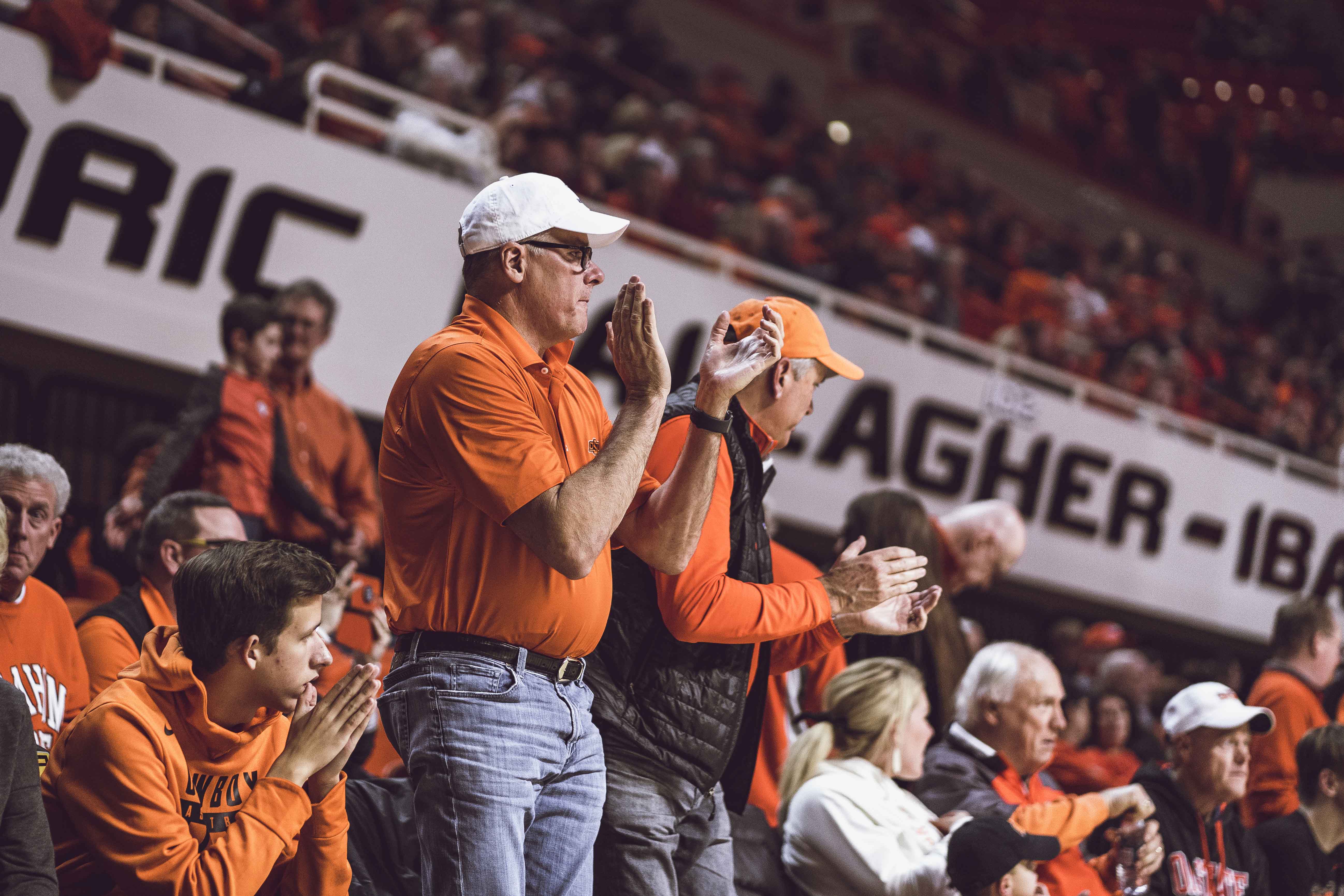 As every OSU fan knows, Boynton ended up becoming the head coach of the Cowboys in March 2017, and because of that handwritten note, the short list of people excited about the hire included Paul and the Wiese family. In the coming years, Paul would use his flexible work schedule to support Boynton and the Cowboys, flying across the country a couple of times per week to catch OSU in action. In one season, Paul estimates that he flew almost 60,000 miles to catch the Cowboys in Gallagher-Iba Arena and on the road.
He got DeeDee hooked as well. On a trip to Minneapolis to watch OSU take on Minnesota, DeeDee met point guard Isaac Likekele, then a 6-4 freshman, who took the time to introduce himself and have a conversation with the stranger in OSU gear. She now had a favorite player and felt like she was a part of the family.
So, when it came time to pick a spot to launch Life 2.0, Stillwater was the only place that made sense for the two of them. They had finally found a community that gave them as much as they invested in it. Now, Paul and DeeDee are the proud owners of 14 OSU basketball season tickets, a dozen of which they give away for each game.
"Once you meet a few people, you're not too scared to move to a completely new place," Paul said. "I have friends in California who will call and ask us if we're having culture shock in Oklahoma. You can tell they're being a little bit condescending. I tell them, 'Yeah I am, because the people are so nice.' Then they come and visit us and they love it here. They wish they could find a place like Stillwater to live."
With Jay and Paul back in Oklahoma, the next step was to convince Carl to join them. In basketball terms, the two brothers put on a full-court press, and before long, Carl found himself in Edmond looking for houses.
Whether it's courtside in Gallagher-Iba Arena or pulling for coach Kenny Gajewski's softball team, you can catch the Wiese brothers cheering for OSU. The three of them recently made the trip to the Big 12 Basketball Championship in Kansas City, Missouri, to root for the Cowboys together.
Their passion doesn't stop with athletics, either. They feel a drive to give back to Spears Business with both their wallets and their time. The brothers have mentored dozens of business students over the years, served on countless committees and councils, and they made sure the lobby of the Riata Center for Innovation and Entrepreneurship was named in memory of their brother, Jon, who was instrumental in the center's formation.
To the Wieses, OSU and Spears Business are a part of the family, and that's what Life 2.0 is all about.
"The answer is always yes," Carl said. "I say that to Dean (Ken) Eastman all the time. Whenever OSU calls, the answer is always yes."
---
Story By: Stephen Howard | Engage@Spears Magazine
Photos By: OSU Athletics