From Cowboy to Ambassador
Monday, June 12, 2023
Media Contact: Stephen Howard | Manager of Communications | 405-744-4363 | stephen.howard@okstate.edu
His Excellency Rosan Perkasa Roeslani, the sitting Indonesian Ambassador to the United States, was inducted into the Oklahoma State University Henry G. Bennett Distinguished Fellows Program while visiting his alma mater in the fall of 2022.
The Henry G. Bennett Distinguished Fellows Program is named for the former OSU president from 1928-50 who made outstanding contributions to the university, higher education and later, the world at large as the head of President Harry Truman's Point Four Program.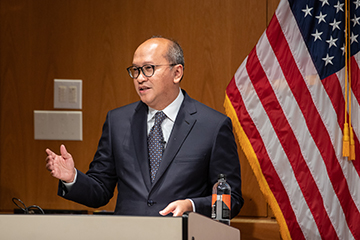 The fellowship is bestowed on those who have made advancements in global business, government or academics. Previous honorees include former British Prime Minister Tony Blair; former U.S. Secretaries of State Condoleezza Rice and Colin Powell; and OSU alumnus and former South Korean Prime Minister Dr. Duck-Woo Nam.
Roeslani, 54, began his journey into international business and diplomacy during his time in Stillwater as an undergraduate from 1988-92, where he earned his bachelor's degree in general business and management with a minor in finance. Roeslani counts Barry Sanders' run to the 1988 Heisman Trophy and watching coach Eddie Sutton's Cowboy basketball team in Gallagher-Iba Arena as some of his fondest memories at OSU.
He also credits his academic counselor for steering him toward a double major, which helped him discover his passion for finance as a senior in college.
"I got a very good education here, and I have a lot of good memories," said Roeslani, who returned to OSU's Stillwater campus for the first time since 1992 for the induction into the fellows program and to attend the Cowboy football game against Texas Tech. "Because of Oklahoma State University, I'm here as an ambassador to the U.S., and I'm very grateful."
After studying in the Spears School of Business and receiving his OSU undergraduate degree, he went on to earn his MBA from European University in Antwerp, Belgium, in 1994 before diving into the world of finance. In 1997, Roeslani co-founded a company now known as the Recapital Group, which has grown into one of the world's top asset management and investment companies with a portfolio that includes everything from banking to communications.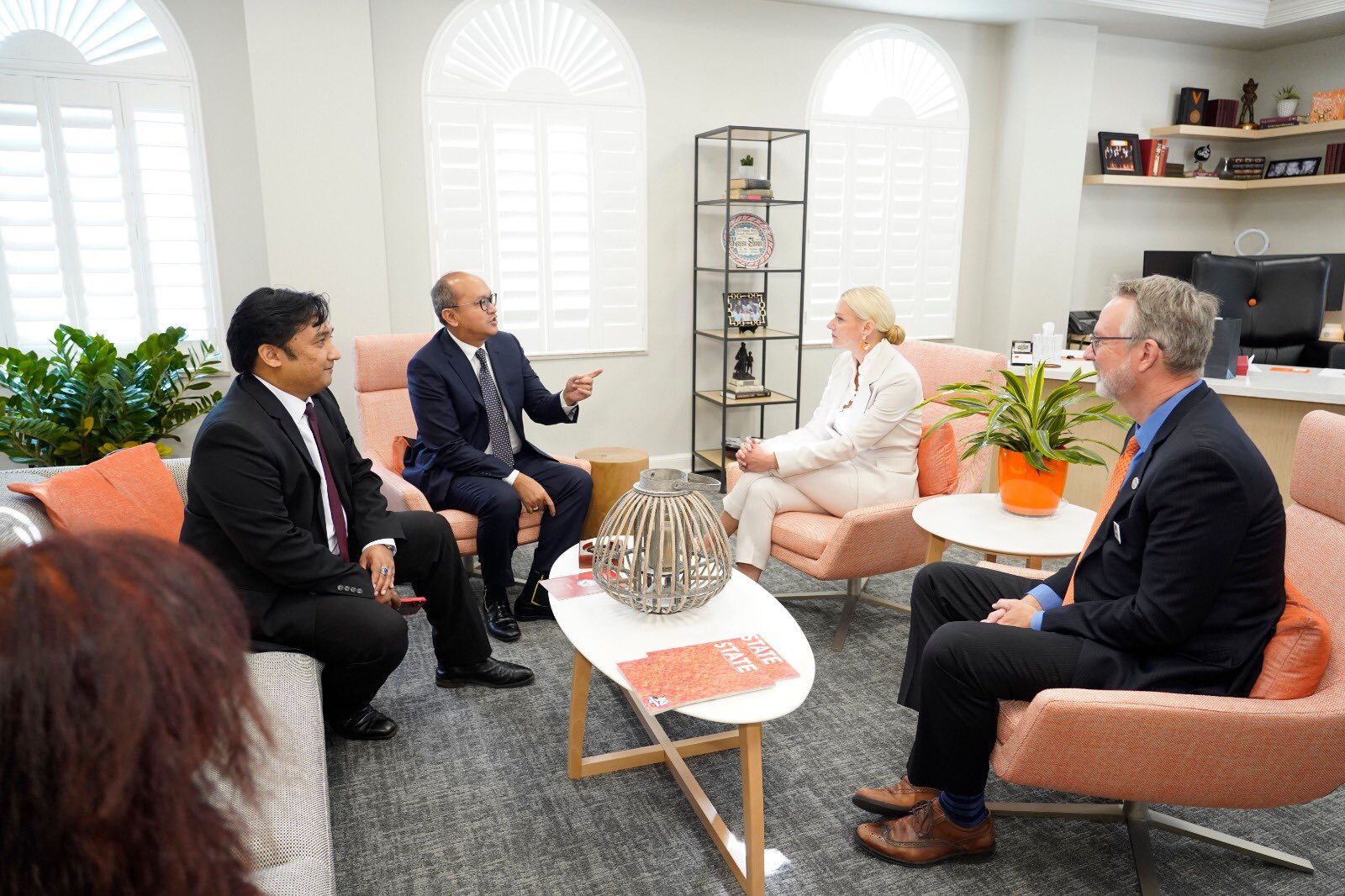 Roeslani credits his stay as the chairman of the Indonesian Chamber of Commerce and Industry from 2015-21 as the key to him jumping from the business world into diplomacy. That position required Roeslani to meet regularly with the President of Indonesia, Joko Widodo, who shared Roeslani's vision of strengthening Indonesia's relationship with the U.S. in terms of trade, investment and human capital. He asked Roeslani to serve as ambassador to the U.S. in 2021.
"Since I came from the private sector, I try to bring a different perspective into diplomacy," Roeslani said. "There are similarities in both worlds because both are in sales. I enjoy meeting a lot of people, and luckily I get all the support from the embassy and consulate. They help me reach my targets and my goals."
Roeslani's goal is $60 billion in two-way trade between Indonesia and the U.S. by 2024. He said that figure has increased significantly during his ambassadorship — up 36% last year — and investments are up 74%. The U.S. is now the second largest trade partner for Indonesia and the fourth largest foreign investor in the country.
A country of 217 million people, Indonesia also has a goal of raising its skilled labor force. Roeslani has been working with U.S. companies to incentivize worker programs, and he has a goal of raising the number of Indonesian college students studying abroad in the U.S. by 2,000 by the end of his first term.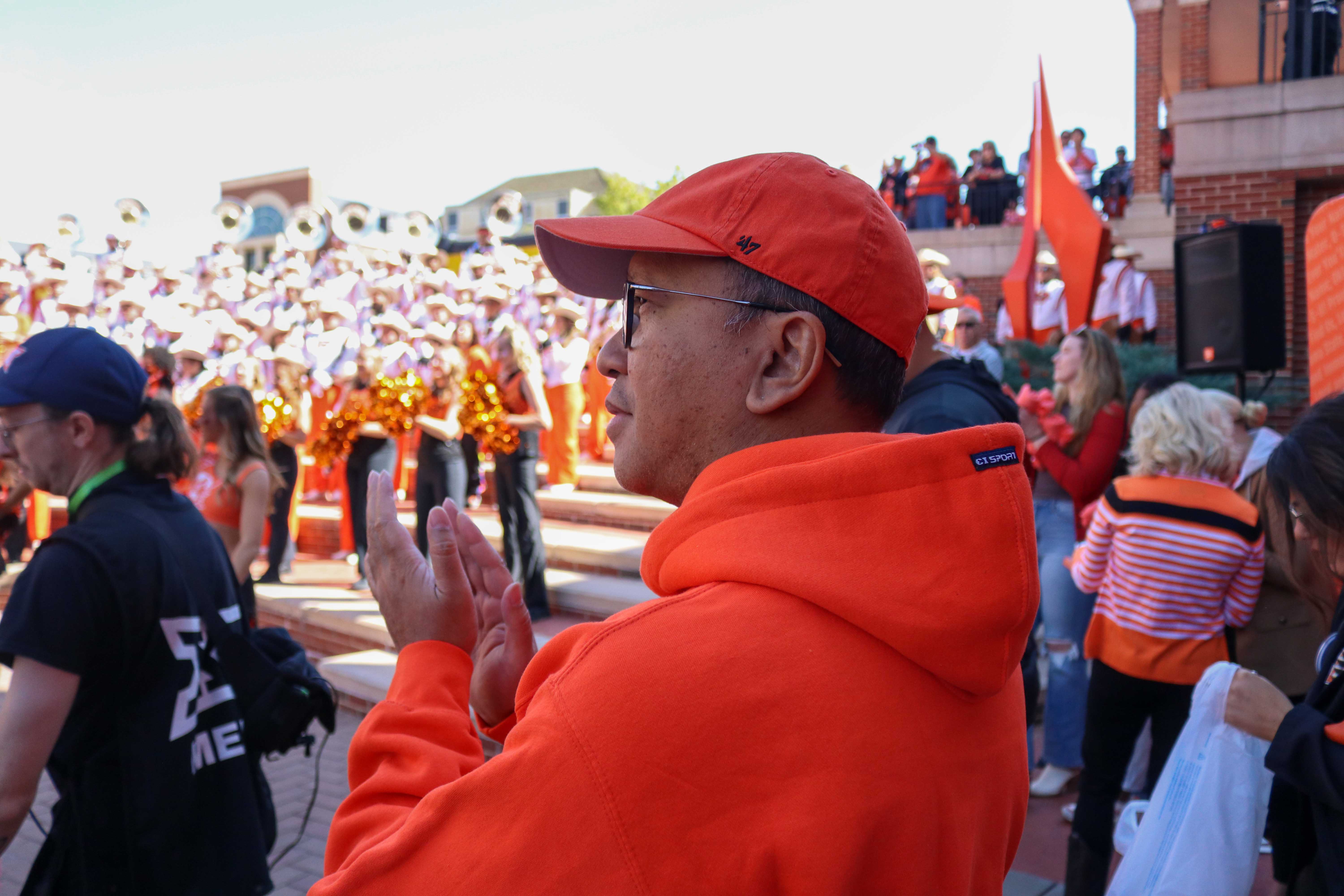 Last fall, Roeslani held discussions with world leaders on clean energy solutions, attended the United Nations General Assembly and rang the opening bell on the New York Stock Exchange.
"Never in my wildest dreams did I think I would ever get to be a part of activities like this, but it was always my goal to ring the bell on the New York Stock Exchange," Roeslani said. "I was very honored."
Roeslani is an avid sports fan and has served as the chairman of the Indonesian Weightlifting Association for the past six years. He was the Chief de Mission for the Indonesian Olympic Team during the Tokyo games in 2021, and has been a part of the ownership groups for professional soccer teams Inter Milan in Italy and D.C. United in the U.S..
He also made a hobby out of mentoring young business professionals thanks to his nationwide role with the Indonesian Chamber of Commerce and Industry. Roeslani credits his time at OSU for helping him realize the value of personal interactions and how they can help shape a person's career.
"In business, people look at me and think that I'm doing pretty good," Roeslani said. "Yeah, but you have to look at me 35 years ago. I was struggling big time. But you have to keep moving forward. If you fail 10 times, you have to get up 11. And, you have to be committed and focused."
---
Story By: Stephen Howard | Engage@Spears Magazine
Photos By: Piper Reese and OSU Global