Difference maker
Friday, June 9, 2023
Media Contact: Terry Tush | Director of Communications | 405-744-2703 | terry.tush@okstate.edu
Ken and Laurie Eastman only planned to stay at Oklahoma State University for about five years when he was hired in 1989 as an assistant professor in the Department of Management.
Little did he know, five years would turn into nearly a lifetime.
The 64-year-old Eastman will wrap up a 34-year career in higher education — all at OSU's Spears School of Business — upon his retirement this summer. He has spent the past 10 years serving as dean of Spears Business, and he will retire as the third-longest tenured dean in the history of the OSU business school.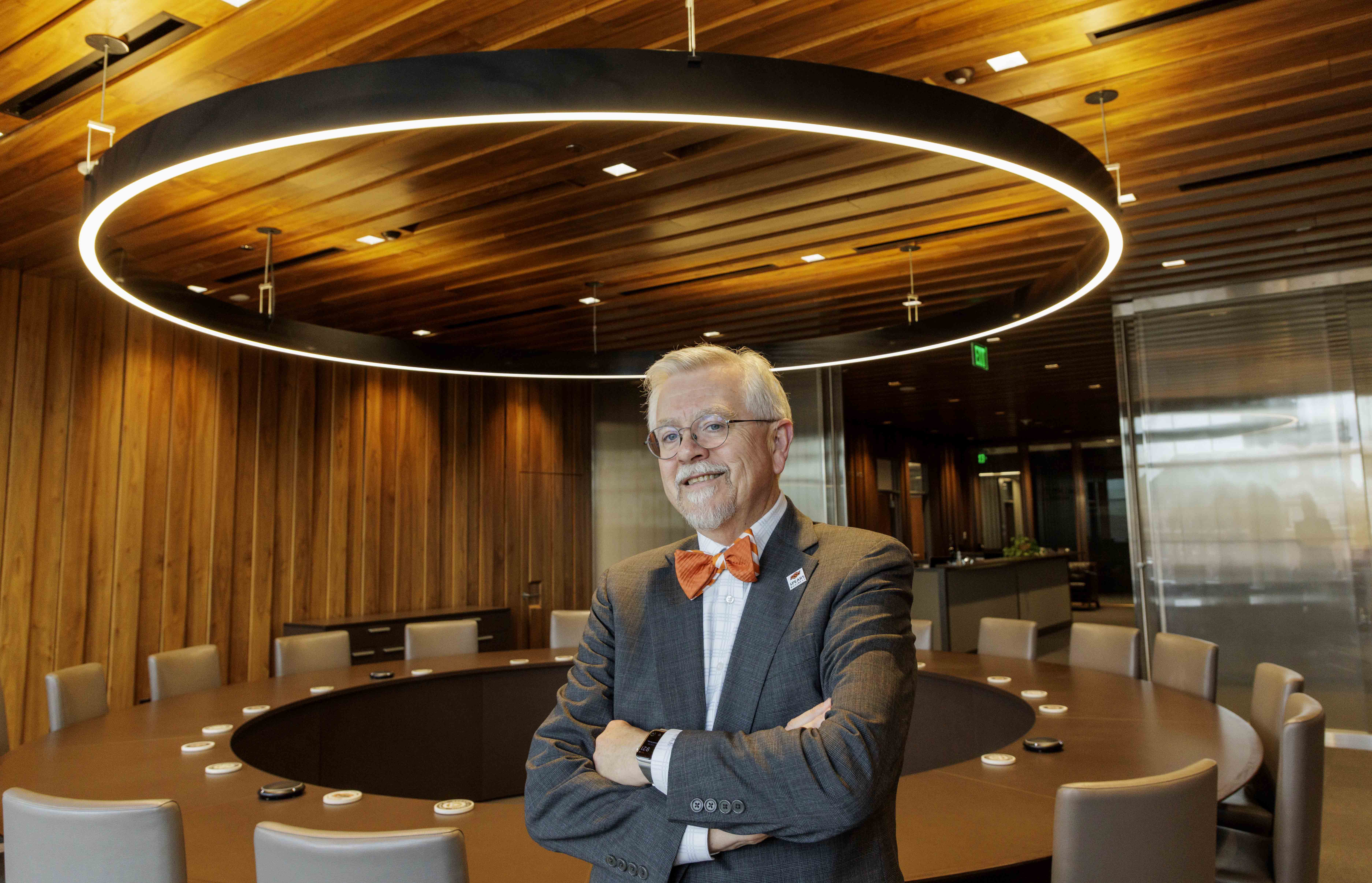 "I told Burns (Hargis) when I took the job, I'd only do it for 10 years," said Eastman, who served as OSU's MBA director and head of the Department of Management prior to being named dean by former OSU President Burns Hargis.
"I believe very strongly that every 10 years you need to turn it over, and I think it's time to turn it over to someone else," he said. "I do understand people's concerns about what's next and what will change, but I believe the next step will be even better."
Longtime Department of Management head Wayne Meinhart hired Eastman after he earned his doctorate in organizational behavior from the University of Nebraska. Eastman didn't plan to stay very long, and nearly left in the late 1990s, but he was passed over after being one of two finalists for a department head position at Kansas State University.
"That's the only interview I have had, and the closest I ever came to leaving," Eastman said.
That decision definitely worked to OSU's advantage. What Eastman was able to achieve in leading more than 5,000 students, nearly 150 faculty and 115 staff members has been impressive.
His crowning achievement was seeing the new Business Building come to fruition after he'd been hearing about it since arriving at OSU in 1989. Opened in 2018, the $72 million crescent-shaped structure changed the game for OSU's business school.
"I think the building was the catalyst to getting people to think differently about what we could be," Eastman said of the 147,450-square-foot facility that houses 13 classrooms, four labs, 150 offices, 12 team rooms and 11 conference rooms while featuring the latest in technology.
"My mantra when we were building it was, 'We cannot take our old self into a new building.' Otherwise, we just wasted about $70 million," he said.
"I think the building was clearly a catalyst in helping broaden what we could be, and allowed us to begin thinking about new things, thinking about possibilities, and not looking at the negatives. I am most proud that Spears Business is now imbued with that sense that we can do a lot. We've done a lot, but we can do much more, and we're not going to stop."
In the past 10 years, Spears Business revised its undergraduate core curriculum to better respond to the changing dynamics of the business world, and in the process set up its students for long-term success. The curriculum changes were a response to requests from recruiters for a heavy emphasis on interpersonal and career-readiness skills, better technology skills, more applied accounting and finance skills, and problem-solving rather than memorization. New developments continue as there is work in progress to expand coverage of data analytics in the core.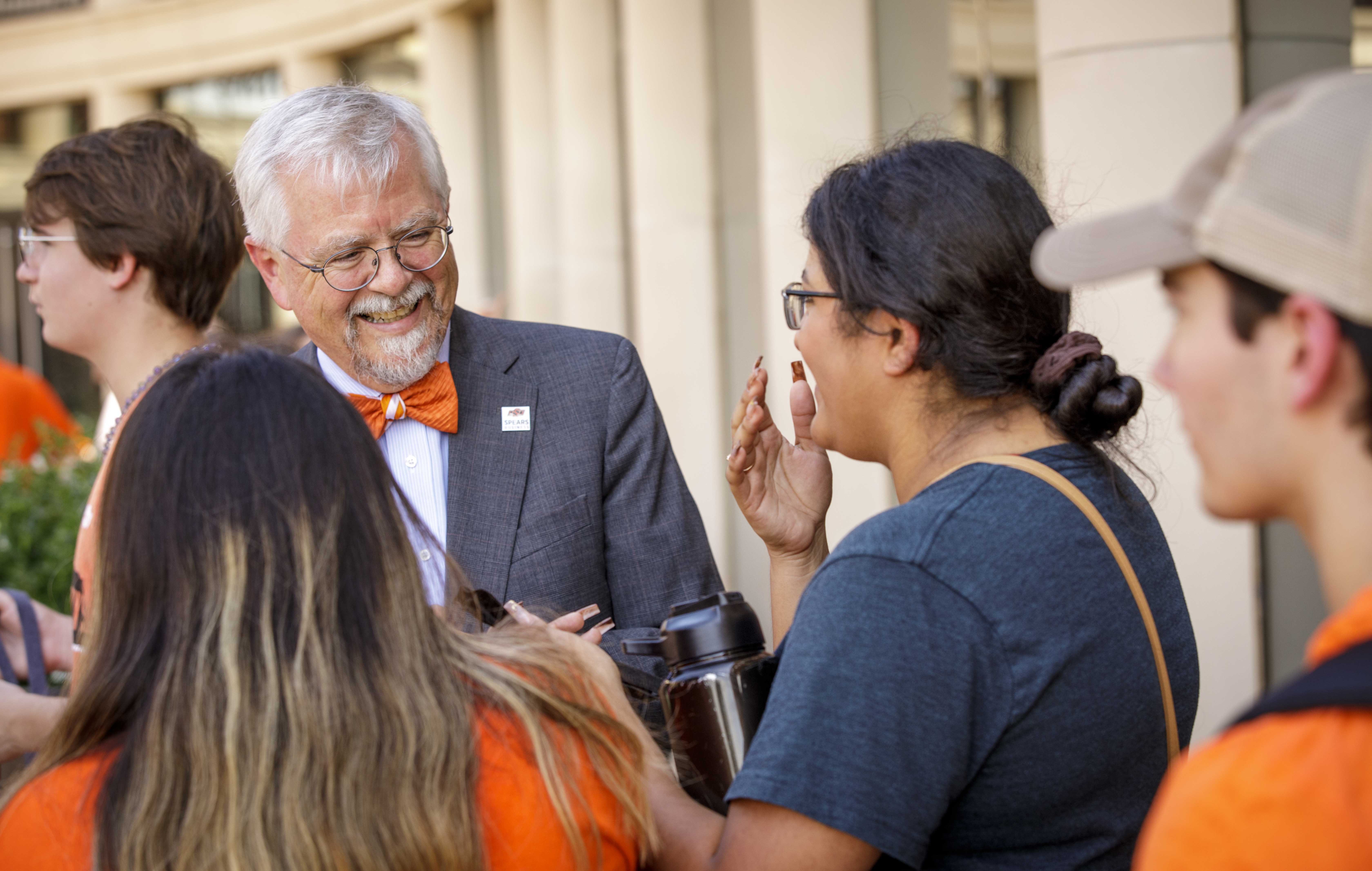 In addition, several centers were added to enhance the student experience:
The Center for Advanced Global Leadership and Engagement (CAGLE), which offers once-in-a-lifetime study abroad experiences while also coordinating all global activities;

The Eastin Center for Career Readiness, which guides and supports students as they pursue their professional aspirations;

The Center for Sales and Service Excellence, which instills valuable sales, leadership and customer retention skills;

The Center for Health Systems Innovation, which leverages the power of Spears Business and the OSU Center for Health Sciences to focus on business and clinical advancements;

The Center for Financial Health and Wellness, which works to raise the level of financial literacy for the OSU community.
Other achievements include creating a track system for tenured and tenured-track faculty, overseeing the School of Hospitality and Tourism Management's move to Spears Business and the creation of a senior inclusion officer position to work with academic units and faculty to help ensure inclusive hiring practices and workplace culture.
Eastman and his signature bowties have become a fixture not only in the Business Building but across the Stillwater campus. As one of the most recognizable figures on campus, he was at ease visiting with a first-generation student as he was with the alumni who founded their own multi-million-dollar company. Students, faculty, alumni and donors admired and respected Eastman.
Alumni Michael and Anne Greenwood became friends with the Eastmans over the years and wanted to honor and create a legacy in their name. The Greenwoods have established the Ken and Laurie Eastman Spears School of Business Endowed Opportunity Scholarship Fund, which will award needs-based scholarships to students throughout Spears Business. The Greenwoods will match up to $250,000 in fund donations received through July 30, which marks the end of Eastman's tenure at OSU.
"During his tenure, Dean Ken Eastman revolutionized the Spears curriculum and programs that have now made our graduates more competitive and relevant in today's business world," the Greenwoods said. "With this endowed scholarship, we not only honor Ken and Laurie but enable their legacy to continue to fill the halls of the Spears School of Business forever."
Eastman is touched by the Greenwoods' generosity.
"One of the nice parts of this job is getting to know Mike and Anne personally, and I consider them both friends now," Eastman said. "To have friends create a scholarship for us, it stunned me. It was deeply touching, and we are very humbled by their generosity.
"As a first-gen college student, I am excited that future students with needs will have the opportunity to attend Spears Business. Working with students has been one of the most rewarding parts of being dean, and we are honored by this scholarship."
Donations can be made at OSUgiving.com/EastmanScholarship.
---
Story By: Terry Tush | Engage@Spears Magazine
Photos By: Gary Lawson and Piper Reese
Graphic By: Bailey Stacy