CEAT alumnus Oglesby retires from Phillips 66
Monday, December 5, 2022
Media Contact: Kristi Wheeler | Manager, CEAT Marketing and Communications | 405-744-5831 | kristi.wheeler@okstate.edu
Ann Oglesby, an Oklahoma State University chemical engineering alumna, retired from Phillips 66 after 21 years.
Over her two decades there, Oglesby contributed a great deal to the college and university in many ways such as serving as the Phillips 66 executive liaison for OSU and serving as a member of the OSU Diversity Development Council. She also serves as a board member of the National Action Council for Minorities in Engineering. Along the way, she mentored countless students in the College of Engineering, Architecture and Technology.
"I've been fortunate to stay connected to CEAT through the years," Oglesby said. "While the CEAT culture of high engagement and striving for excellence hasn't changed, I'm so impressed with the innovative approaches to educating students, the high-caliber faculty and staff and the addition of world-class facilities. It almost makes me want to go back to school!"
Dr. Paul Tikalsky, dean of CEAT, praised Oglesby for her contributions to the school.
"Ann has been one of the best corporate leaders," Tikalsky said. "She saw the intersection of people, talent and corporate success."
Oglesby started her career at Phillips 66 in 2001 as the manager of emerging business, followed by multiple roles through the next 11 years of service, including general manager of corporate planning and strategy and vice president of communications and public affairs.
In 2013, she became the general manager of lubricants and in 2017, she was named the general manager of global risk and compliance. From there, she assumed the vice president of technology role in 2018 and then became the vice president of energy research and innovation until her retirement.
"OSU CEAT could not have prepared me any better for my career. I was encouraged to be hands-on with learning, to engage across disciplines and with students and faculty of all backgrounds," Oglesby said. "Those experiences set me up for success. I love seeing how CEAT is taking those strengths to new levels."
Oglesby began her career in the oil industry in 1987 with Mobil Chemical Company, working in various engineering, supply, business development and planning roles focused on petrochemicals.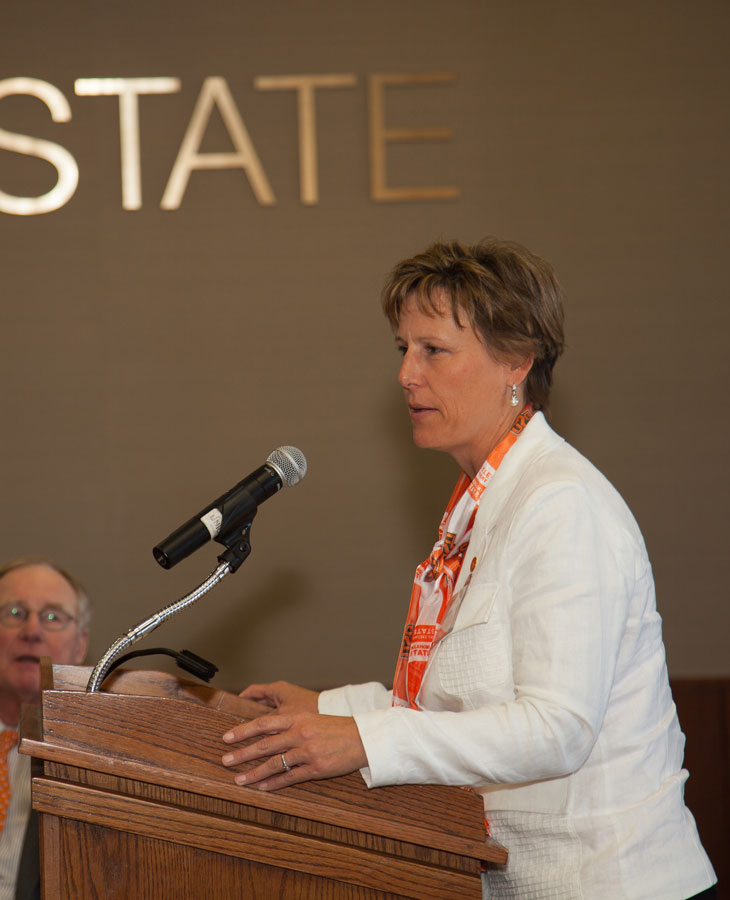 From 2000-2001, she worked at ExxonMobil Chemical Company, where she focused on planning.
Oglesby graduated from OSU in 1987 with a bachelor's degree in chemical engineering.
During her time in Stillwater, she was a President's Distinguished Scholar and an American Institute of Chemical Engineers Senior Design award winner.
Oglesby has been involved with many different committees and councils, including CEAT's Strategic Advisory Council. She has also served as a member of the Chemical Engineering Industrial Advisory Committee.
In 2016, Oglesby was inducted into CEAT's Hall of Fame, and in 2019, she was inducted into OSU's Diversity Hall of Fame.
Tikalsky said Oglesby's impact reached employees, investors, students and himself.
"Ann's leadership style engaged the diversity of people in the company, empowered them to develop their talents and defined success in a way that appealed to both employees and investors that want to change the paradigm of the future of energy," Tikalsky said. "She has helped me be a better leader and she has inspired many young engineers."
Oglesby and her husband plan to remain in Oklahoma and spend some of their time in Stillwater for both fun and to give back to the university they love.
"Coming back to campus regularly gives me a chance to see new innovations that will continue to produce well-prepared students and world-class research," Oglesby said. "Our passion is to help all students be successful even if they face financial or other challenges. An OSU CEAT education can be a life-changer, so helping students achieve that degree is so motivating. My retirement plan includes family, fun and giving back. My husband and I have a passion for helping students succeed at college, so staying involved at OSU makes perfect sense. Plus Stillwater is my happy place."
---
Photos by: Dakota Keith and OSU File Photo
Story by: Kristi Wheeler | IMPACT Magazine