Francis and Kathleen Rooney recognized for $3 million gift
Monday, December 5, 2022
Media Contact: Kristi Wheeler | Manager, CEAT Marketing and Communications | 405-744-5831 | kristi.wheeler@okstate.edu
With over a century of construction history in Oklahoma, the Rooney family is cementing its connection to Oklahoma State University.
Francis and Kathleen Rooney recently finalized a $3 million gift to benefit the construction engineering technology program in the College of Engineering, Architecture and Technology. The gift names the program the Francis and Kathleen Rooney Construction Engineering Technology Program and establishes an endowed chair in the name of Rooney's late father, L.F. Rooney Jr.
"Our family company is called Manhattan Construction Company, and it was founded in Oklahoma in 1896. Oklahoma is a big part of our history and our success," Francis Rooney said.
Manhattan Construction Co. made its first mark on campus in 1947 when it won its first contract with then-Oklahoma A & M. Over a six-year period, the company helped build such iconic campus structures as Lewis Field, Edmon Low Library and the Student Union.
Over the years, a partnership has formed between the company and the construction engineering technology program at OSU.
"We have a lot of employees from Oklahoma generally and specifically from Oklahoma State," Rooney said.
"They have a very good construction program — one of the best in the country. We are thankful to be in the same state as such a great program. We get a lot of interns from OSU, and a lot of them end up being permanent employees."
Rooney said those he hires from Oklahoma State University stand out.
"I've worked construction in many parts of the world and all over the United States," Rooney said. "I have never worked anywhere with better, more honest, hardworking and decent individuals than the kind of people who come from Oklahoma. It's a great source of strength for our company."
Rooney's gift has been a long time in the making. Plans to name a chair in honor of his father were drawn up in the early '80s and were far enough along that an official plaque had been made before they were put on hold indefinitely.
"The great oil boom ended, and we had this terrible economic bust in Oklahoma and Texas," Rooney said. "Everybody was trying to survive, and there was no serious thought about trying to fund the chair."
So when the OSU Foundation reached out last year about revisiting the gift, Rooney only had one condition: the gift had to be finalized before President Burns Hargis officially retired.
"Burns and I have been friends for many years," Rooney said. "I'm thankful for the leadership he brought to OSU and all the great things he's done for OSU."
Established in 2021, the L.F. Rooney Jr. Endowed Chair in Construction Engineering Technology will benefit faculty within the program.
"Having a named chair can help recruit and retain excellent faculty." said Dr. Heather Yates, professor and program coordinator for the renamed Francis and Kathleen Rooney Construction Engineering Technology Program.
Rooney said he hopes his gift will help amplify the program's mission and elevate its prominence within the construction industry.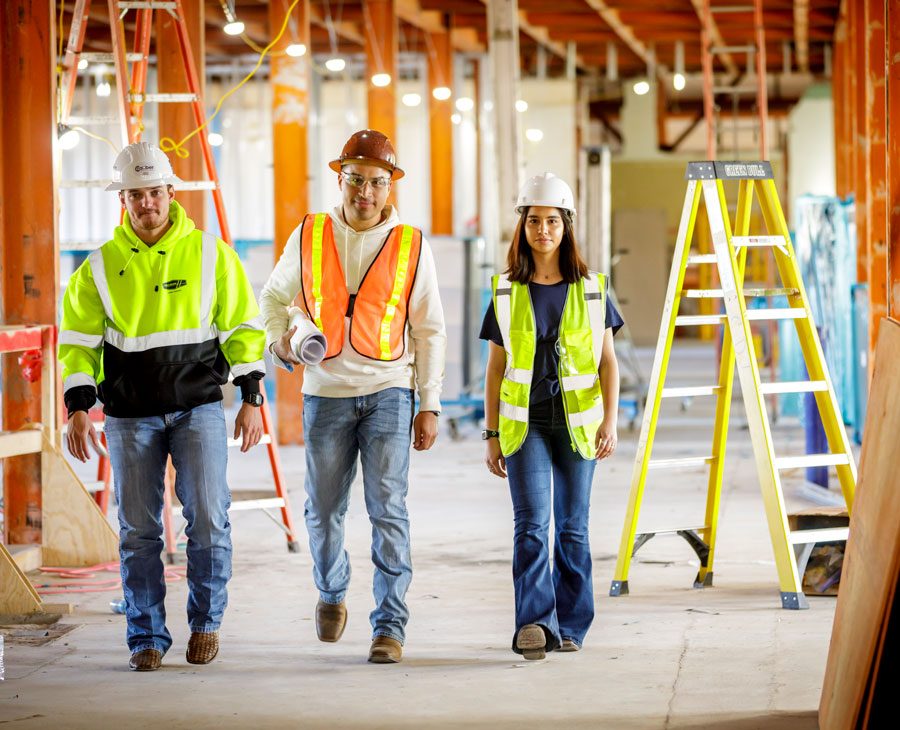 "Specifically, I hope it helps OSU recruit students," he said. "When you have a named program like that, sometimes people say it gives it stability. And anything we can do to help OSU develop this program and get more students is good for us and good for all our competitors in Oklahoma."
Having a named program is prestigious and will certainly set OSU apart, Yates said.
"There are not a lot of named programs in this field, and having a named program really elevates the level of our program," she said. "It really means a lot that Mr. Rooney has enough faith in our program and the product that we are producing to put his name on it."
As a leader in the construction industry, Rooney said he believes there's no better place than OSU for someone looking to get their start.
"I would say if they're interested in construction and construction engineering, there's no place better in the United States they could go for their education," he said. "If they aim high and do well in a curriculum like OSU's, they're going to have opportunities to develop a career with some of the best companies in the industry, including Manhattan Construction Company."
---
Photos: Courtesy The Rooneyh Family And Gary Lawson
Story by: Chelsea Dinterman | IMPACT Magazine