Small town OSU family making a global impact
Monday, December 5, 2022
Media Contact: Kristi Wheeler | Manager, CEAT Marketing and Communications | 405-744-5831 | kristi.wheeler@okstate.edu
Founded in 1892 and housed in a rural central part of the state, Okeene, Oklahoma, is known for many things, including its production of wheat and flour and the annual Rattlesnake Roundup where visitors come from miles around to capture a deadly snake.
It's also home to one of the largest dog treat and dog food manufacturing companies in the world: Mountain Country Foods.
Born and raised in Okeene, Matt Dixon wasn't quite sure what he wanted to do when he graduated high school, but was excited when a recruiting officer from the Coast Guard visited Okeene and convinced him to join.
"I remember sitting around the table for dinner that night, and my dad asked me how my day was," Dixon said. "I told him that I signed up for the Coast Guard."
Dixon's dad — who was Okeene's school superintendent as well as an Oklahoma State University alumnus — had other plans for him.
"The next morning, he drove me straight to Stillwater, Oklahoma, and directly to the College of Engineering, Architecture and Technology," Dixon said. "He sought out an admissions officer and asked them to enroll me into an engineering program."
The admissions administrator tried to explain that they couldn't just enroll him, and that it wasn't the right time, but Dixon's father didn't accept that answer, saying, "No, you sign him up right now, he's going to school here, he's not going into the Coast Guard."
Dixon said his dad had received a biology degree at OSU and knew a few people in the education system.
"He made a few phone calls and I was enrolled in engineering by the end of the day," Dixon said. "I remember I had to go to a classroom to take some written tests, which I was the only one taking these tests, and from those tests they made my schedule for the next year."
That fall of 1980, Dixon was attending OSU, majoring in mechanical engineering and taking science and math classes.
"Through my classes, I ran into some guys that I knew who were majoring in a degree called mechanical power technology (MPT)," Dixon said. "I got to visiting with them and met one of the professors of the MPT program and thought this is what I want to do! There was a lot of hands-on work involved. The program had its own machine shop and its own electrical shop, and I really liked that versus the classroom. So, I changed my major from mechanical engineering to mechanical power technology."
Dixon met and married his wife, Rae, who was majoring in journalism with a minor in political science. By the time Dixon graduated in 1984, he set his sight on Ford Motor Company.
"My goal was to work for Ford Motor Company," Dixon said. "However, Rae got a job offer in El Reno, Oklahoma, and I got two job offers. One in Edmond, Oklahoma, at Ralston Purina, a pet food manufacturing company, and the other being at Ford Motor Company in Denver, Colorado. We both decided that we'd take the Oklahoma jobs and stay in Oklahoma, and I'm glad we did."
Matt and Rae lived in Piedmont, Oklahoma, located between El Reno and Edmond. Matt worked as a night shift supervisor for Ralston Purina, learning the ropes about the food business and the pet food business. In the next few years, they moved to Butler, Missouri, where Matt ran Hubbard Milling Company and then moved to California as he worked at Nutro Products' corporate headquarters.
"That's when I realized that there was a need in the market for pet treat manufacturing plants," Dixon said. "I went to Nutro Products and explained that there is a real need for this and tried to get them to build one. I told them I'd run it for them, but they said no."
That's when Dixon approached his friend, Doug Ford, who lived in Spanish Fork, Utah. The two of them threw in the money they had, and the Dixons moved back to Okeene to build their factory in 2000.
"There are two reasons I chose to build the factory in Okeene," Dixon said. "First, I poured all my money into starting the factory and didn't have any left. My dad had died and my mom was still living in Okeene, so Rae and I, and our two children, Kylie and Meghan, moved in with her. The second reason was that at the time, most dog biscuits were made with wheat flour, and there's a wheat flour mill in Okeene, the Okeene Milling Company. Also, Okeene is in the central U.S., we are halfway between here and Los Angeles and halfway between here and New York. We are right in the center."
At the time, Okeene wanted to develop its industrial park and the land where the factory sits was a wheat field as far as the eye could see. Matt decided this could be very good for the town and decided to sign a contract with them that would employ 10 people.
"Our first big contract we received was to make little gingerbread man shaped treats," Dixon said. "It was going pretty good. Then we received a pretty large, substantial contract with another big customer, and the launch date for that product was set for Sept. 11, 2001. It was canceled. But we continued to work and grow. Rae, at the time, was teaching. She was the only one making any kind of wage for us. We went a number of years without making a dime out of this factory."
While Rae was teaching and putting food on the table, Matt continued to work on growing business for the factory. After some time, it started to get better and better, and it got a little momentum going. So much so that Rae stopped teaching and went to work at the factory, which was great for Matt and great for Mountain Country Foods, he said.
"It's just amazing when you look at the wheat usage," Dixon said. "We're using 20-25% of the wheat grown in this area for our dog food and treats. When we make our treats, the wheat is only about eight hours old, so it's super fresh. Competitors can't figure out why this stuff tastes so good!"
Kylie Dixon Bachmann, Matt's oldest daughter, said Mountain Country Food has continued the legacy of Okeene's farming industry.
"Okeene has a long history of farming and German heritage here," Bachmann said. "There's a story about German families bringing wheat over, carrying seeds in their pockets. There's a long history, so it's nice to be intertwined with that."
Currently Mountain Country Foods does business with about 10 customers, some of them RE very large, some are smaller. They ship about 8-10 full semi loads each day of their products, shipping all over the world.
"We're European Union certified, so we ship to Canada weekly," Dixon said. "We're one of the few pet treat facilities in the United States that Canada will allow direct shipments from."
The factory now employs 260 people and runs 24/7.
"My family all work here," Dixon said. "We all graduated from OSU. Rae is our special projects and senior management advisor. Kylie oversees our organizational development and special projects. Meghan Dixon Eden, my youngest daughter, is our customer service and distribution center manager. Brian Bachmann, Kylie's husband, is our IT and development manager and Meghan's husband, Cooper Eden, is our raw materials manager and ingredient buyer. And we are all proud OSU graduates."
Dixon mentioned that everything is done on-site.
"We do everything here, from growing the ingredients, to making the treats and food, to taking orders, to shipping them out," Dixon said.
Today, Mountain Country Foods produces treats and food for the five largest pet food companies in the world.
The family has recently expanded the plant to keep up with the growing demand. The COVID-19 pandemic didn't slow business down at all.
"Fortunately, we didn't have to let one single person go, or do layoffs," Dixon said. "I think with people being at home, they were feeding their dogs more treats."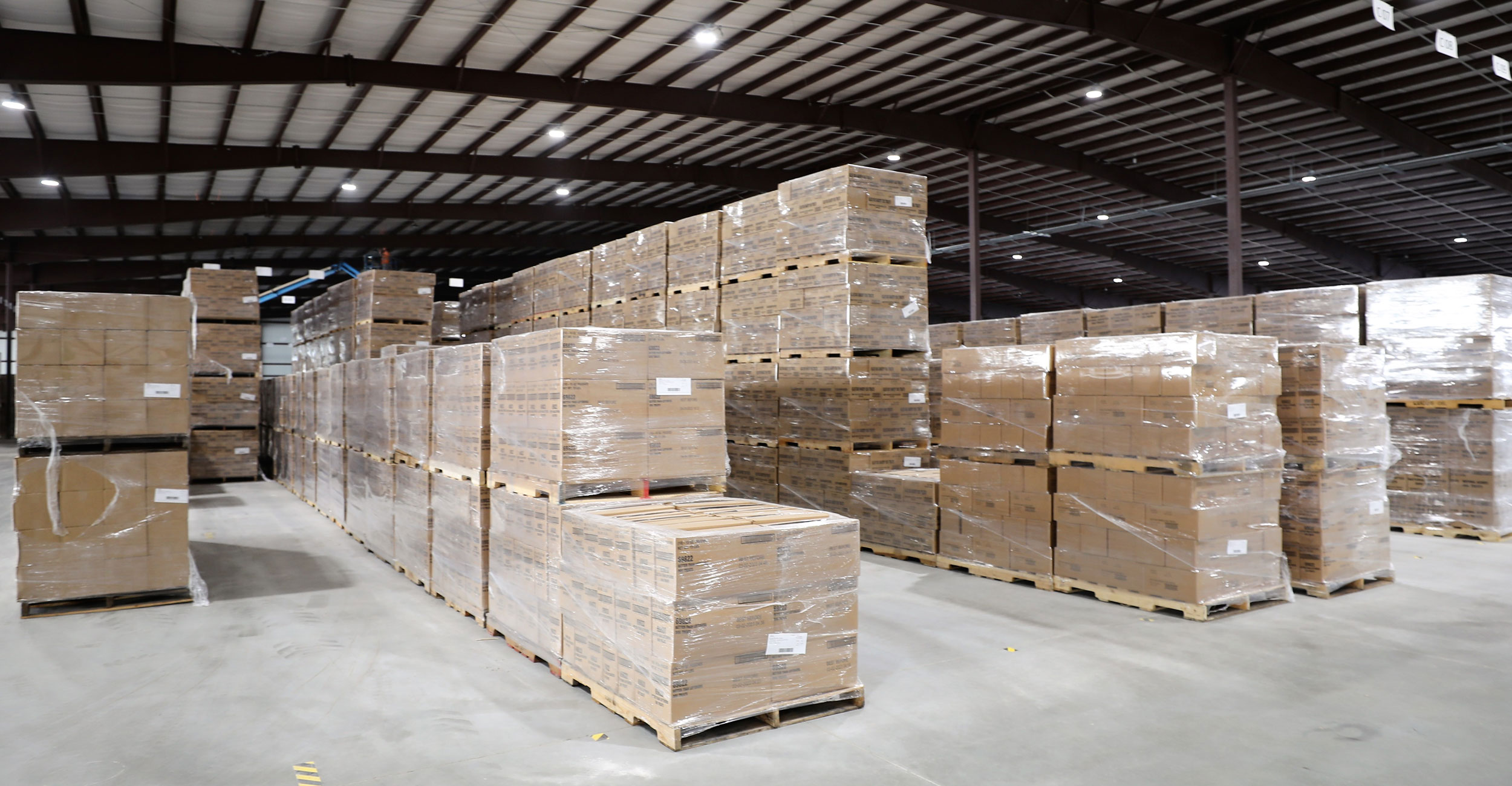 ---
Photos: Kristi Wheeler
Story by: Kristi Wheeler | IMPACT Magazine