Grappling on a global scale: Cowboy wrestling coach Smith travels to Azerbaijan
Thursday, May 4, 2023
Media Contact: Kelli Norton | Communication Specialist | 405-744-5496 | kelli.norton@okstate.edu
John Smith stepped onto the mat, ready to inspire an already fervent international crowd.
This wasn't the Olympics or the World Championships, though. It's been a long time since the legendary Oklahoma State University wrestling coach has gone toe-to-toe on one of those mats.
This was just last fall. The venue: Azerbaijan. The crowd: young wrestlers ready to be impressed. Smith's role: ambassador.
As he demonstrated his famous low single-leg move, he was surprised to see the recognition on the kid's faces.
"It was flattering," Smith said. "Everyone knew my move, my technique."
It was a unique trip for Smith, the Cowboy great who has a plethora of gold medals and championships from his time on the mat and as a coach. But traveling to the west Asian country bordering the Caspian Sea as a wrestling ambassador was a tour he will always remember.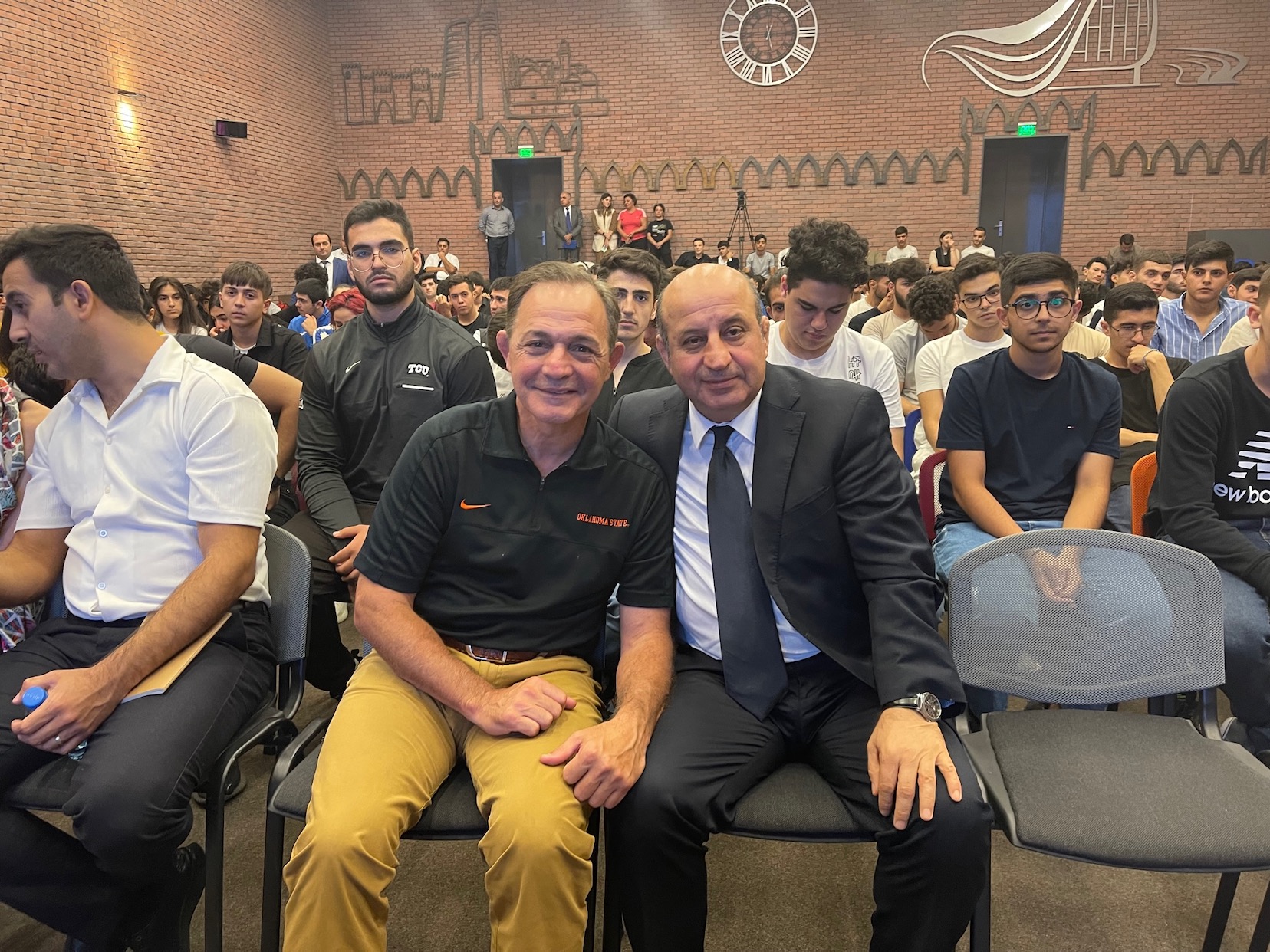 Smith visited the capital city of Baku for the first time in 1986, when it was still part of the former Soviet Union, for a wrestling meet but couldn't see much of the country. This time, he requested to travel by van to see everything.
"Azerbaijan as a country was impressive," he said. "From the first time I was there, Baku is a whole different city. One of the most beautiful cities I have ever seen."
Smith was designated as an "American Wrestling Envoy," along with Sally Roberts, CEO of Wrestle Like a Girl, by the United States Embassy in Azerbaijan. They toured the nation from Sept. 25 to Oct. 3, 2022. The organization — under the U.S. Department of State's Sports Envoy Program — is in partnership with the Azerbaijan Wrestling Federation and Azerbaijan's Ministry of Youth and Sports.
"It was a privilege being able to share what we do in programs here," Smith said. "Azerbaijan is a country that is very proud of its wrestling. It's amazing what they do in the sport of wrestling. They are competitive on the world stage."
Smith and Roberts traveled to Baku, Astara, Shamakhi and Ganja. They met with young wrestlers, leaders within the Azerbaijan Ministry of Youth and Sports, the president and vice president of the Sports Academy, and wrestlers and coaches to discuss topics such as leadership and respect within the sport.


"I was looking forward to seeing it again in a new setting. The trip was to celebrate wrestling, teach and visit with the coaches and the athletes. It became much more than I thought. They were excited about learning, and the coaches were excited to hear me talk about my 30 years of experience coaching."
— John Smith, OSU Wrestling Coach
Azerbaijan has a long and prosperous history in wrestling. The sport has been a national favorite and a leading sport in the country.
"It was great to see how excited they were," Smith said. "I saw a level of motivation from boys and girls."
The Azerbaijani coaches were intrigued by the topic of after-school sports programs offered in the U.S. In Azerbaijan, youths who want to participate in sports must join a club. Meanwhile, American kids can start wrestling in elementary school and continue after school at a club at little to no cost.
"It appeared to them amazing that you could wrestle during and after school," Smith said. "Without our educational system, we wouldn't be the country we have been in sports. We need to go back and recognize how important it is to start sports in elementary, junior and high school.
"Building wrestling through our education system makes the United States a great competitor on the world stage."
The coaches also discussed motivating the athletes at all levels. There, they found common ground in their experiences with issues they all face.
"We talked about ways of motivating young kids and motivating some of our better guys to being the best in the world and in the country. We talk a lot about ways of building our programs up," Smith said. "Even though we are hundreds of miles away from each other, we could relate to a challenge we both face."
Smith's trip to Azerbaijan follows a visit by Oklahoma Gov. Kevin Stitt in 2021 to build upon the two-decade relationship between the State of Oklahoma and Azerbaijan.
As a part of that trip, OSU expanded its partnership with Azerbaijan State Agricultural University in 2021, creating a pathway for Azerbaijani students to obtain a master's degree in international agriculture by attending one year of classes in Azerbaijan and a year on the OSU campus in Stillwater.
The first program cohort of Azerbaijani students will arrive in Stillwater for the fall 2023 semester.
---
Photos By: Bruce Waterfield and John Smith
Story By: Kelli Norton | GLOBAL Magazine