Unidos se puede
Wednesday, October 23, 2019
Like many teens, Alejandra Avina doesn't yet know what she wants to do for a career.
But thanks to Oklahoma State University's Unidos Se Puede (United We Can) program, she knows she's got a lot of options. Over the last two school years, she has received academic assistance from the program, which serves roughly 180 Tulsa youth in the Latino and African American communities annually.
"I think it is a pretty cool program because it brings people together and lets people know what is going on in the community," Avina said. "It also teaches us that we can go into a career and not quit after high school."
Now in its sixth year, the Unidos program works with seventh- and eighth-graders from eight Tulsa Public Schools to encourage high school graduation and to promote higher education. The program began with Dr. Ron Cox and his colleagues from OSU's department of Human Development and Family Science doing a needs assessment of Oklahoma's Latino communities in Oklahoma City, Tulsa, Lawton, Altus, Guymon, Stillwater and Clinton.
"We learned a lot about parents' fears and their desire to help their children do better academically and to stay away from high-risk behaviors like substance abuse or teen pregnancy," Cox said.
Latino youth make up roughly one-third of the 40,000 students within Tulsa Public Schools and African American students account for roughly another quarter. About half the Latino students are English language learners, coming from homes where most parents speak only Spanish.
African American students joined the Unidos program this year, thanks to a grant and partnership between OSU and Langston University, a historically black college south of Stillwater.
"Partnering with Langston to increase its involvement in this program is key to reaching this population," said Cox, who is also a cooperative extension specialist.
The program is built on three pillars: family engagement, positive peer affiliations and child personal agency. For a young person to acquire "agency" means they are learning how to act on their own behalf rather than allowing adults to be their only advocates. It's a critical point in moving from childhood dependency to adulthood independence.
Parents learn about the U.S. school system, including such nuances as what a school counselor does, the importance of parent-teacher conferences and why being on time to school is vital. They also learn research-based strategies to help their child succeed academically.
"These children come in with disadvantage both from poverty and maybe some traumatic experiences they have gone through," Cox said. "We try to be close enough to the kids to figure out what's going on and help them find either the resources they need to succeed or to coach them in a different way to view life. You hear so many people say 'I'm not good at math or science.' That's really a false statement. The way to look at that is 'I'm really not good at that yet.' And just by adding that one little word, it changes their whole perspective. It frees the child to explore new pathways toward success. We do a lot of coaching around that."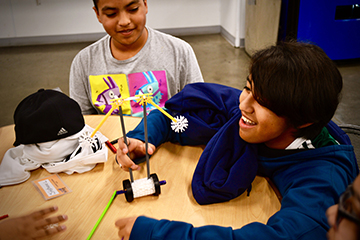 A child's friends can have a lasting impact on their lives.
"You can't tell a child who your friends are going to be," Cox said. "But you can create a space where children who are like-minded can have fun together, which helps them to develop those bonds and relationships that help create positive peer groups. If the youth in our program start to think about academic success – that is, who I'm going to be 10 years from now and how I'm going to get there – having them think this way in peer groups is mutually reinforcing. Kids start feeling like, 'Hey, I belong here.'"
The Unidos program pairs students with a paid success coach. The coach – typically a college student or a young professional – works with students and guardians to make important changes over the two years before high school.
"I can definitely tell the program is serving a huge need in the community," said Elber Arroyo-Rivera, Unidos program coordinator. "The parents and students are really close with the coaches."
Coaches have access to student grades and attendance records and know right away if someone fails a test. The coach helps the student identify problem behaviors, learn to come up with viable solutions and put those solutions into practice. This might involve finding a tutor if one is needed. Guardians are coached to help encourage the student by making small changes in the home that reinforce the student's goals to be successful.
"Education is not just the teachers teaching, but it is also the parents nurturing," Cox said. "If your child is going to be successful in school and in life, education has to begin at home. The parents have to be involved in a way that motivates and encourages. We help them do that."
Francisca Avina wants the best for her three children, including Alejandra.
"My goal is for them to finish high school and then move on to whatever they want to do," the mother said. "I would like them to learn a profession that they love."
Students who participated in an eight-week program this summer were tutored in math, science or English by Tulsa teachers, in addition to learning about potential careers.
Members of the Tulsa Sheriff's Office met and talked with students about their jobs.
"We are hoping that not only are we exposing kids to possible careers in law enforcement, but we are also reducing some of the tension between law enforcement and these traditionally underserved populations," Cox said. "After the meeting, one young lady was even more passionate about going into law enforcement."
Over the summer, students also participated in team-building activities at Camp Okiwanee and a variety of Career Exploration Day events.
"The kids walk away from our program thinking college is within reach," Cox said.