Campus News
Wednesday, August 1, 2018
OSU team saddles up for Cowboy Stampede
The cowboys and cowgirls of the Oklahoma State University rodeo team, along with the College of Agricultural Sciences and Natural Resources, are excited to host the fifth annual Cowboy Stampede Oct. 11-13 at the Payne County Expo Center in Stillwater.
The Cowboy Stampede is a three-day event sanctioned by the National Intercollegiate Rodeo Association and will bring more than 500 competitors from 18 different colleges to Stillwater. The Stampede will again officially kick off "America's Greatest Homecoming Celebration" presented by the OSU Alumni Association.
The rodeo team has been a tradition at Oklahoma State for more than 70 years, and the Cowboy Stampede was recently named the Rodeo of the Year in the Central Plains Region.
"We are excited to maintain the tradition of competitive collegiate rodeo in the community and to provide a family- fun event that people of all ages will enjoy," said Cody Hollingsworth, rodeo program coordinator and head coach.
Past rodeos have featured special guest appearances by OSU President Burns Hargis and First Cowgirl Ann; DASNR Vice President Tom Coon and his wife, Rhonda; and the Homecoming executive team and royalty court.
OStateTV will broadcast Saturday night's championship round. Visit rodeo.okstate.edu for more information.
Osu alumna named 2018 veterinarian of the year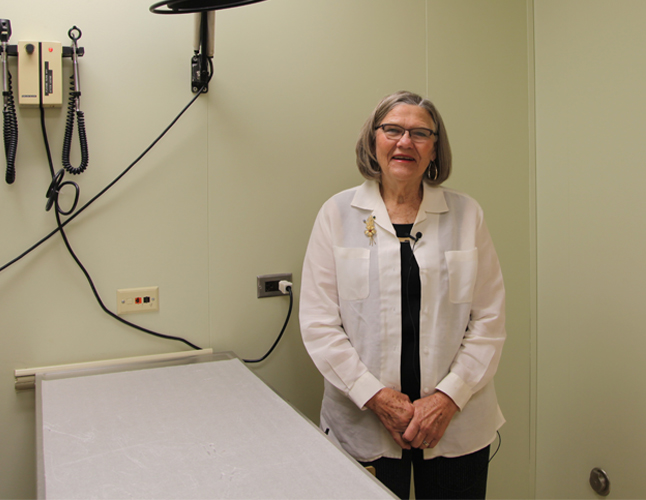 Dr. Kay Helms, a 1972 OSU Center for Veterinary Health Sciences alumna, is the 2018 Oklahoma Veterinarian of the Year. Helms, originally from South Dakota, came to Oklahoma to be near her sister.
"I went to vet school fully intending to be a researcher," Helms recalled. "However, my senior year was the first year that mandatory preceptorships were instituted. It was the first time that I really spent time in a practice, and I fell in love with it. So, when I graduated, I went to a practice in Coalgate."
In 1972, Helms was only one of only three women in her academic program. After graduation, she worked in a mostly large animal practice in southeast Oklahoma, focusing on cattle and later ended up helping start the veterinary technology program at Murray State College in Tishomingo, Oklahoma. She taught in the program and was its director for 20 years. Since retiring, she has worked at low-cost spay and neuter clinics for the past decade.
"I really have a passion for spaying and neutering because we have such a tremendous pet overpopulation not only in Oklahoma, but in the whole country," Helms said. "We kill between 5 million and 8 million animals a year in this country because nobody wants them. If I can prevent a couple hundred thousand of those from ever being born, then to me, that's a worthy challenge."
Cowboy Chef's Table raises funds for OSUIT scholarships
In its inaugural year, the Cowboy Chef's Table series raised more than $16,000 for OSU Institute of Technology's School of Culinary Arts and student scholarships.
Six guest chefs were invited to the Okmulgee campus to create a lunch menu and work with Culinary Arts students to prepare the dishes. The guest chefs did a live cooking demonstration of that day's meal and discussed their culinary style with ticket-holding luncheon patrons.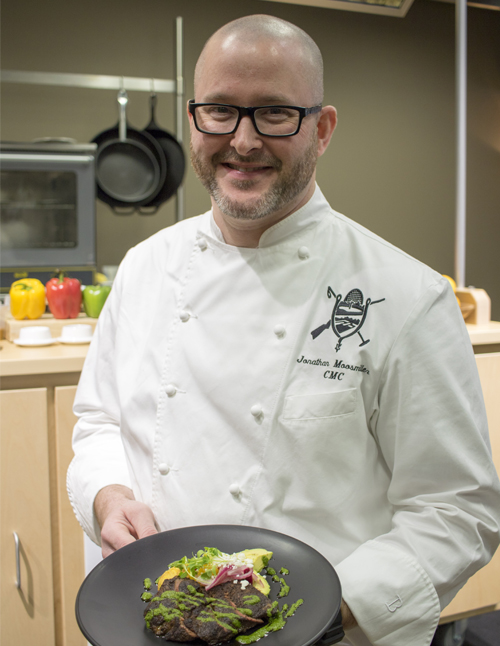 The series kicked off in July 2017, and the last event in the inaugural series was held in April.
Culinary Arts Dean Gene Leiterman said that of the $16,000 the series raised, close to $13,000 went directly into the scholarship fund.
"It's beyond my expectations," Leiterman said. "That was the whole goal, to raise money for scholarships, and that number far exceeded what we were expecting."
Guests chefs in the series' inaugural year included Ryan Lopez, personal chef to Kevin Durant; Theron Jessop, OSUIT alum and executive chef of Springs at the Artesian; Josh Valentine, Top Chef finalist and resident chef at Carlton Landing; Jonathan Moosmiller, executive chef of Southern Hills Country Club; Ben Alexander, executive chef of The Tavern; and Devin Levine, executive chef of the BOK Center Arena and the Cox Business Center.
"We have had a wonderful group of chefs over the last year share their culinary point of view and create some amazing dishes with the students," Leiterman said. "Our students have worked with the industry's best chefs and had valuable experiences with them."
U.S. Foods and Ben E. Keith donated $2,500 worth of food, and U.S. Foods also donated $1,000 to support the series.
Leiterman said the chefs, who work in a variety of professions in the culinary industry, presented an array of dishes and cuisine that showcased their different styles.
"We have eaten everything from beef cheeks to poke tuna to chicken and farro," he said, and that goal of diversity will continue into the next Cowboy Chef's Table luncheon series that begins in October. "We plan to bring a diverse group of chefs and create even more experiences for students and guests."
OSU recognized for supporting veterans
This year, OSU ranked 40th for military veterans out of more than 200 colleges and universities across the nation.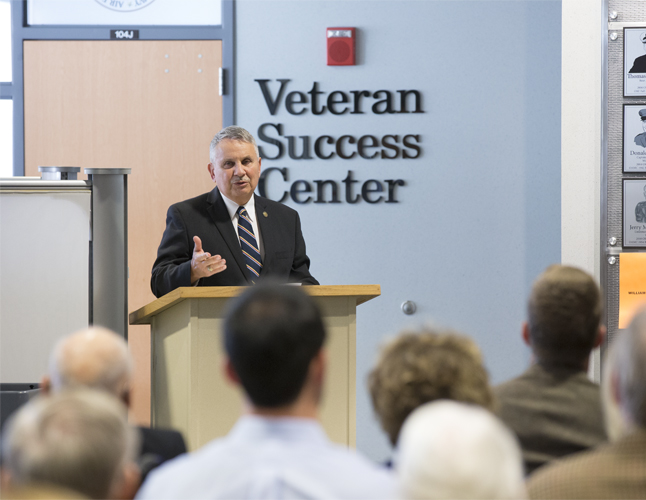 College Consensus, a website that combines information from publishers, agencies and student reviews, determined the rankings, which are based on if a school has a full-time campus contact for veteran support, on-campus organizations and other resources.
"As the contact for veterans and their families at OSU, I'm glad to ensure those transferring from the armed services get all the help they need in making the transition to college life," said Rick Hansen, a retired Marine captain and coordinator of OSU's Student Veteran Academic Services. "I made that transition myself at one time and that's why I'm especially pleased veterans who come here immediately have a place to seek academic assistance, study, and interact with other veterans at our Veterans Success Center on campus."
Other on-campus organizations serving veterans include the Student Veterans Organization at OSU, University Counseling, Student Disability Services, Career Services, Non-Traditional Student Services, the Writing Center and Peer Advisors for Veteran Education. Student Veteran Academic Services coordinates with campus, community, state and federal organizations and agencies to serve to veterans and military-affiliated students at OSU.
Off-campus organizations frequently visit campus, as well. The Oklahoma Department of Veterans Affairs, Military One Source, the Oklahoma National Guard Family Programs, Veterans of Foreign Wars and Disabled American Veterans are among the many that provide services to OSU's veteran students.
New OSU-OKC president shares his vision for future
In January, Brad Williams became the fifth president of Oklahoma State University-Oklahoma City. With a background encompassing strategic planning, development, and most recently OSU-OKC's vice president of student services, Williams incorporates his experience with a passion for student success and personal growth to advance OSU-OKC's impact on the region.
What's your big-picture view for OSU-OKC?
Three overarching themes emerged during conversations surrounding OSU-OKC's effort to revise its mission and strategic plan: Student success, employee excellence and community relevance. These pillars guide our review of opportunities and challenges.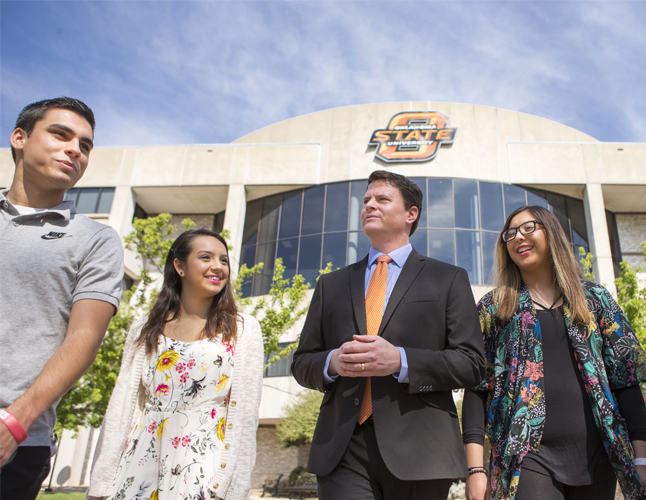 How do you define student success?
OSU-OKC has an open-access admission policy that allows us to serve students at varying levels of college readiness and with an array of life experiences. We work to understand students' needs, both academic and social, and help them develop a personal goal set that establishes milestones of progress toward degree completion. Accordingly, success is measured in different ways for different students...We print our semester honor roll on poster boards for public display in our campus dining area. We love watching our students take pictures by their name to post online for their friends and family to help celebrate. Degree completion is, no doubt, the ultimate success, but we celebrate the steps along the way.
What is happening on campus to inspire employee excellence?
In late January, we conducted a survey called Orange Pulse to learn what employees value most and what issues we needed to address. What we learned is ... communication, respect and trust are critical. These elements frame our maintenance of the OSU-OKC's campus culture and are the cornerstones of our interactions with students.
How do you envision OSU-OKC connecting with the community?
Our students are precious talent at their places of work because they are loyal, passionate and engaged. Our work is to build upon that talent and challenge students to change the world. I believe they will do just that.
OSU takes top spots at business contest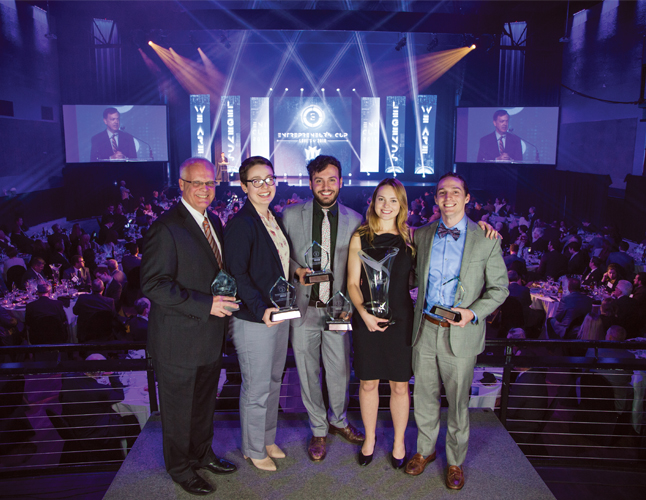 For the first time in the history of the Oklahoma State entrepreneurship program, two OSU teams placed first and second in the Love's Entrepreneur's Cup.
Contraire, a team comprised of civil engineering students, placed first and received $20,000 for their idea converting a scientific process into a business idea.
Multivate, a team of engineering and business students, placed second, receiving $10,000.
Indra-Lightning Strike Mitigation, another OSU team, was one of six finalists in the competition.
The Love's Entrepreneur's Cup is an Oklahoma collegiate business plan competition that simulates the real-world process of researching a market, formulating financial projections, writing a business plan and pitching the opportunity to potential investors.
Tulsa center works to inspire creativity
The Center for Poets and Writers at OSU-Tulsa, Magic City Books and the Tulsa Artist Fellowship hosted the first annual Lit.Fest in the Tulsa Arts District in April.
The event drew writers, small publishers, artists and the public and allowed local writers to collaborate and share their work through workshops, open mics and a publishing discussion panel.
Lit.Fest was devised to support the center's efforts of promoting the craft of writing and enriching the community. The center aims to cultivate a thriving, diverse literary arts community through education, collaboration and community engagement.
P3T adds eight tail-wagging members
Eight new therapy dogs joined Pete's Posse Tulsa in March.
The dogs will be greeters and campus ambassadors at OSU-Tulsa and the OSU Center for Health Sciences. They will also be available for clinical or crisis situations.
The dogs and their handlers are the third class of the P3T program, which strives to enhance the physical and emotional health of students, faculty and staff on campus. The program also contributes to the success of the America's Healthiest Campus® initiative launched in 2014.
P3T, started in 2015, is an extension of the Pete's Pet Posse program on the Stillwater campus.
Department of Animal Science advances with new name
When Oklahoma A&M College opened its doors in 1890, the College of Agriculture consisted of just two departments. Well over a century later, Oklahoma State University has grown into a major land-grant institution, and its College of Agricultural Sciences and Natural Resources features nine strong academic departments.
Now, one of those departments, Animal Science, marked its progression when it became the Department of Animal and Food Sciences, effective July 1.
The change was made with input from departmental faculty, staff, current students and alumni.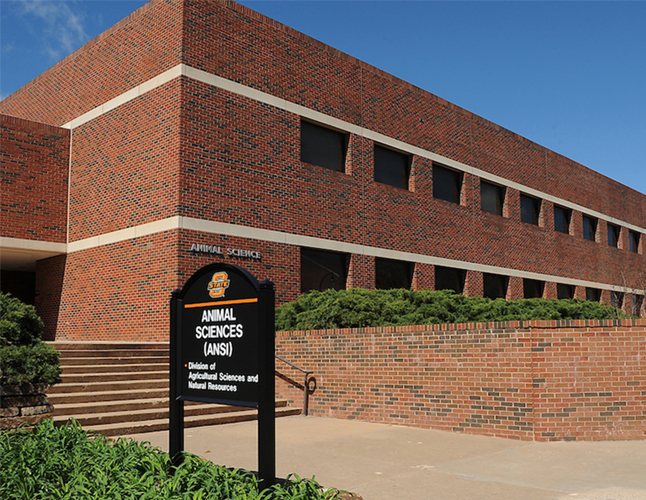 Clint Rusk, head of the newly renamed department, said the name acknowledges the rising demand for expertise in the food sciences as food processing has become more prevalent in Oklahoma's food and agriculture industries.
"As careers in food science continue to increase, it's creating a significant demand for food science graduates," Rusk said. "Having the food science disciplines recognized in the department's name will draw more attention to the major we offer here at Oklahoma State and recognize the contributions of the food scientists in our department."
The undergraduate food science major has been available since 2007 and offers four options in industry, meat, safety and science.
Tom Coon, vice president, OSU Division of Agricultural Sciences and Natural Resources, said the name change demonstrates the department's strong commitment to meeting the needs of both students and industry.
"We're in the business of preparing our students for success after graduation from Oklahoma State and our animal science major is recognized nationwide for its excellence," Coon said. "The Department of Animal and Food Sciences builds on that long, successful tradition with our food science major and our food safety degree option, reflecting the spirit of collaboration between the animal and food science industries in Oklahoma and across the nation."
OSU trumpeters hit a new high note
For each of the past five years, Oklahoma State University musicians have garnered wins at the National Trumpet Competition. This year, OSU competitors set out to conquer the world, competing at the International Trumpet Guild Conference in San Antonio.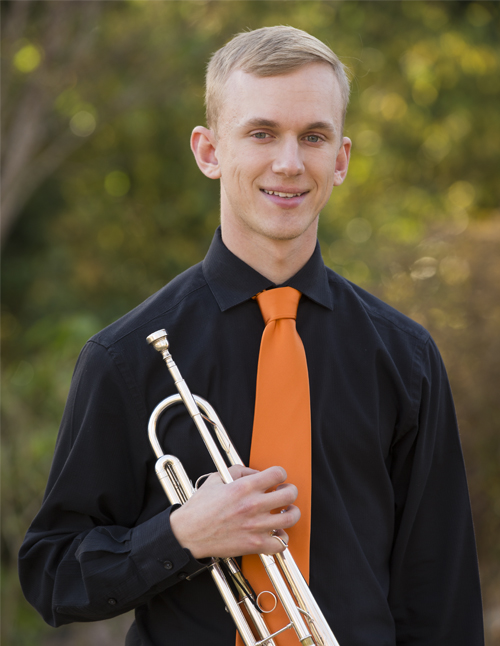 Noah Mennenga, an OSU trumpet performance junior from Cottage Grove, Wisconsin, won the ITG Solo Competition. He was the only American competitor among the three finalists and was also the top undergraduate soloist at the NTC in March.
"To finally win the soloist is very exciting," Mennenga said. "Then to have a great performance and win at the international competition was even more amazing. It's really cool to see all of our hard work paying off."
Other OSU winners in San Antonio included Ian Mertes, a music education junior from Cushing, Oklahoma, who received top honors in Orchestral Excerpts and Nick Nusser, a first-year trumpet master's student from Winston-Salem, North Carolina, who placed third.
Ryan Gardner, associate trumpet professor in the Greenwood School of Music, has overseen the trumpet programs since 2011. Gardner's students have won seven championships and placed nine times in national competitions since 2014.
"It's so inspiring to see the students succeed like this," Gardner said. "We have done very well at the national competition over the past five years, but we had never competed at the International Trumpet Guild Conference before. To sweep both competitions is truly a remarkable achievement for these incredible young men."
Steffi Tetzloff, a sophomore trumpet performance major from Rochester, Minnesota, and the lone woman in the large ensemble, won a scholarship to attend the ITG for the second year in a row.
The other members of the large ensemble include: Matt Daigle, a trumpet master's student from New Orleans; Matt Herron, a trumpet performance junior from Celina, Texas; Collin Stout, a music education junior from Skiatook, Oklahoma; and Bryson Tuttle, a music education senior from Jenks, Oklahoma.