Give Orange
Wednesday, August 1, 2018
1,384 gifts in 1,890 minutes for OSU
By Aimee Furrie
From student-investing faculty members to Cowboy-inspired young scholars, lots of things about OSU are unrivaled. But in 2018, we witnessed a match that holds true to our unmatchable DNA.
On April 10-11, we invited the Cowboy family to light up the nation with America's Brightest Orange. When we asked you to GO for the Give Orange event, you went — filling every state in the nation (plus Australia!) with dream-chasing gifts to grow the future of OSU. In this 1,890- minute event, $610,277 was raised to support 125 projects across campus, fueling student programs and enhancing tools for success.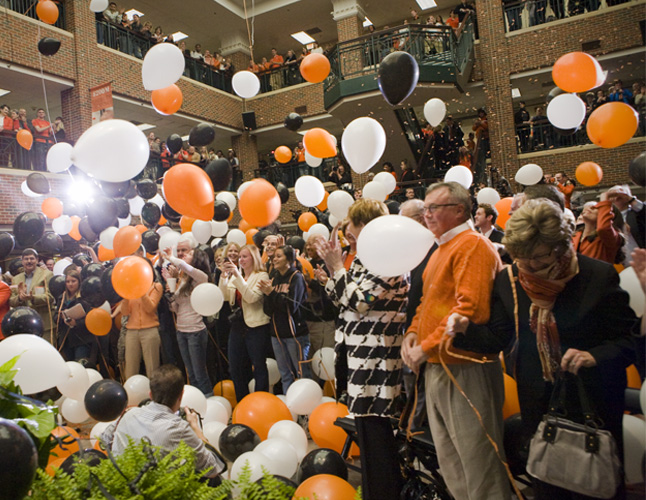 These numbers stand on their own, proudly exhibiting the Cowboy-inspired spirit of the OSU community. But the story doesn't stop there.
Dollar-for-dollar matches doubled the impact of hundreds of gifts, and challenge missions unlocked additional dollars for 55 campus projects. Of the 1,384 gifts made during Give Orange, 546 were part of a match or challenge. That means that 40 percent of all contributions were inspired by the giving of fellow Cowboys and Cowgirls. From supporting passion projects to inspiring others, these donors shared their stories of giving.
Pam and Steve Holton are proud supporters of OSU. Their Give Orange challenge gift provided generous funds for OSU's highly anticipated, community- building, history-making Homecoming.
"It's an all-encompassing tradition!" said Steve, lighting up as he delved into personal memories and looked to the future. This Homecoming- loving couple shared their passion for this event from pomping to parade, and why they choose to give to Homecoming each year.
"The joy of giving is tapping into what you're passionate about," Pam said. "Where your heart goes is where your money goes."
Pam spoke of the incredible feeling that rushes through the community soaking up the sea of orange each year. "But there must be funding to help," she said.
Their dollar-for-dollar match created an orange wave of inspiration. "It makes people feel better about their gift when they know it's doubled," Pam said.
While the Holtons reside in Oklahoma, OSU supporters like Kenny Goodman are found worldwide. Goodman, an attorney in Florida, proves that geography doesn't prevent involvement in Give Orange.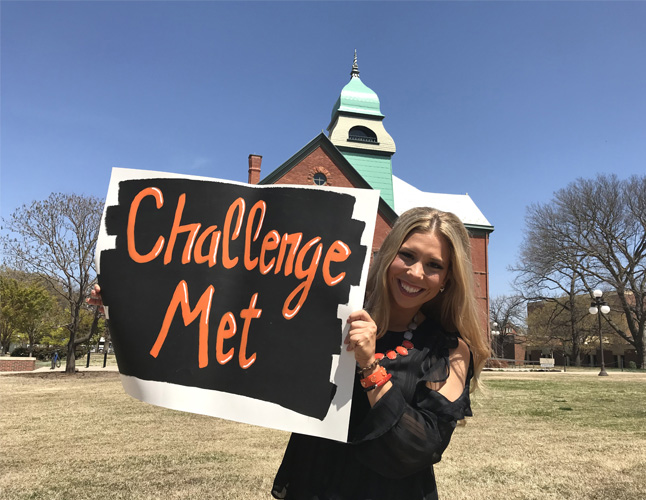 "If everyone gives just a little bit, it makes a big difference. People need to find something beyond themselves to support," he said.
His matching gift inspired 35 additional donors to join in supporting the Cowboy Call Center. He also accelerated the race to be the top college by sponsoring a leaderboard each day.
In addition to personal match and challenge gifts, some gracious givers utilized another tool, making their gift go even further.
Barry and Michelle Vandevier maximized their family's participation in Give Orange. Not only does the couple give as matching donors, but they also have a company match through Barry's employer. Many companies offer matching gift programs, in which they give to charitable organizations based on the philanthropic efforts of their employees.
Barry shared the personal, emotional impact of being a matching donor during Give Orange. "It brings a lot of pride and stretches your ability to give," he said.
For the last two years of Give Orange, the Vandeviers have chosen to inspire others to join them in supporting passion projects at OSU.
Give Orange 2018 painted the map orange, declaring loud and proud that OSU is home to America's Brightest Orange. Join us on April 9-10, 2019, for even more record-breaking, orange-and-black-repping, unparalleled challenges and matches — lighting a bright orange future for Oklahoma State University.